United States upsets Canada at World Championships
Jack Johnson scores overtime winner to lift U.S. to first win over Canada in World Championships since 2001.
by

Eye on Hockey staff

• 1 min read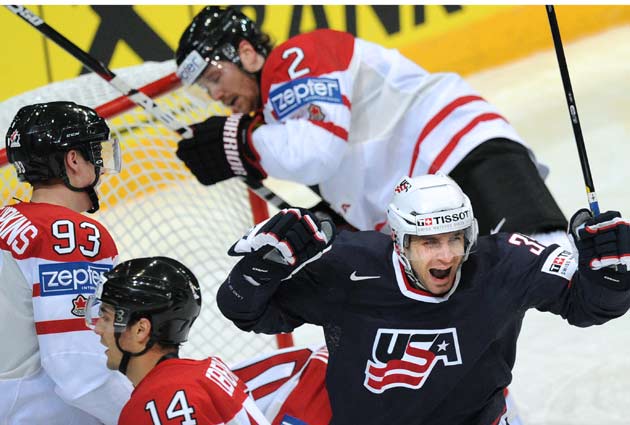 Patrick Dwyer

, left, and

Justin Abdelkader

celebrate scoring against team Canada during a preliminary round game of the IIHF International Ice Hockey World Championship in Helsinki, Finland. The United States won 5-4 in overtime. (Getty)

By Andrew DeWitt
Some will quickly point out that the United States' 5-4 victory over Canada Saturday afternoon at the IIHF World Championships in Finland doesn't matter. It's a group-game. The best players aren't there. There's a little thing going on here called the Stanley Cup playoffs and the World Championship shouldn't be important.
They're wrong.
Jack Johnson 's second goal of the game in overtime on the power play gave the United States its first win over Canada in the Worlds since 2001. Canada still holds a record of 38-4 against the Americans and that's why the game matters.

 "The better team won tonight," Canada coach Brent Sutter told media after the game. 
When its the best the United States has to offer going up against the best Canada has to offer, it's usually an even match. Look at the Olympics and competition at the World Junior levels. But where the Americans lack in this matchup with the NHL season just concluding is depth.
Canada's roster features Corey Perry , Ryan Getzlaf , John Tavares , Jeff Skinner , Patrick Sharp , Duncan Keith , Cam Ward , Evander Kane , Jordan Eberle , Ryan Nugent-Hopkins , Ryan O'Reilly and Andrew Ladd .
The United States' roster features NHL nonames  Jim Slater , Cam Atkinson , Patrick Dwyer and Nate Thompson . Sure, the U.S. has superstar power in Jack Johnson, goalie Jimmy Howard and forwards Bobby Ryan , Paul Stastny and Max Pacioretty .
There are 17 new players on the United States' roster this time and seven players wearing the U.S. jersey for the first time.
But when the United States takes on Canada at any level it's engrossing.
Who will ever forget Sidney Crosby 's goal to win the 2010 Olympic gold medal? 
The United States is Canada's little, nagging hockey brother and the Americans are tired of that label. It's hard to argue that the label is inaccurate but USA Hockey has taken significant steps to close the gap in a sport that Canada hates to lose in. Is there anything more embarrassing to Canada than losing to the United States in hockey? Proably not for the neighbors to the north.
For more hockey news, rumors and analysis, follow @EyeOnHockey and @DeWittCBS on Twitter and like us on Facebook. 
Los Angeles isn't rushing to sign the 45-year-old forward any time soon

The University of Denver star and Hobey Baker Award winner is drawing interest

Intrigue is high in Arizona after a wild offseason, but expectations should still be tempe...
Players are set to give personalized messages for Adidas' former hockey equipment brand

The 40-year-old center is returning to the Wild after a successful run in Pittsburgh

Edmonton locks up its 21-year-old RFA a month after McDavid's historic extension