USA defeats Czechs, Canada escapes Latvia to set up semifinal match
The United States defeated the Czech Republic 5-2 while Canada survived Latvia 2-1 on Wednesday to set up a semifinal showdown.
USA 5, CZE 2, FINAL
The United States is on to the semifinals at the Olympics after defeating the Czech Republic 5-2 on Wednesday.
The Americans got the scoring started early in the first period when James van Riemsdyk scored from in close on what can only be described as a soft goal against Czech starter Ondrej Pavelec. But the Czechs responded and put a lot of pressure on the Americans, evening the game at 1-1 three minutes later on Ales Hemsky's goal. The puck was in the crease and Ryan McDonagh had the clear but when he tried to move the puck out it hit the skate of Ryan Suter and went into the American net.
The American line of Dustin Brown, David Backes and Ryan Callahan then took over for the remainder of the first period, combining on a pair of goals. The first was a great cross-crease pass from Backes to Brown, who scored on the short angle. Then, with less than two seconds in the period, Backes hopped on a shot from Suter that went wide and put the puck past Pavelec on another tough goal to give the USA a 3-1 lead at the intermission, a crushing goal.
Dan Bylsma's team kept the pressure up to start the second period and got another goal, this one from Zach Parise when once again a shot from Suter went off the end boards and hopped back in the crease. After that goal Pavelec was pulled from the game after four goals on 12 shots, giving way to Alexander Salak. The Americans added the fifth goal in the third period when Phil Kessel added his fifth of these Games, giving the USA a 5-1 lead.
Hemsky did add a second late tally for the Czechs but it was too little, too late as the Americans went on to win 5-2 in somewhat comfortable fashion.
Quick stopped 21 of the 23 shots he faced and was all-around solid to good for the USA as the Czechs did get some pretty good chances throughout the game. The defense in front of him was doing a good job of limiting those chances though by jamming the crease or blocking shots before they reached Quick.
Next up is a rematch of the 2010 gold-medal game against Canada, which snuck past Latvia in a game played right across the lot at the same time. With USA and Canada meeting on Thursday in the women's gold-medal game, it's going to be a fun 48 hours in North America.
Review the American (and Canadian) win with our live blog below.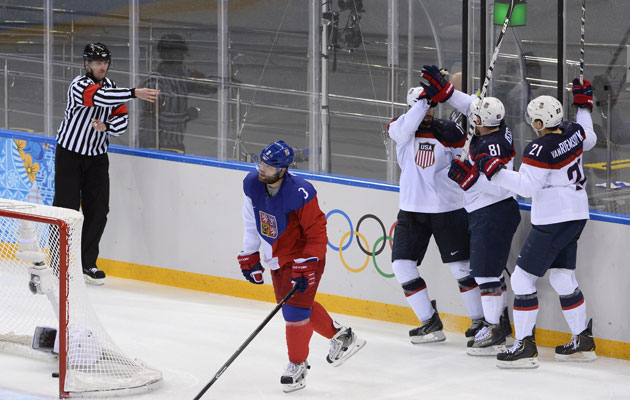 CAN 2, LAT 1, FINAL
Canada survived the ultimate scare of their Olympics on a third-period power-play goal from Shea Weber to defeat the pesky Latvian team by a final score of 2-1, setting up a semifinal matchup with the USA.
With Sweden and Finland meeting in the other semifinal, these are going to be two incredible semifinal matchups. No love lost in either contest. Is it Friday yet??
Canada and the United States will play at Noon on Friday ... Finland-Sweden at 7 a.m. Both games on NBCSN.

— Eye on Hockey (@EyeOnHockey) February 19, 2014
3:33, 3rd Period (CAN-LAT) -- Latvia is now pushing as hard as they can but it's still nearly impossible for them to get anything through to Carey Price in net. How early will they pull Gudlevskis and how long after that will Canada score?
6:54, 3rd Period (CAN-LAT) -- GOAL, CANADA!
Breathe, Canada! Shea Weber finally beats Gudlevskis on the power play to put Canada ahead with only a few minutes left to play. Now the question is if Latvia can get any kind of pressure against a Canadian team that has dominated the game outside of the score.
7:07 3rd Period (CAN-LAT) -- After making his 52nd save of the game, Latvian goalie Kristers Gudlevskis looks hurt.
7:00, 3rd Period (USA-CZE) -- GOAL, CZECH REPUBLIC!
Just as soon as we say that USA has the game in complete control Ales Hensky slices into the slot with the American defensemen retreating and gets a clean shot in on Quick and beats him high. The USA is still up three, though.
8:19, 3rd Period (USA-CZE) -- The Americans have this game well in hand now and not much is going on. All eyes are shifting to Canada and Latvia.
11:33, 3rd Period (CAN-LAT) -- Right on cue, Canada thinks they have a goal as the puck looks like it's headed in but somehow Latvia managed to keep that puck out when a defenseman puts his hand on the puck. It should be a penalty shot but Latvia looks like it really dodged a bullet.
Look how close this was before the defenseman gloved the puck in the crease. Wow. (Via @MyRegularFace)
12:33, 3rd Period (CAN-LAT) -- It's still all Canada as the shots are 45-12 in their favor but it's also still a 1-1 hockey game. Every play now gets magnified.
17:59, 3rd Period (USA-CZE) -- GOAL, USA!
The Americans show off that speed again as they get a rush started up ice until Ryan Kesler slows it down to throw a pass right onto the tape of a hard-charging Phil Kessel who puts it home. The lead is up four goals with less than 18 minutes to play.
And this one's officially over. pic.twitter.com/l5eWq4tA4d

— World of Isaac (@WorldofIsaac) February 19, 2014
19:20, 3rd Period (USA-CZE) -- The part was just right in front of the American net as the players piled up and the referee climbed the cage. The puck stayed out.
Good luck finding that puck pic.twitter.com/zbd7n4qFri

— Brian Stubits (@StubitsCBS) February 19, 2014
20:00, 3rd Period (USA-CZE) -- Third period is a go between the USA and the Czechs. Can Jagr and crew put a scare into the Americans?
20:00, 3rd Period (CAN-LAT) -- Here you go, Canada, the third period has begun. Nervous?
Second Period Recap (USA-CZE)
The U.S. continues to play a strong, physical game against a skilled team from the Czech Republic. Zach Parise got his first point of the Olympics on a power-play goal and Team USA has maintained control. Jonathan Quick hasn't been tested too much as the defense is doing a really good job in front of him. Team USA's speed and physicality has been a factor all game and this is the style they'll want to play for the duration of the tournament. If they can play a strong third period, Team USA will guarantee they will play for a medal of some color by advancing to the semifinals. It's not over until it's over, though. -- Chris Peters
USA 4, CZE 1, 2nd Intermission -- The USA builds on its lead in the second period and outshoots the Czechs 9-6. They are 20 minutes away from the semifinals but they can't think of letting up. Phil Kessel and James van Riemsdyk can remind them that 4-1 leads aren't always safe.
CAN 1, LAT 1, 2nd Intermission -- That's two periods in the books and Canada is STILL deadlocked with Latvia. They are getting their chances and are outshooting Latvia 35-11 but Kristers Gudlevskis has been fantastic in net. Canada will open the third period with 1:34 of power-play time. On the fresh ice, that will be a big few minutes.
Steve Yzerman certainly doesn't seem too comfortable.
Steve Yzerman is concerned - Canada still tied 1-1 with Latvia after 2 periods pic.twitter.com/C83wTWd0xI

— CJ Fogler (@cjzero) February 19, 2014
3:59, 2nd Period (USA-CZE) -- And barely into the power play, Jakub Voracek takes his own penalty to send this to 4-on-4 for a minute and a half before a brief American advantage. Not how the Czechs drew it up.
4:25, 2nd Period (USA-CZE) -- Power Play, Czech Republic. Brooks Orpik going to the box to feel shame for interfering with Jaromir Jagr. Just a minute before, though, Backes was right in front of the crease and had another great chance but Salak stopped him.
7:30, 2nd Period (USA-CZE) -- Jonathan Quick has been pretty good once again for the USA, stopping a few shots within a couple seconds of one another. A three-goal lead with him in the net feels pretty nice when he plays like this.
7:35, 2nd Period (CAN-LAT) -- Meanwhile, Canada and Latvia are still tied. It's getting close to that time north of the border.
Meanwhile, a nation moves onto its second-favourite past time...fretting about Team Canada.

— Chris Johnston (@reporterchris) February 19, 2014
10:29, 2nd Period (USA-CZE) -- There's been a delay here to attend to the glass and meanwhile Ondrej Pavelec has been pulled in favor of Alexander Salak. Pavelec has had better days, he gave up four goals on 12 shots and a couple of absolute stinkers. We haven't said much about him today but Ryan Suter has also been excellent for the US, particularly in the offensive zone. He has assists on three of the four USA goals.
Loose pane of glass. pic.twitter.com/HMC4X6LTFc

— USA Hockey (@usahockey) February 19, 2014
10:29, 2nd Period (USA-CZE) -- GOAL, USA!
The Americans don't have a lot going on the power play until a shot from Joe Pavelski bounces off the end boards and Zach Parise pounces on it to slam it home from a sharp angle. Another one Pavelec would like to have back, surely.
11:34 2nd Period (USA-CZE) -- Power Play, USA. Zbynek Michalek goes to the box for interference. First time we've seen special teams in this game.
12:24, 2nd Period (USA-CZE) -- The Czechs turn up the pressure on the Americans with a long shift in the zone and Quick is again tasked with making some quality saves, which he does. The Czechs continue to look dangerous when they're in the zone, finding chances through the American D.
14:45, 2nd Period (CAN-LAT) -- John Tavares goes down in the corner and looked to be in a lot of pain after squeezing through a hip check but he eventually gets off the ice on his skates. He was in pain on the bench before going back to the dressing room.
16:00, 2nd Period (USA-CZE) -- Well look at that, there's David Backes getting a great pass from Ryan Callahan to get a good shot on goal but Pavelec stops this one. Shots just 2-2 so far in the period but USA has had majority of play in opening minutes.
20:00 2nd Period (USA-CZE) -- Not far behind, they're underway in the second between the US and the Czechs.
20:00 2nd Period (CAN-LAT) -- Second period is underway at Bolshoy.
1st Intermission -- Canada is still in good shape but this doesn't bode very well.
Since the QF stage was introduced at the Olympics in 1992, no defending champion has made it past this round. Canada 1, Latvia 1 after 20.

— Rob Longley (@longleysunsport) February 19, 2014
1st Intermission -- Does anybody know which country Don Cherry is pulling for? ANYBODY?!
Meanwhile, Don Cherry. pic.twitter.com/JB1iRc6brS

— World of Isaac (@WorldofIsaac) February 19, 2014
1st Intermission -- David Backes just had an awesome first period. You could say he was USA's top gun. (You can throw those tomatoes now.)
David Backes. Highway to the danger zone. pic.twitter.com/9nnS5fFjFm

— Sean Hartnett (@HartnettHockey) February 19, 2014
First Period Recap, USA-CZE
The U.S. got the start it needed with an early goal, but a lull defensively allowed the Czechs to counter and nearly take control of the game. However, Dan Bylsma's line matching with David Backes, Dustin Brown and Ryan Callahan against Jaromir Jagr's line is paying off. The checking line has accounted for two goals in the period, including David Backes' score with just over a second remaining. Jonathan Quick also looked sharper as the period wore on after a somewhat shaky start. Maybe not the way they drew it up initially, but a 3-1 lead after 20 minutes is a great place for Team USA to be. U.S. has to be ready for a battle over the next 40 minutes, though. -- Chris Peters
USA 3, CZE 1 1st Intermission -- A thrilling first period comes to a close with the Americans up by two. The shots are just 9-7 favoring the USA but both teams have had loads of good looks. It's edge-of-your-seat hockey.
0:01, 1st Period (USA-CZE) -- GOAL, USA!
With just 1.8 seconds left in the period, Backes adds to his awesome first period by taking the wide shot from Ryan Suter off the end boards and slams it home on the doorstep over the sprawled Ondrej Pavelec.
CAN 1, LAT 1, 1st Intermission -- Canada outshoots Latvia 16-6 in the first period but the game is even where it counts the most, on the scoreboard. The Latvians looked a little more dangerous than their six shots indicate, though.
2:02 1st Period (USA-CZE) -- Let's appreciate that Backes pass for a minute. From @PeteBlackburn.
2:58 1st Period (USA-CZE) -- Pavelec gets criticized a lot so it's only fair to give him credit. He just stoned Dustin Brown on a clear shot from the slot to keep this a one-goal game.
4:19 1st Period (CAN-LAT) -- GOAL, LATVIA!
Lauris Darzins gets the Latvians even late in the first period after dancing around Carey Price for the goal. The shots are 15-6 in favor of Canada but the longer they are able to hang around, the more the Latvians will believe.
5:22 1st Period (USA-CZE) -- GOAL, USA!
Dustin Brown fires the puck into an open net from a sharp angle after a terrific cross-ice pass through the crease from David Backes. The USA has balanced the play in this game and it pays off. Backes was a monster on that shift.
6:30 1st Period (CAN-LAT) -- GOAL, CANADA!
The Latvians are hanging tough but the Canadians get the first strike as Patrick Sharp opens the scoring, assisted by Rick Nash.
7:17 1st Period (USA-CZE) -- The US finally finds a way into the zone and gets some quality chances. Joe Pavelski gets a mini break away and a short while later Cam Fowler rings one off the post. A good response from the USA to slow the Czechs down some.
8:50 1st Period (USA-CZE) -- The Americans just can't get any zone time right now as the game is being controlled by the Czechs and they just nearly had another goal. Quick got just enough of the puck to slow it down, giving McDonagh a chance to sweep it away otherwise it was going in.
10:22 1st Period (USA-CZE) -- The Czechs finally are able to set up in the USA zone and they stay there for a good minute or more with a few great scoring chances. The US clears the zone just enough to get some new bodies on the ice and right away the Czechs get a shot back on Quick but it goes off the post and out of play. That was a real siege the Americans just withstood.
11:41 1st Period (USA-CZE) -- The game has settled down a little bit here but it's still pretty up and down. The last few minutes have been more in the Czech Republic's control.
15:29 1st Period (USA-CZE) -- GOAL, CZECH REPUBLIC!
This game is wide open, up-and-down hockey to start and this time a mad rush on net results in a goal after a scrum in front of Jonathan Quick. The goal is credited to Milan Michalek for the Czechs but looked like it went off Ryan McDonagh. Ryan Suter was clearing the puck but it hit McDonagh's skate and hopped over Quick. Either way, it's a 1-1 game and the pace remains frenetic.
18:21 1st Period (USA-CZE) -- GOAL, USA!
From the opening faceoff the game is being played at the Americans' pace with some speed and right away it's that line doing the work again for the USA as James van Riemsdyk sneaks the puck past Ondrej Pavelec on an awful and short angle. That was the perfect illustration why Pavelec has been viewed as the massive concern for the Czechs.

20:00 1st Period (USA-CZE) -- GAME ON!
12:03 p.m. -- If you're trying to find these games on TV, US-Czech Republic is airing on USA Network (naturally) and the Canada-Latvia game is on MSNBC. (For the Canadians out there, surely CBC has you covered).
11:37 a.m. -- Canada is going to be playing Latvia at the same time, faceoff at Noon ET. We'll be keeping tabs on that game here as well. The winners of the two games will meet in the second semifinal game.
11:35 a.m. -- The Americans are on the ice wearing their white, getting ready to try and earn a spot in the quarterfinals.
Team USA warming up for Czechs pic.twitter.com/DjyFS0c4XX

— Helene Elliott (@helenenothelen) February 19, 2014
9 a.m. -- USA will be going back to the white uniforms against the Czechs. They're hung with care and awaiting the team.
Team USA lockerroom ready for player's arrival prior to tonight's QF vs. Czech. #DawnsEarlyLight #teamusa pic.twitter.com/e1oY6RD4CB

— USA Hockey (@usahockey) February 19, 2014
7:33 a.m. -- A look at the American lines for the game against the Czechs yields no surprises from what we saw in Tuesday's practice.
USA F lines vs CZE: Brown-Backes-Callahan; Parise-Kesler-Kane; JVR-Pavelski-Kessel; Pacioretty-Stastny-Oshie; Wheeler #DawnsEarlyLight

— USA Hockey (@usahockey) February 19, 2014
USA D vs. CZE: Fowler-Shattenkirk; Orpik-Martin; Suter-McDonagh; Carlson. Quick in goal; Miller backup. #DawnsEarlyLight #TeamUSA

— USA Hockey (@usahockey) February 19, 2014
5:35 a.m. -- Patrik Elias was unable to play for the Czech Republic on Tuesday with an injury  but he's going to be back in the lineup for the Czechs against the US on Wednesday.
Confirmed: Devils F Patrik Elias is ready to play tonight vs USA. Czech team just announced he will be in the line-up.

— Zdenek Janda (@zdenek_janda) February 19, 2014
Preview
By Chris Peters
The Facts
Who: United States vs. Czech Republic 
What: Olympic tournament quarterfinal
When: Noon eastern Wednesday on USA Network
Where: Shayba Arena, Sochi, Russia
Eye on the United States
Key Players: Phil Kessel, Joe Pavelski, Patrick Kane
Quick Preview: Team USA was better than expected in the preliminary round and is now viewed as strong gold-medal contenders. With that level of expectation, it would be easy to overlook the Czech Republic and a likely date with Canada in the semifinal. That would be a poor choice.
The U.S. might be the best line in the tournament with Joe Pavelski, Phil Kessel and James van Riemsdyk. They are relied upon heavily and opposing teams will be keying in on them for the rest of the tournament. That means the scoring depth has to come out in the medal round.
 It sounds like Zach Parise will move to a line with Patrick Kane and Ryan Kesler, and that line has to generate more to take the load off of that top scoring unit. The same goes for Paul Stastny's line, which was a major factor in the opening win over Slovakia.
Based on the way the Czech Republic has played in this tournament, the U.S. should have some time and space to work out there and the offense has to be sharp. Getting a lot of pucks on presumed starter Ondrej Pavelec early will be key. Take a look at this stat:
Relevant for tomorrow's game. RT @tcghockey: Pavelec's career NHL record in back-to-backs: 4-17-0, 4.22 GAA, .866 save % on 575 SA. Yikes.

— James Mirtle (@mirtle) February 18, 2014
That's not very good. The U.S. has the scoring talent to get after it offensively against a pretty weak netminder on the second half of a back-to-back.
Lastly, the U.S. defense and goaltending has been solid throughout. Jonathan Quick will make his third start and he's been strong so far. Maintaining the rhythm they've had throughout the first three games should be more than enough to keep the Czechs at bay.
Basically, if the U.S. plays up to its ability, it will be fine, but strange things can happen in single-game elimination tournaments. The Americans can't take anything for granted.
Projected lineup (based on lines reportedly utilized in Tuesday's practice)
Van Riemsdyk – Pavelski – Kessel
Parise – Kesler –Kane
Brown – Backes – Callahan
Pacioretty – Stastny – Oshie
Wheeler
Suter – McDonagh
Fowler – Shattenkirk
Orpik – Martin
Carlson
Goalie: Quick, Miller
Scratched: Stepan, Faulk, Howard
Eye on the Czech Republic 
Key Players: Jaromir Jagr, David Krejci, Ondrej Pavelec
Quick Preview: The Czechs have enough offensive talent to keep the U.S. honest, but it's the goaltending that has to be the difference. If the Czechs do go with Pavelec on Wednesday, and it seems like they would, he has to be exceptional to give his team a chance to advance.
This U.S. team will get shots through and they will get good chances with their speed and ability to create off the rush. If Pavelec makes the stops he's supposed to make and gets adequate defending, things start to even out.
The Czech team has a good power play and enough skill to make things tougher on the defense and goaltender. If the Czechs are given enough space by the U.S., which has been suffocating at times in this tournament, they have to make it count.
Conversely, the Czechs have to find a way to slow down the U.S. attack. If they can solve the JVR-Pavelski-Kessel line, it's a good start. Keeping things clogged up as best as possible will nullify Team USA's speed and make things tougher offensively.
It's going to be a really interesting game, especially if the Czechs can find ways to break through Team USA's staunch defense and Pavelec is at his absolute best.
The NHL says it is 'completely satisfied' with its investigation into what Shaw said in the...

It may not be the most effective stickhandling training method, but it's certainly the most...

Steven Stamkos and Tampa Bay are soaring above all, while Montreal continues to dig its own...
Rage is all the rage in Montreal

Buffalo's 20-year-old phenom pulls off the highlight of the night against Vancouver

The North American love affair with Edmonton's superhuman center continues to grow