USA Olympic camp notes: 2010 still stings; what did Pavelec say?
The last Olympics were almost four years ago but players remember the gold-medal game well. Also, does anybody understand Ondrej Pavelec?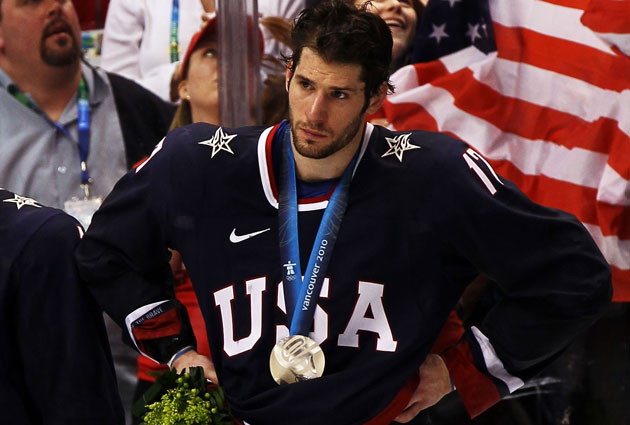 More NHL offseason: Rumors | Top 50 Free Agents | Buyout Tracker | Trades | Transactions
ARLINGTON, Va. -- A good amount of the players who were invited to attend Hockey USA's Olympic Orientation Camp this week just outside Washington DC have been there before. A lot of the same faces that won a Silver medal in Vancouver were back and looking likely to make the team for Sochi.
Patrick Kane recalled the feeling of losing that game to Canada.
"It was tough to lose that game but you realize what that game did for the Olympics and hockey," Kane said. "The numbers were outstanding, I think it was close to 30 million who watched on TV. It was a fun game to be a part of. Obviously it was tough but it didn't take too long to get over it because we had a great team in Chicago that year but it definitely stung at the time."
Meanwhile Ryan Kesler has had a tough time coming to terms with it all, even four years later.
"That will never leave. A lot of guys are returning and we all know that feeling," Kesler said.
Then there were a host of others hoping to make the team that had to settle for watching the 2010 Games from home. Many of them recalled their memories of that tournament and specifically the gold-medal game against Canada.
A lot of those guys weren't eligible to play, they were still in high school. But guys like Seth Jones still remember where he was.
"I watched it at home, I remember everything," the Predators' top pick this year said. "It was definitely a really good game, obviously it wasn't what I wanted to be but it was a lot of fun."
Jake Gardiner remembered watching it while in college at Wisconsin and Brandon Saad said he was unable to watch it live as he was playing a game himself. Cursed luck.
Finally there was Ryan Miller, who somewhat reluctantly recalled that game and the golden goal scored by Sidney Crosby. He doesn't think about it much at all but he sure remembers it well enough.
"No, it's not something I want to beat myself up about. I played the tournament aggressively," Miller said. "I saw an opportunity where he, he obviously didn't mishandle the puck but it came in on his skates with a pass. I thought he was going to change his angle and he didn't. I made a decision that I anticipated something was going to happen that didn't happen and I made a mistake. It is what it is. It went in the net and no one feels worse than I did. You get over it, keep playing and you move on."
National pride
It's hard to keep your composure some times when players talk about wearing the Stars and Stripes. Or in the case of Cory Schneider, simply watching highlights from the 1980 Miracle On Ice team.
"They show you highlights of the 1980 Games and it still gives me goosebumps and I wasn't even alive for it," Schneider recounted. "It just goes to show you how the impact of the Olympics and what it can do for a country."
As for Miller, he tried his best to avoid the cliches of what it feels like to wear your national colors but had a hard time doing so.
"It's hard, it always comes out so cliche but it is a nice, warm feeling. You feel very good inside. It's a bit of a culmination of a lot of hard work but it's also exciting for what could be. It's an honor obviously to represent the country. We do it in a difference capacity than some one in the military but we're trying to cast a good light on our country, handle ourselves the right way and also excel and be the best."
What did he say?
Zach Bogosian was one of a few Jets players at the US camp (Dustin Byfuglien, Blake Wheeler and Jacob Trouba as well) so you might imagine that trash-talking amongst the team might commence in the run-up to the Olympics. The question is who talks the most? Bogosian said he likes to keep it on the inside and said most of the guys are relatively quiet in that regard.
That includes Czech goalie Ondrej Pavelec, mostly because the players don't understand him. Literally.
"No, Pavelec doesn't do anything. You ever hear him talk?" Bogosian asked. "He can't even speak English. We can't understand him. We can't understand what he's saying. I don't know if he's speaking Czech, or Arabic or whatever he's talking in, I can't understand a word he's saying."
Players talk Russian laws
It's something that will be unavoidable for players leading up to the Games, the anti-gay laws now in place in Russia. Every player that was asked spoke against the laws including Maple Leafs forward James van Riemsdyk.
"It's a disappointment to see that in this day and age," JVR said. "Obviously it's a different country so I can't speak without knowing what their thought processes are but my views over here, that's why I support the program. If you can play you can play."
Where is Sochi?
Kings goalie Jonathan Quick admits he doesn't know anything about Sochi. Except for what his Russian teammate Slava Voynov told him.
"Slava Voynov was telling me, he said it's like Florida. I don't know if it was lost in translation, it's really like that?"
Indeed it is, Jonathan. Just like Florida. Presumably the crowds in Sochi will be a little different than Florida's, though.
Realignment talk
Speaking of the Sunshine State, Byfuglien is ready for the transition to the Western Conference with the new alignment but he will miss one aspect of being in the East.
"It was definitely nice to go down to Florida a few times in the winter but it will be exciting and fun to be back in the West."
Saturday's showdown will serve as a rematch of one of the NHL's first-ever regular season...

Stacia Robitaille says Donald Trump told her in an elevator that she was coming home with...

Vladislav Yeryomenko was the Teddy Bear Toss goal scorer for the Calgary Hitmen
The Golden Knights are finally getting their No. 1 goalie back after a 25-game absence

Washington has won four straight, and the Kings are also on a tear right behind the Lightn...

The NHL says it's only interested in expanding to Seattle, but here's a look at all the moving...