USA shows off initial lines, Joe Pavelski centers Phil Kessel, JVR
Team USA's initial lines are in and the scoring punch seems to be on the line of James van Riemsdyk-Joe Pavelski-Phil Kessel.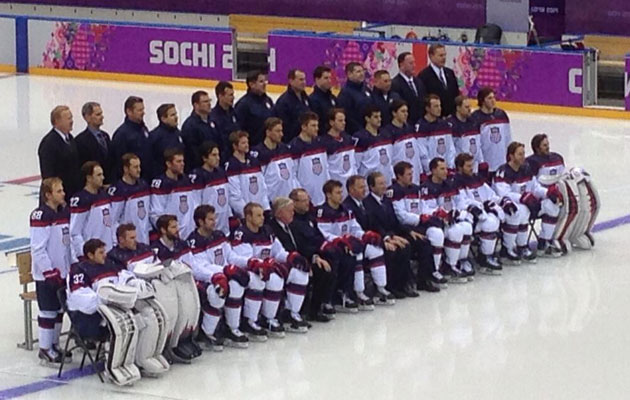 More NHL: Scores | Standings | League Leaders | Odds | Injuries | Power Rankings
Team USA coach Dan Bylsma has been thinking ahead to the Olympics for a while during his day-to-day duties leading the Pittsburgh Penguins, putting a good amount of focus on what his team would look like in Sochi.
On Monday we saw what Bylsma had in mind with Team USA's first on-ice practice.
The lines at this point, in no particular order (and never cemented):
James van Riemsdyk -- Joe Pavelski -- Phil Kessel
Zach Parise -- David Backes -- T.J. Oshie
Dustin Brown -- Ryan Kesler -- Patrick Kane
Ryan Callahan -- Paul Stastny -- Max Pacioretty
Extras: Derek Stepan, Blake Wheeler
First things first, that JVR-Pavelski-Kessel line looks awfully nice. JVR and Kessel have obviously been fantastic together as Kessel has been racking up goals and then you add Pavelski in as the center with hsi point production this season and that's a strong, strong line.
The other line combos don't immediately come off as exciting but one thing that seems evident is Bylsma envisions spreading out the scoring. However it wouldn't be surprising at some point to see Brown join the Blues duo of Backes and Oshie to make for about the closest you will get to a grind line in the Olympics. They wouldn't be devoid of offense at all and they'd be a bruising line, each with tremendous possession numbers in the NHL.
The defensive combos aren't as clear at this point nor is the goaltender. Expect that latter one to remain a mystery all the way up Thursday's game against Slovakia.
NHL fans from all over seem to agree on one thing: Hating Kid Rock

The team tweeted on Monday that Shaw would be re-evaluated in 7-10 days

The Montreal forward was hospitalized after taking a Zdeno Chara slap shot to the head
Tampa Bay is still No. 1 and Vegas is still up there, but a few others are finally catching...

Army filed an opposition to the use of 'Golden Knights' on the last day that it was permitted...

The NBC rinkside reporter is hoping to return in time for the 2018 Olympics