USHL goalie starts season on record-setting five-game shutout streak
Omaha Lancers goaltender Cole Bruns has yet to allow a goal in five games this season, the 300-minute streak a USHL record.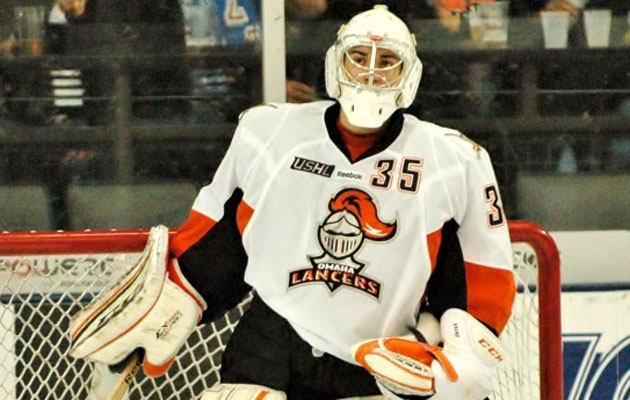 More NHL: Scores | Standings | League Leaders | Odds | Injuries | Power Rankings
If a goalie records five shutouts in a season then he had a pretty good campaign, especially in a league where they only play 64 games. Record five shutouts within the first five games of a season and you're having the stretch of your career.
That's the spot where USHL Omaha goaltender Cole Bruns finds himself to start this season. Five games played, five shutouts recorded. That's 117 saves on 117 shots against this season in 300 minutes of action.
As you might imagine, that is a record streak not only for the franchise but the USHL as a whole. The tier-1 junior league based largely in the Upper Midwest has never seen a run like this, let alone one to start the season. Obviously neither has Omaha. As of now Bruns is just one game behind the franchise record for shutouts in an entire season and he still has 59 games left on the schedule.
It all has resulted in some pretty wild numbers such as the fact that the Omaha Lancers are plus-22 as a team after just five games and of course they don't have a single player on the roster with a minus mark. Those 1.000 save percentage and 0.00 goals against averages are kind of absurd, too.
It's not as though Bruns is doing this against bad competition, either. While the USHL is not seen on the same level as the major junior leagues in Canada, it's a league that's growing ever better and producing more and more NHL talent. It's considered a tier-1 junior league now. Not to mention two of the wins in this streak for Bruns came against Sioux Falls, which has the third-most goals in the league despite being shut out twice by Bruns and returned three 20-goal scorers from last season. It's not a token stretch.
Bruns, from Prairie View, Illinois, has a little longer to go if he wants to approach the all-time records in hockey. The longest shutout streak in the NHL belongs to Alec Connell way back when in 1927-28 when he had 461 minutes and 29 seconds between pucks in the back of his net. Obviously you're talking about apples to oranges in more ways than one with that comparison, but it gives you some kind of frame of reference of how impressive the 300-minute streak already is.
Bruns will have his next shot to extend the streak on Thursday when Omaha starts a three-game weekend road trip at Waterloo, which is 4-1 to start the season. Hopefully for Bruns' sake we didn't just put the big hex on him (*knocks on wood).
The North American love affair with Edmonton's superhuman center continues to grow

The defending Western Conference champion Predators are also heating up early in the year

The Oilers' young star remains seriously unfair
David Kelly, a Toronto-born hockey analyst, has strong advice for Edmonton vs. Chicago game...

Gary Bettman says otherwise, for the time being, but Houston could be primed for a team

Here's what you might have missed across the NHL on Wednesday night