Vancouver Canucks trade rumors, trade deadline outlook
With the April 3 NHL trade deadline looming, are the Vancouver Canucks buyers, sellers or standing pat? What do they need?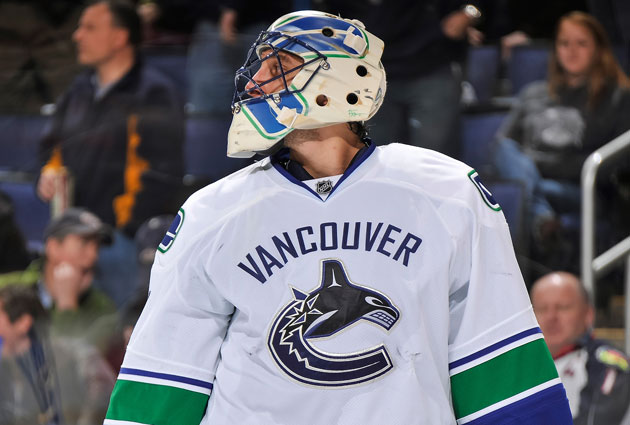 More NHL: Scores | Standings | Odds | Fight-O-Meter | League Leaders | Rumors
With the 2013 NHL trade deadline at 3 p.m. ET April 3, Eye on Hockey will examine

whether each team is a buyer or seller at the deadline, and who each team should look to sell or receive by the deadline.
Buyers or sellers
Like most years, the Vancouver Canucks have to be considered buyers, but at least not in the traditional sense.
Overall the Canucks are still a likely playoff team, at the very least they are a playoff contender. Evidenced by the fact that they won the Presidents' Trophy as recently as last season, they have the talent. But there is always room for upgrades, especially since the team is not meeting the expectations right now.
At the same time, they have had an awfully big name just lingering on the trade block for what is getting close to a full year now; Roberto Luongo. I think the time is done where GM Mike Gillis is actively looking for Luongo trade partners, but I don't think his ear is closed to it either.
Rumors
The Canucks seem to be interested buyers, but they are quiet shoppers. There isn't a lot of specific rumors hanging out there to mention.
There have been plenty of rumors in the past nine months about Roberto Luongo, but it's been a long time since we've heard one. There were others suggesting that perhaps the Canucks should trade Cory Schneider instead but that talk has subsided as well. It was really more chatter to begin with.
As soon as the season began, I thought it became near certain that Luongo would remain with the Canucks for the whole season, and the first half of this season has only strengthened that belief for me.
However, there is one rumor they have been mentioned with in passing: the Jarome Iginla sweepstakes. The favorites there appear to be the Kings, Bruins and Penguins, but the Canucks have been brought up in that conversation as well. Remember, Iginla has a no-trade clause, but he might be more willing to waive it in favor of Vancouver considering it's relatively close to where he is now and he is familiar with British Columbia from his junior days.
From there it's more just speculation/chatter trying to find the right fits. The guys at Canucks Army took a look at the defensemen as well as centermen that could be available and realistic targets for Vancouver. It's full of a lot of Panthers.
Top targets
The Canucks seem like they could go a few different ways in a trade. They, like so many others, would like to get a top 2 or 3 centerman considering the injury woes of Ryan Kesler. Stephen Weiss would have been mentioned with this team not just because he fits that center role but because Florida and Vancouver have had an inexplicable pipeline open for years now. But as you can see in the above links, there are options to keep that pipeline flowing.
About a month ago there was speculation that the Canucks were looking more for a third-line center. It would be nice to have Cody Hodgson and/or Manny Malhotra these days.
In addition to that, the Canucks wouldn't turn down some help on the blue line if it popped up. They looked for some defense over the summer, trying to land Justin Schultz before he chose Edmonton. It's no secret that Keith Ballard hasn't been a big hit to the point he's been a healthy scratch a few times. If they could get some reinforcements to help with that defensive depth it would be welcome.
More Trade Deadline Rumors: 
The league's highest-paid player and Hart Trophy winner says his Penguins counterpart is No....

Defense is better and motivation shouldn't be lacking, but the Red Wings are still too cap...

The 45-year-old free agent is taking things patiently as September approaches
The playoff drought might not end immediately, but something is brewing in restocked Buffa...

Former Lightning standout will be guarding the net in style in 2017-18

Devils are still in rebuilding mode, but they have reason for hope thanks to young additio...