VIDEO: Bench-clearing brawl at end of Canadian junior league game
A bench clearing brawl broke out following a Canadian junior league playoff game.
More NHL: Scores | Standings | Odds | Fight-O-Meter | League Leaders | Rumors
Blainville-Boisbriand defeated Baie-Comeau, 4-3, during a Quebec Major Junior Hockey League game on Wednesday night, and then all hell broke loose on the ice after the final horn sounded.
Both teams (not just lines or individual players, but the entire teams) were involved in a bench-clearing brawl as fans then fans started throwing garbage on the ice. The goalies were even fighting off in the distance.
Wow.
What does the penalty situation for something like that look like? Like this...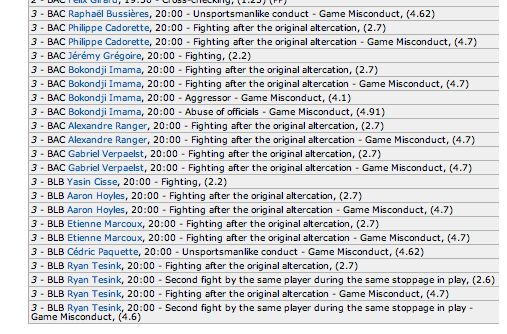 (S/T Josh Deitell, via Elliotte Friedman)
The Penguins have some fun with the names of some Ducks linemen

Rookie Tyler Wong scores a hat trick to lift the NHL's newest team in its exhibition debut

Depth is a concern, but Edmonton is all in on its young, speedy stars with Stanley Cup pot...
The longtime Olympics enthusiast and Capitals standout releases a statement on the 2018 Ga...

Playoffs in sight for Rangers with younger, better defense, but questions at center lower their...

From Skyline to Neon Warriors, we put the names in their place for the sake of Seattle