VIDEO: Canucks rookies sing with Sarah McLachlan, wear ugly sweaters
The four Canucks' rookies went on stage and sang with Sarah McLachlan to her classic 'I Will Remember You' on Wednesday and the whole team wore ugly sweaters. What a fundraiser.
More NHL: Scores | Standings | League Leaders | Odds | Injuries | Power Rankings
Wednesday night in Vancouver, the Canucks hosted the 14th annual Dice & Ice Benefit, a fundraising even that supports children's charities all across British Columbia. In addition to the annual gift of giving, the Canucks always have a special gift of initiation for the rookies.
This year the approach was a little different but no less intimidating. Their task: Sing I Will Remember You onstage with the one and only Sarah McLachlan on the piano.
Eddie Lack, Ryan Stanton and Jeremy Welsh filled in the chorus adequately enough (I'm being kind, it's the holiday season) while Zac Dalpe took on a little bigger role. As in singing a duet with McLachlan.
Dalpe added a couple of his own lyrics of the song, directed right for McLachlan. From the Canucks' team site:
Lyrics for I Will Remember You were passed out to the players, who were to sing the chorus. They did. Quite terribly. But when McLachlan went into the second verse, Dalpe sang right along and dropped jaws throughout the sold-out event by holding his own with the two-time Grammy winner.

When the pair were joined by the remaining three players for the chorus, emotions got the best of Dalpe as he blurted out "I love you" to McLachlan.

"I forgot I had the mic in my hand when I said that," blushed the forward. "Everyone was thinking it though, I just had the guts to say it."
McLachlan herself was pretty impressed as she so colorfully pointed out at the conclusion of their short performance. Not bad rookies, and more importantly, way to show some courage -- we're looking at you, Dalpe.
All that performance was missing were some sad photos of dogs and cats.
Oh and by the way, the Canucks wore some hideously awful Christmas sweaters and took picture in them. Lots and lots of pictures.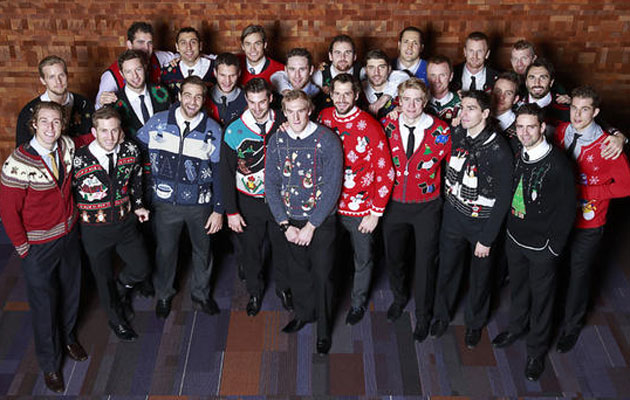 Every kiss begins with K........ pic.twitter.com/hEtzKFCj45

— Strombone (@strombone1) December 12, 2013
What a night in Vancouver, helping a good cause and giving us some amazing lasting impressions.
The North American love affair with Edmonton's superhuman center continues to grow

The defending Western Conference champion Predators are also heating up early in the year

The Oilers' young star remains seriously unfair
David Kelly, a Toronto-born hockey analyst, has strong advice for Edmonton vs. Chicago game...

Gary Bettman says otherwise, for the time being, but Houston could be primed for a team

Here's what you might have missed across the NHL on Wednesday night