VIDEO: Kari Lehtonen injured after head hits crossbar in collision
Stars goalie Kari Lehtonen has what the Stars believe is a concussion after he was crashed into by Minnesota's Erik Haula on Saturday. Tim Thomas made his Dallas debut.
More NHL: Trades | Scores | Standings | League Leaders | Odds  | Power Rankings
Tim Thomas made his Dallas Stars debut on Saturday night but it wasn't in the best of circumstances.
The goalie acquired from Florida at the trade deadline was called into action in the third period against the Wild after Dallas' No. 1 goalie, Kari Lehtonen, was on the receiving end of a big collision in net. Wild forward Erik Haula was going strong to the net, got in too tight while getting a little tangled with Dallas forward Cody Eakin, and ran into Lethnon with a head-to-head collision.
Force of the hit sent Lehtonen's mask flying off his head just before Lethonen was sent flying into the crossbar. The result was Lehtonen's bare head slamming into the iron, leaving him bloodied. It also left Lehtonen with what the Stars believe was a concussion.
"Obviously, it's not good. He went in hard, hit the crossbar hard," Ruff said (via Dallas Morning News). "The likelihood is it's a concussion on just a dirt play. It should be suspended -- a fourth liner takes out our goaltender."
Haula was given a five-minute major for charging and a game misconduct. We'll have to wait and see if he gets more than that from the league as Ruff suggested.
With Thomas in the net, the Stars scored on the ensuing power play and went on to take a 4-3 win from the Wild and move just three points back of Minnesota for the top wild card spot in the West.
Thomas, by the way, is hardly looking the part of a Stars goalie. He brought his gear along from Florida and the result was this look.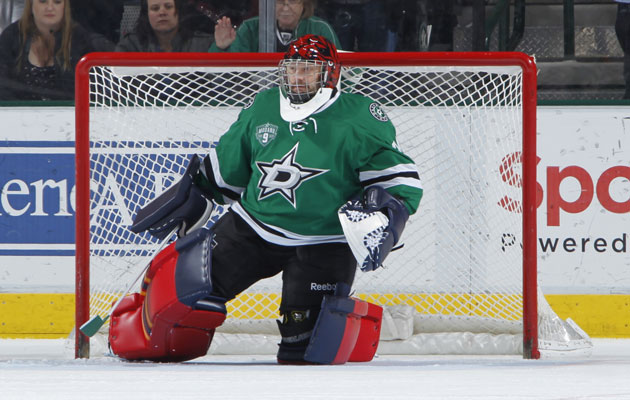 No matter what he looks like, Thomas is now going to be the Stars' goalie for the next while as Lehtonen is going to be out of the lineup for who knows how long if he was concussed. It might be how he wanted it to happen but Thomas is back in a playoff race and will likely be carrying his team's goaltending load on his shoulders.
The 38-year-old defenseman had been on the free agent market since July 1

New York fans aren't too happy about it, either

The league is not backing down, but players aren't hiding their frustrations, either
Draisaitl remains unsigned as Edmonton's premier restricted free agent

Yes, it is as perplexing as it sounds

Here's a look at the best of what's left in the pool of unsigned veterans