VIDEO: Norwegian league defenseman literally rides opponent
Watch as a Norwegian league defenseman hops on an opponent's back and goes for a (brief) ride.
More NHL: Scores | Standings | League Leaders | Odds | Injuries | Power Rankings
We've heard of a player riding another into the boards in hockey, but usually it's just a figure of speech. In one Norwegian League hockey game between Storhamar and Sparta Sarpsborg, that turn of phrase became a little more literal.
Not since D2: The Mighty Ducks have we seen anything quite like what happened Thursday night in Norway. It went from hockey game to rodeo in about two seconds flat.
With the score tied in the first period, Sparta defenseman Erlend Lesund got tangled up with Nathan Martz behind the Sparta net. As Martz tried to get up, he still had Lesund over him with legs on either side of him. Then, as if he were a bucking bronco, Martz kept crawling away trying to get Lesund off his back. Meanwhile, Lesund raised his arms in the air and stopped moving his feet, but remained over Skadsdammen. This went on for several seconds before the play finally left the zone and a very perturbed Martz got away. Only he didn't get away in enough time to avoid being off-side.
Be sure to see the video through to the replay as the incontrollable laughter from the commentators is going to make you smile. Here's a closer look at the action: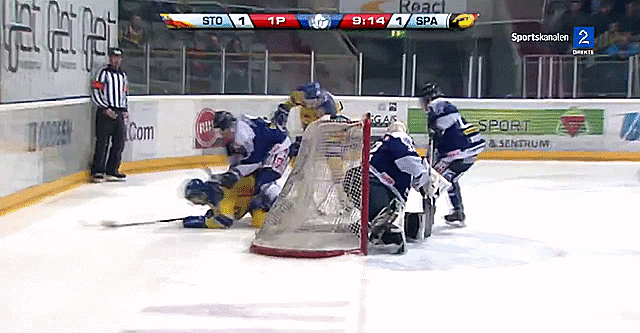 Though Skadsdammen was none too pleased with what transpired, it could have been a lot worse.
Note to self: Watch more Norwegian League games.
(H/T @HockeyWebCast)
The former Boston Bruin was the first black player to play in the NHL

Inclement weather led to the Charlotte Checkers and Bridgeport Sound Tigers playing in front...

The NHL chose the Detroit rocker as its All-Star Game entertainment and not everyone is th...
NHL fans from all over seem to agree on one thing: Hating Kid Rock

The team tweeted on Monday that Shaw would be re-evaluated in 7-10 days

The Montreal forward was hospitalized after taking a Zdeno Chara slap shot to the head