VIDEO: Wild mascot Nordy does his best Green Men impersonation
Minnesota Wild mascot Nordy turned the tables on the Canucks on Tuesday night, doing his best Green Men impersonation by the Vancouver bench.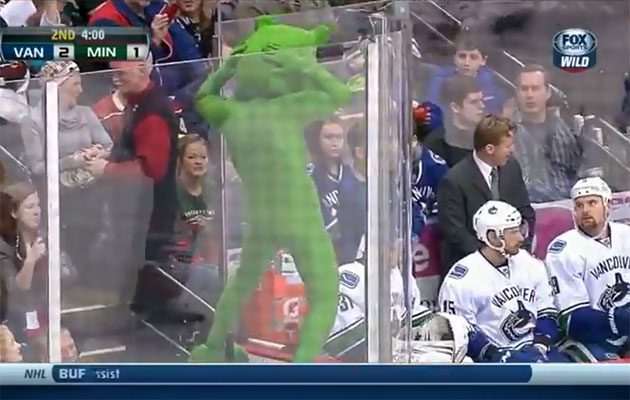 More NHL: Scores | Standings | League Leaders | Odds | Injuries | Power Rankings
If you have ever watched a Vancouver Canucks game, you've likely noticed Sully and Force, the Green Men who sit beside the opposing penalty box and act the fool when somebody has to spend a few minutes in the sin bin.
Their antics have been well chronicled, even making ESPN of all places, and at times mocked.
Somebody who has definitely taken notice of the Green Men is the mascot for the Minnesota Wild, Nordy. He did his best impression of the Green Men on Tuesday night when the Canucks visited the Wild, tight suit head to toe and all.
What really sells it is the standing on the dashers and dancing. I can't imagine it's easy to keep your balance on that tiny ledge with that big of feet but Norday pulls it off and pulls it off well. It's a dance that Sully and Force would be proud of. At least they thought enough of it to retweet it.
Well played, Nordy, well played. Next time he'll have to bring out some props and really do the impersonation justice.
After missing the Stanley Cup playoffs with a herniated disk, Letang is working on his foo...

The 38-year-old defenseman had been on the free agent market since July 1

New York fans aren't too happy about it, either
The league is not backing down, but players aren't hiding their frustrations, either

Draisaitl remains unsigned as Edmonton's premier restricted free agent

Yes, it is as perplexing as it sounds