Vinny Prospal doesn't seem to be in the Blue Jackets' plans
Vinny Prospal led the Columbus Blue Jackets in scoring last season. And now he might not be in their plans.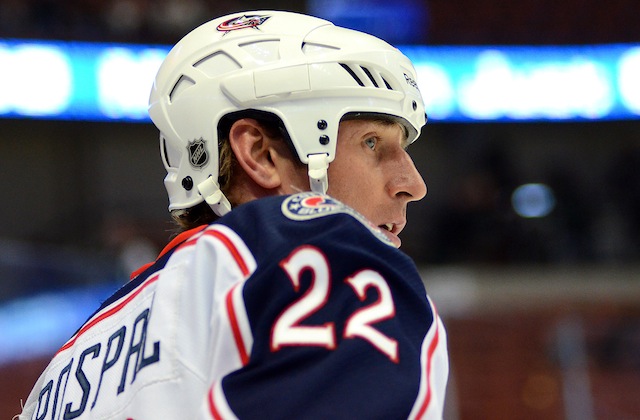 More NHL offseason: Rumors | Top 50 Free Agents | Buyout Tracker | Trade Tracker
If Vinny Prospal continues his NHL career this season, it's looking like it won't be with the Columbus Blue Jackets.
Prospal, the Blue Jackets' leading scorer last season, remains unsigned, and it seems that the team is prepared to move in another direction as it continues to take shape under first-year general manager Jarmo Kekalainen.
Kekalainen already said this week that he's unsure whether Prospal will be extended an offer.
"Are we going to extend him an offer? We're not sure we want to do that yet," Kekalainen told the Columbus Dispatch. "We want to give him the proper respect if we do -- and he may not even want to do it.
"We always like to keep our options open, but I'd say right now we'll stand pat unless we make an offer to Vinny."
Now that the Blue Jackets have added free agent Nathan Horton to the mix, there doesn't really seem to be a spot for Prospal on the roster. Especially, as Michael Arace of the Dispatch writes, the team works to mix in some of its younger players, including Nick Foligno, Matt Calvert and Cam Atkinson and deals with an entirely new problem: The salary cap.
More from Arace:
The Jackets this summer are not the Jackets of two years ago. Coach Scott Arniel is long gone. So is Howson. The team has developed an on-ice identity and ethos and, in the process, locker-room leadership has turned over to a new generation that includes Brandon Dubinsky, Jack Johnson, R.J. Umberger and [James] Wisniewski. It is not untoward to question whether Prospal's forceful personality is still needed.

Suddenly, he is a luxury. Prospal made $2.5 million when cap space was not an issue for the Jackets.

It is an issue now.
The last line is still pretty incredible. Yes, the Columbus Blue Jackets are, in fact, a cap team and as of this moment have one of the highest payrolls in the NHL. Believe it. It's happening. And it might make keeping Prospal a difficult proposition unless he takes a bit of a discount to stay.
Assuming the Blue Jackets still want him.
Prospal only spent two years with the Blue Jackets, but he quickly became a fan favorite as he helped establish some level of credibility to a franchise that has lacked it since it entered the league more than a decade ago. He's been one of the most productive players on the ice the past two seasons and a stabilizing presence off it.
But will he be able to continue that level of production for another full season at the age of 38?
It wouldn't be a stretch to think that maybe players like Calvert and Atkinson can be just as productive as Prospal (if not more so) when given a bigger role, and it's hard to argue that they have earned that. Both players posted some of the best possession numbers on the roster last season and started to show a bit of a scoring touch, but both have room to get better.
Winger also says he will no longer raise a fist during the anthem after his protest started...

Here's what you might have missed across the NHL on Tuesday night

Montreal can't score, New York's defense is in disarray and the Oilers are supremely under...
The NHL's newest team is a hit on and off the ice

J.T. Brown, who raised his fist during the national anthem, meets with Tampa Police Depart...

The decision would likely be met by anger from some fans, but it could also make sense