Visors to be grandfathered into NHL starting in 2013-14 season
NHL players voted in favor of grandfathering in mandatory visors in the NHL starting in the 2013-14 season. They will also try hybrid icing during the preseason.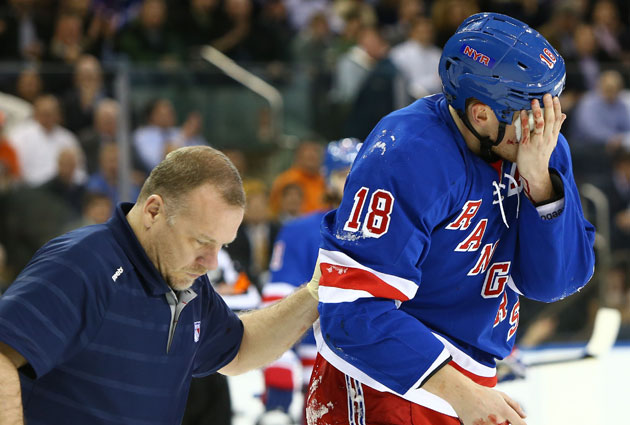 More NHL Playoffs: Scores | TV Schedule | Expert Picks | Odds | Mock Draft | Rumors
The NHL will begin the process of mandating visors as they will be grandfathered into the league starting in the 2013-14 season.
The issue of visors was at the top of the agenda for the competition committee meetings, something that became a bigger issue this year with the injury to Rangers defenseman Marc Staal in early March. Previously a player who didn't wear a visor, he came out after his gruesome injury and said he was now in favor of mandating visors.
That means any player entering the NHL will have to wear a visor and any player currently in the league not wearing a visor can elect to stay without a shield. It shouldn't be that big of an issue considering that players are all wearing visors or more before coming into the NHL.
The big issue now with visors will pretty much only be in the realm of enforcers. Guys who do a lot of fighting don't wear visors in today's game for pretty obvious reasons -- hands to the visor don't feel good, and there is honor in fighting. We likely will see players removing their helmets going forward in fights between players with visors, creating a separate danger there. What will change is the rule enforcing penalties when a player starts a fight with a visor.
Even with that, this has seemed like a no-brainer for a long time in the NHL. It was long overdue. Opinions on this have changed dramatically over recent years not only because of the rash of injuries but also simply because the league is always getting younger. The younger players are used to wearing visors, it's a non-issue for them.
That's not all the competition committee recommended for the NHL Board of Governors on Tuesday. Here are a few other items that came out.
Hybrid icing will be tried in NHL pre-season and could be used in regular season.

— Chris Johnston (@reporterchris) June 4, 2013
Seems like a good one to me. The AHL tried it this season -- the race for the puck ends at the faceoff dot instead of beyond the goal line -- and had pretty strong results. There's no need for races all the way to the boards and the risk of senseless injuries that accompany it.
Every 4-minute high stick penalty will be up for video review

— Elliotte Friedman (@FriedgeHNIC) June 4, 2013
This can't really hurt. The NHL reviews are relatively swift as it is. Though I'm not entirely sure why video review is necessary on a four-minute high-sticking call since the threshold is simply if there was blood on the offended player or not.
Sub-committee to investigate further into Goalie equipment.

— John Shannon (@JSportsnet) June 4, 2013
This isn't a real surprise. Trying to scale down goalie equipment is seen as one solution for increasing scoring, so they will explore the possibilities further.
Also recommnded: the use of shallower nets, creating more room to work behind the nets

— Elliotte Friedman (@FriedgeHNIC) June 4, 2013
That's relatively interesting even if not an entirely new concept. The aim of that would also be to create more scoring, give players more room behind the net to make plays. At the very least, it would make the distance shorter for players on wrap-around attempts.
To clarify, these are all things that the players voted on and will be presented to the Board of Governors, though it's unlikely any proposal that makes it that far will be turned down. You can expect all of these recommendations to be adopted.
Stacia Robitaille says Donald Trump told her in an elevator that she was coming home with...

Vladislav Yeryomenko was the Teddy Bear Toss goal scorer for the Calgary Hitmen

The Golden Knights are finally getting their No. 1 goalie back after a 25-game absence
Washington has won four straight, and the Kings are also on a tear right behind the Lightn...

The NHL says it's only interested in expanding to Seattle, but here's a look at all the moving...

The NHL says it is only looking toward Seattle for the next expansion team