Vladimir Tarasenko leads stacked class of NHL rookies
The 2013 rookie class is full of promising young players. Some have already established key roles on their teams, while others are still fighting to stay up with the big club.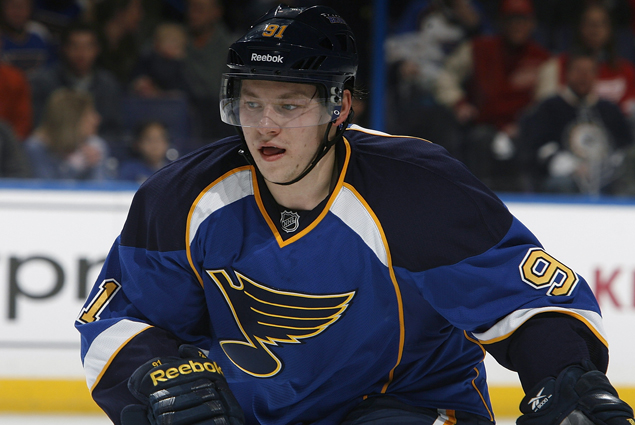 St. Louis Blues forward Vladimir Tarasenko has impressed in his rookie season. (Getty)
More NHL: Scores | Standings | Odds | Fight-O-Meter | League Leaders | Rumors
One of the highlights of the abbreviated season is the influx of new talent in the NHL. The 2013 rookie class is full of promising young players. Some already have established key roles on their teams, while others are still fighting to stay up with the big club.
Among the players still age-eligible to be returned to their junior clubs, the audition for a full-time job has been shorter than normal. The weeklong training camp and a maximum of five games before the clock starts ticking on their entry-level contracts puts the strain on teams to make decisions based on a fairly small professional sample size.
Since the teams are working with a small sample size to make big decisions, we are, too, in selecting the top five rookies (junior-aged or otherwise) coming out of the first week of the season.

There's really no contest here. Tarasenko has been a threatening player from the second he hit the ice. Bursting onto the scene with a two-goal performance against the Detroit Red Wings in his first NHL game, Tarasenko leads all rookies with eight points through his first six games. Of course, Tarasenko has the benefit of a good team around him and his usage has been offense-friendly, but he's still putting the puck in the net and making plays.

Hamilton gets bonus points for being a 19-year-old defenseman and playing the way he has. He looks like he belongs, showing some mature puck-moving skills and confidence. Hamilton has drawn rave reviews from teammates and though he'd be eligible to return to junior, the Bruins are hanging onto the 6-foot-5 defenseman. Hamilton has four assists and has been getting regular shifts as well as time on the power play. There's still a lot of ceiling for Hamilton to reach for, which has to make the Bruins one happy hockey club.

After utterly dominating the American Hockey League in the first half of the season, Schultz was thrown right into a significant role for the Oilers. He's handled it well so far, playing top-four minutes with an average of 23:18 through five games. Known as a primarily offensive defenseman, the points have been coming, too. He has five this season with four of those coming on the power play including both of his goals. He still needs work defensively, but his offense is translating well so far and that's encouraging.
4. Cory Conacher -- F -- Tampa Bay Lightning

The 23-year-old rookie tore up the American Hockey League last season for the Calder Cup-winning Norfolk Admirals and it appears he's making a seamless transition to the big leagues. An NHL longshot due to his size (5-foot-8, 179 pounds) and coming out of a NCAA mid-major school, Canisius, Conacher is showing he can produce at the NHL level. With seven points on the young season, he is second in rookie scoring and has found himself in a top-six role with the Lightning, even earning time on the power play.
5. Nail Yakupov -- F -- Edmonton Oilers

It took Yakupov all of three games to become the talk of the NHL and while the focus was on the celebration, he still scored a huge goal for his team. He's also seeing a regular shift and while still adjusting to the NHL, the Oilers aren't shying away from using him. Obviously having him on the ice in the dying seconds of a one-goal game demonstrates the level of confidence Edmonton has in their No. 1 overall pick. As he continues to make the adjustment, the numbers should just keep coming right along with him.
Some teams have already made their final decisions on junior-age eligible players, while others still have a little bit of time.
Staying

The Habs announced Tuesday that Galchenyuk will be staying with the team for the duration of the season. The No. 3 overall pick in the draft has been outstanding so far with three points. Considering he spent almost all of last season on the shelf with a severe knee injury, putting his draft status in doubt, Galchenyuk is already showing signs of why the Habs were right to take him at No. 3. Michel Terrien has sheltered Galchenyuk a bit in his usage of the 18-year-old, but the youngster has made his ice time count and should see it grow as he further adjusts.
Mikhail Grigorenko

-- Buffalo Sabres

Though he hasn't registered a point, Grigorenko has shown the Sabres enough to stick around. There was some doubt about whether he'd stay or go, but Grigorenko's fifth game was his best yet and likely solidified the decision.  He dominated the QMJHL with the Quebec Remparts in the first half and looked to have already outgrown the league. As long as Buffalo can give him the ice time he needs to continue developing, he should smooth out relatively quickly with his plethora of skills
Dougie Hamilton -- Boston Bruins

Well, he's listed as our No. 2 rookie so far, so this move should come as no surprise. Peter Chiarelli announced before Boston's game Monday night that the 19-year-old rearguard was staying in the NHL. Hamilton responded by registering his fourth assist in his last three games. The Dougie chants are already raining down at TD Garden.

The Panthers have decided to hang on to Huberdeau instead of returning him to the QMJHL. Though Huberdeau has been without a point since his rousing one goal, two-assist debut, the Panthers always seemed to have the youngster in their immediate plans for the season. He had accomplished about all he could at the junior level, but Panthers fans might want to exhibit some reserve in their first-year expectations for the former No. 3 overall pick.
Nail Yakupov -- Edmonton Oilers

Unlike the others listed above, there isn't likely to be a formal announcement about Nail Yakupov's staying with the Oilers. It's been pretty much assumed from Day 1 he would stick with the big club all year. The No. 1 overall pick added his third goal Monday night, an empty netter, and should see his role continue to expand in Year 1. He's getting a lot of time on the power play and the team isn't afraid to use him in late-game situations.
Going

The Flyers were impressed with Laughton, but ultimately chose to send him back to the Oshawa Generals in the Ontario Hockey League. He got his five games in and played a physical role for such a young player. Laughton averaged 11:31 in five games and delivered 10 hits. There just wasn't much need to rush the 18-year-old, who will play a much more significant role on his junior club and continue developing the offensive elements of his game with less pressure.

Though he was on the roster, Dumba never played a second for the Wild, who were keeping him around in the event that one of Marco Scandella or Jonas Brodin were unable to play. Minnesota also hoped to get their No. 7 overall pick a taste of the NHL, even if that didn't include being on the ice. Dumba will head back to the Red Deer Rebels in the Western Hockey League where he's underperformed a bit. That said, the Wild are hopeful his brief time with the NHL will spark some confidence. He'll be back in the mix for a spot next year.
Three players have yet to find out their fate, but there is a good chance all three get sent back to the junior ranks.

A healthy scratch in the last two Winnipeg games, the Jets have yet to make a decision on Scheifele. the Jets are taking as much time as they can to figure out what to do with their top prospect. By scratching him, Winnipeg has bought some time. He has two games left to play before the Jets have to make a final determination, but most signs are pointing to Scheifele heading back to the Barrie Colts.

Rackell is facing a similar situation as Scheifele as the Ducks still have not made a determination on whether to keep the young Swede or send him back to the Plymouth Whalers. Rakell is averaging just 8:54 of ice in three appearances with the Ducks, but coach Bruce Boudreau likes the little he's seen of the former 30th overall selection.

Matteau is slated to skate in his fifth game Tuesday night for the Devils. The 18-year-old American-Canadian dual citizen and son of former NHLer Stephane has seen his ice time fluctuate quite a bit over his first four games. It's a very tough call for New Jersey as Matteau has looked like he belongs. Also, a relative lack of organizational depth creates a need at forward. Short-term need isn't going to be a good enough reason to keep Matteau around. As good as he's been, it's probably best for his long-term development to head back to the QMJHL where he's been standing out for the Blainville-Boisbriand Armada.
For more hockey news, rumors and analysis, follow @EyeOnHockey and @chrismpeterson Twitter and like us on Facebook. Also, subscribe to our YouTube Channel.
The former Boston Bruin was the first black player to play in the NHL

Inclement weather led to the Charlotte Checkers and Bridgeport Sound Tigers playing in front...

The NHL chose the Detroit rocker as its All-Star Game entertainment and not everyone is th...
NHL fans from all over seem to agree on one thing: Hating Kid Rock

The team tweeted on Monday that Shaw would be re-evaluated in 7-10 days

The Montreal forward was hospitalized after taking a Zdeno Chara slap shot to the head