Want to see an NHL playoff game in Toronto? It will cost you
The Maple Leafs are back in the playoffs for the first time in nine years, so that means already in-demand tickets go for sky high prices.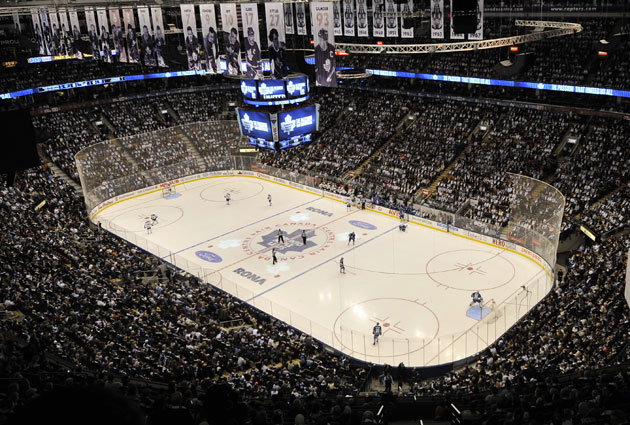 More NHL: Scores | Standings | Odds | Fight-O-Meter | League Leaders | Rumors
It's been a long time since the Toronto Maple Leafs were in the playoffs. For a hockey city like Toronto, nine years is like an eternity. Hopefully, fans who have been waiting were saving up money.
Even before the playoffs begin, the Leafs have awfully high ticket prices. That's no secret. The average ticket to a game in Toronto is $124.69 (.PDF). The next highest average ticket price in the NHL this season belongs to the Winnipeg Jets. At $97.84. Needless to say, Leafs tickets were already at a premium.
Now that they are actually playoff bound, the price went up for tickets. Way up.
In addition to the Leafs having some issues with their systems when playoff tickets went on sale on Thursday, they still went like hotcakes. That despite the average ticket price exceeding $200, a dramatic increase from regular-season prices.
Heck, when former MLSE head Richard Peddie tells Michael Grange of Sportsnet he is surprised at the prices, you know they're in the stratosphere.
The path to a ticket at this point is through the secondary market, where some of the prices will make your head spin. Believe it or not, there are two tickets for sale to the first game that the Leafs will play at home for $88,000. Each.
That's obviously going a little far. I would assume somebody might even be doing it for a little fun. They won't fetch that kind of return, not anywhere close. The next highest-priced tickets go for $19,670, and a few more around the $10,000 mark. To get a better idea of the real value, the high-end tickets beyond the few outliers are going for around $1,000.
On the other end of the spectrum, the cheapest that you can get into the building is for $235 to a standing-room only, non-alcoholic section. The cheapest tickets that come with an actual seat: $269. Compare that to another hockey-crazy city like Montreal, where you can get a ticket online for $110.
Now, just because people are trying to sell tickets for that much doesn't mean they will get that much. Some aggressive entrepreneurs are looking to make a quick buck on the Leafs and their excited fans.
Some people aren't happy about it. They feel it's unfair all while they or their friends decked out in blue open their wallets so they can set foot in the doors of Air Canada Centre when the Leafs are playing a postseason game once again.
It stinks that a team with an incredibly loyal and robust fan base is rewarded for that with higher ticket prices, but such are the elementary principals behind economics. That doesn't mean it stinks any less that some fans would have to take out a second mortgage to buy great seats.
Los Angeles isn't rushing to sign the 45-year-old forward any time soon

The University of Denver star and Hobey Baker Award winner is drawing interest

Intrigue is high in Arizona after a wild offseason, but expectations should still be tempe...
Players are set to give personalized messages for Adidas' former hockey equipment brand

The 40-year-old center is returning to the Wild after a successful run in Pittsburgh

Edmonton locks up its 21-year-old RFA a month after McDavid's historic extension