Washington magazine names Alex Ovechkin worst local athlete
Alex Ovechkin had a 'down' season so now he's the worst local athlete? That's what one Washington D.C. outlet says.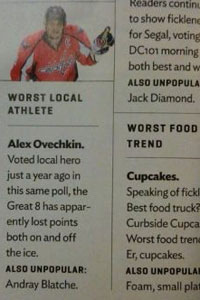 That's ... interesting. (via D.C. Sports bog)
How "bad" was Alex Ovechkin's season with the Washington Capitals this past year? It was so "bad" that he is apparently now the worst athlete in the nation's capital -- among its sports teams, of course.
That's right, Ovechkin, still the fifth-leading goal scorer in the NHL this season with 38, is the worst local athlete as voted by the Washingtonian's readers. Not Andray Blatche of the Wizards, not Sexy Rex Grossman of the Redskins or Xavier Nady of the Nationals. Nope, it's Ovechkin, arguably the city's most visible pro athlete, certainly its most visible hockey player.
He couldn't score 45 goals? What a bum!
Here's the blurb that accompanied the photo of Ovechkin in the magazine's "best of Washington" issue.
Voted local hero just a year ago in the same poll, the Great 8 has apparently lost points both on and off the ice.
But hey, at least Blatche made the "Also unpopular" mentions list.
It seems pretty clear to me that this is a weighted poll. This has to be taking into consideration a number of factors such as salary, expectations and perception. Ovechkin makes a lot and his numbers have dropped recently, but to say that they are bad and to insult him by putting him in the same conversation as Blatche? Well, that's just blasphemy (Blatchesphemy is too awful to use, right?).
What this does do, though, is remind us why our Founding Fathers instituted the Electoral College. You leave the vote up to the people and this is what happens.
I'm trying to put myself in the mind of the Washingtonian reader here and figure out the thought process. As I said, his season was slightly disappointing because of his past numbers, but it's hardly bad enough to warrant such a swing of public opinion.
Next year's worst local athlete prediction: Bryce Harper after his batting average slumps to .245 with 25 dingers and only 77 RBI in a full season.
Finally ... cupcakes being a bad food trend? Seriously?? Come on Washington, who doesn't love more cupcakes? I can live with Ovechkin's dishonor, but you lose all credibility by dissing cupcakes.
H/t to Washington Post, D.C. Sports Bog
For more hockey news, rumors and analysis, follow @EyeOnHockey and @BrianStubitsNHL on Twitter and like us on Facebook.
The former Boston Bruin was the first black player to play in the NHL

Inclement weather led to the Charlotte Checkers and Bridgeport Sound Tigers playing in front...

The NHL chose the Detroit rocker as its All-Star Game entertainment and not everyone is th...
NHL fans from all over seem to agree on one thing: Hating Kid Rock

The team tweeted on Monday that Shaw would be re-evaluated in 7-10 days

The Montreal forward was hospitalized after taking a Zdeno Chara slap shot to the head