WATCH: American fans react to T.J. Oshie winner
American fans were watching the USA play Russian in groups and they celebrated in groups when T.J. Oshie scored in the shootout to win it.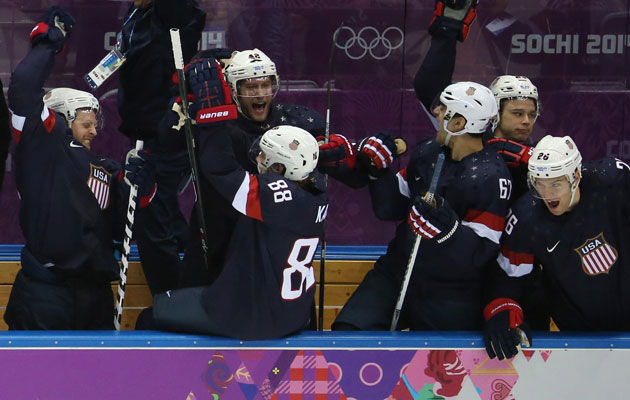 More NHL: Scores | Standings | League Leaders | Odds | Injuries | Power Rankings
Americans were very excited for hockey on Saturday as their beloved Americans faced the vaunted Russians at the Winter Olympics. They packed bars across the country even if the game started at 7:30 a.m. in the east.
Americans were even more excited when T.J. Oshie scored in the eighth round of the shootout to give the USA a 3-2 win and a leg up in Group A. We have proof of this excitement.
This is what it looked like across America when Oshie scored. Jubulation. Now if we can continue to spread the message to turn those cameras/phones sideways, we'd really be in business. But these celebration videos never, ever get old.
And lastly, a pretty terrific still reaction via the Penguins:
Photo of U.S. soldiers in Afghanistan celebrating the final, game-winning shot when #TeamUSA defeated Russia today! pic.twitter.com/gXKMS29LZY

— Pittsburgh Penguins (@penguins) February 15, 2014
Can't you just see the bald eagles soaring above while the fireworks explode and apple pie is consumed?
The Russian experience was juuuust a bit different as Bruce Arthur discovered in the Sochi press room.
Los Angeles isn't rushing to sign the 45-year-old forward any time soon

The University of Denver star and Hobey Baker Award winner is drawing interest

Intrigue is high in Arizona after a wild offseason, but expectations should still be tempe...
Players are set to give personalized messages for Adidas' former hockey equipment brand

The 40-year-old center is returning to the Wild after a successful run in Pittsburgh

Edmonton locks up its 21-year-old RFA a month after McDavid's historic extension