WATCH: Blackhawks' Andrew Shaw ejected for head butting Brock Nelson
Chicago Blackhawks forward Andrew Shaw head butted New York Islanders forward Brock Nelson on Tuesday night. He was ejected from the game and could be suspended.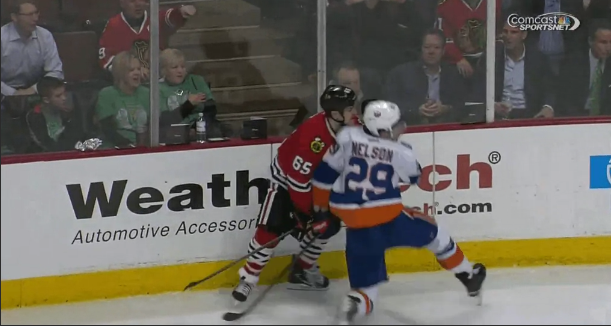 Chicago Blackhawks forward Andrew Shaw was ejected early in the second period on Tuesday night for head butting Islanders forward Brock Nelson. 
The whole thing started when both players were involved in a battle along the boards that included a couple of cross-checks from Nelson as the play continued on away from them.
Shaw responded by head butting the Islanders forward, which you can see at the end of this clip here as Nelson gets knocked to the ice. 
Along with the game misconduct, Shaw also received a five-minute major penalty. The Islanders failed to score on the power play.
You should probably expect Shaw to get a phone call from the league regarding this incident and perhaps some additional punishment.
Nelson remained in the game, but Shaw has been suspended in the past, getting a three-game banishment during the 2011-12 Stanley Cup playoffs when he charged Arizona Coyotes goalie Mike Smith during their first-round playoff series. 
The team tweeted on Monday that Shaw would be re-evaluated in 7-10 days

The Montreal forward was hospitalized after taking a Zdeno Chara slap shot to the head

Tampa Bay is still No. 1 and Vegas is still up there, but a few others are finally catching...
Army filed an opposition to the use of 'Golden Knights' on the last day that it was permitted...

The NBC rinkside reporter is hoping to return in time for the 2018 Olympics

Here's who wade the cut for the 2018 NHL All-Star Game on Jan. 28 at Amalie Arena in Tampa...