WATCH: Blackhawks' Andrew Shaw ejected for head butting Brock Nelson
Chicago Blackhawks forward Andrew Shaw head butted New York Islanders forward Brock Nelson on Tuesday night. He was ejected from the game and could be suspended.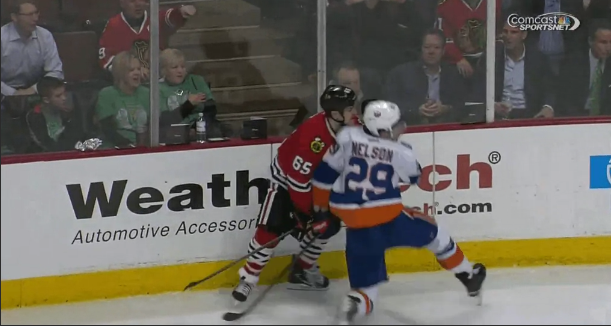 Chicago Blackhawks forward Andrew Shaw was ejected early in the second period on Tuesday night for head butting Islanders forward Brock Nelson. 
The whole thing started when both players were involved in a battle along the boards that included a couple of cross-checks from Nelson as the play continued on away from them.
Shaw responded by head butting the Islanders forward, which you can see at the end of this clip here as Nelson gets knocked to the ice. 
Along with the game misconduct, Shaw also received a five-minute major penalty. The Islanders failed to score on the power play.
You should probably expect Shaw to get a phone call from the league regarding this incident and perhaps some additional punishment.
Nelson remained in the game, but Shaw has been suspended in the past, getting a three-game banishment during the 2011-12 Stanley Cup playoffs when he charged Arizona Coyotes goalie Mike Smith during their first-round playoff series. 
NHL players are still disappointed they won't be going to skate in PyeongChang

With Artemi Panarin in the mix and a Vezina winner headlining the defense, Columbus can be...

The league's crackdown on faceoff infractions and slashing penalties isn't without some cr...
Joffrey Lupul spent last season on long-term IR but seems to be saying he's healthy

Early playoff trouble has been evident, but the Wild tout an offense capable of making another...

Why walk with skate guards when you can rollerskate instead?