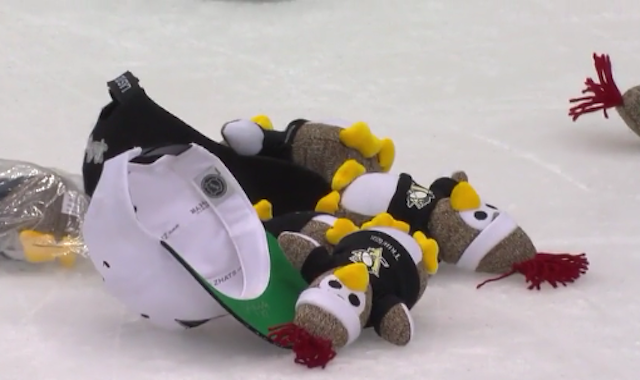 Pittsburgh Penguins forward Patric Hornqvist recorded his first career hat trick on Monday night when he scored three goals against the Arizona Coyotes. That, of course, is good news for him and his team. 
Good news for everybody else is the fact he did it on a giveaway night, which is always the best night to record a hat trick because it almost certainly means many of the giveaways are going to end up on the ice. And what was the giveaway on Monday in Pittsburgh?
Something called a sock Penguin, and yes, many of them ended up finding their way to the ice.
"Here come the sock penguins" is not something you hear every night.

It's Patric Hornqvist's first NHL hat trick.https://t.co/6FrLfydL2E

— NHL (@NHL) March 1, 2016
Hornqvist did all of that in the first two periods and helped the Penguins race out to a 4-0 lead. He now has 15 goals on the season thanks to his effort on Monday.
This is not the first time this season a hat trick in Pittsburgh resulted in something bizarre hitting the ice. Earlier this season Boston Bruins forward Frank Vatrono recorded a hat trick against the Penguins resulting in a disgruntled fan throwing his shoe out of frustration.