Wayne Simmonds on Ilya Bryzgalov's absence: 'I think it will help'
Flyers forward Wayne Simmonds was asked how Ilya Bryzgalov's exit would help things in the dressing room: 'I think it will help guys out.'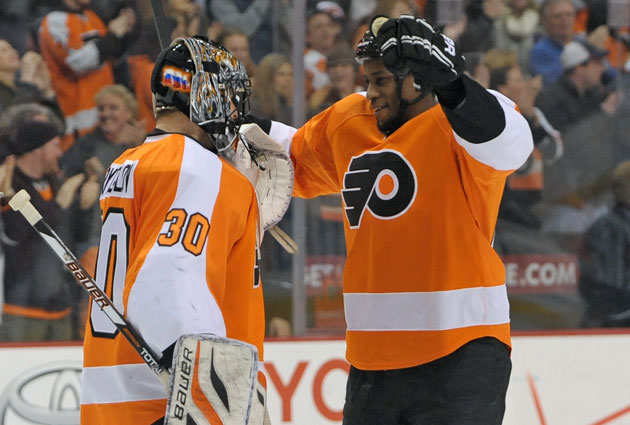 More NHL offseason: Rumors | Top 50 Free Agents | Buyout Tracker | Trades | Transactions
When the Philadelphia Flyers elected to move on from the Ilya Bryzgalov era by buying out the goalie's contract, the question became immediately apparent: Will the Flyers be better sans Bryz? He was paid an awful lot of money and didn't produce anywhere near the level you'd expect with that kind of salary.
Replacing Bryz started with the Flyers acquiring Steve Mason in a trade from Columbus and then signing Ray Emery to a one-year contract in free agency. So again, are the Flyers better in net?
We'll have to wait and see on that -- though it's tough to imagine they'll be worse off -- but perhaps they will be better in the locker room without Bryzgalov. That was the question posed to Flyers forward Wayne Simmonds in an interview on Sportsnet radio (audio here).
Question: Are you guys better off with Emery over Bryzgalov just from a dressing room standpoint, just for stability?

Simmonds: "I think it will help guys out. Nothing against Bryz or anything like that. When Mase came in last year, he played really strong for us. And you look at what Razor did with Chicago, I think we got a great one-two tandem there. They can battle it out."
There's no denying that Bryzgalov is a character and drew a lot of attention in Philadelphia. To me he seems like a pretty fun guy who is nothing short of interesting, but there were suggestions/rumblings that his act was a bit tiresome on the Flyers. I don't know enough to speak to that, but what I do know is that Bryzgalov's behavior/personality did serve as a distraction to the Flyers' season, so often he was a focus. In that sense, seeing Simmonds say Bryzgalov being gone will help the other guys out in the locker room does seem pretty fair.
However, I'm not sure Simmonds wasn't doing anything but trying to skirt the question and just talk about the new tandem of Emery/Mason in an overall sense because he turned the conversation pretty quickly.
Bryzgalov, meanwhile, is still waiting to see if he will get another job in the NHL, but it has been eerily quiet on that front. There has been next to no chatter about any interest in the Russian netminder.
J.T. Brown, who raised his fist during the national anthem, meets with Tampa Police Depart...

The decision would likely be met by anger from some fans, but it could also make sense

Toronto shoots to the No. 1 spot, just ahead of the Chicago Blackhawks
The Penguins' standout is at it again

Gary Bettman all but reverses course from his September comments on anthem demonstrations

The 'Washington Post' says many teams have stopped booking stays at Trump-owned properties