Western Conference playoff race primer: West won't be so wild
The playoff push is on. In the West there are basically just two spots left with the Wild and Stars leading the way. We break down the West wild card race.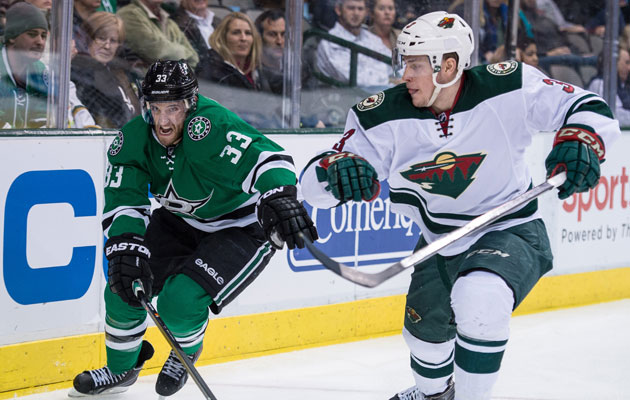 More NHL: Trades | Scores | Standings | League Leaders | Odds  | Power Rankings
It's hard to believe but the NHL is already down to the few weeks of the season, teams have somewhere between 15 and 17 games to go. That means the sprint to the finish line is on.
Remember that this is the first year with the new alignment in the NHL and the new playoff structure that comes with it. No longer is it simply the top eight teams in each conference -- even if it might work out that way -- but it is instead the top three teams in each division with two wild cards to fill out the field.
There is no denying that the West is the Best once again this season, it is extremely tough at the top and there are more than a couple teams that you could see as being capable of winning the Stanley Cup. What that means in terms of the standings here in mid-March, though, is a mostly set playoff field.
There are six teams that are in no danger of missing the playoffs. It would take monumental collapses from the Blues, Blackhawks, Avalanche, Ducks, Sharks and Kings to miss the playoffs. The only team that's not 100 percent safe is the Kings but they're nine points clear of the third wild card position. There is still jockeying for playoff position to take care of, which will determine who has home-ice advantage, but as far as making the postseason? They're all but in.
That leaves the two wild card spots as pretty much all that's left. As it stands going into Wednesday,the Wild in position for the first wild card, which means they'd face the division winner with the second most points and the Stars are holding on to the second spot.
So without further ado, here is your Western Conference wild card primer.
Minnesota Wild
Points: 77 -- First wild card
Games remaining (home/road): 17 (8/9)
Remaining opponent points percentage: 0.596
Sports Club Stats playoff odds: 83.2%
Minnesota's lead is not as cushy as it was not long ago but the lead remains four points on the ninth-best record in the conference and as we know, making up ground even as small as that with so few games left is difficult. The Wild have reason to feel pretty good.
At this point being the first or second wild card doesn't really matter, all that's important is getting in. No matter which team finishes with the best record, they are going to be a bull and so will the second division winner. There is no easier path in the West.
Even with their lead, though, the Wild are going to have to earn this one. They have two more games at home coming up but then they will hit the road for nine of their next 12 games in what will absolutely be a defining stretch of their season. Few teams have the home/road record split that the Wild have; at home they are 22-7-4 but on the road just 12-15-5. It will be nice to finish the season with a three-game homestand but the run up to that finish won't be easy, particularly with a pretty tough schedule.
As it stands the Wild have hit a little bump to bring the teams below them back into range, a bump that included a loss to Dallas last week. They have lost three in a row, though two in shootouts with every game being close.
Darcy Kuemper has been all that the Wild could have asked for and more this season, stepping in to a difficult situation but in three March games he has come back to earth with an .897 save percentage even with two of those games against Calgary and Edmonton at home.
Certainly it still looks good for the Wild but they are not in a guaranteed spot by any means.
Dallas Stars
Points: 74 -- Second wild card
Games remaining (home/road): 17 (7/10)
Remaining opponent points percentage: 0.562
Sports Club Stats playoff odds: 77.3%
What the Stars are doing right now through their trials and tribulations is a testament to how far this team has come this season. With Kari Lehtonen's concussion and the frightening situation with Rich Peverley, it made their win at St. Louis on Tuesday night all the more impressive. Overall they have won three in a row and six of eight to push a few more teams out of real contention.
You can't talk about the Stars this season without mentioning Tyler Seguin. He and Jamie Benn have been just phenomenal and if you believe in those unquantifiable intangibles, he has the Stanley Cup experience to lead the Stars back to the postseason for the first time in what feels like ages.
Speaking of Cup experience, it's good to have Tim Thomas aboard. Picked up at the trade deadline in a simple swap for Dan Ellis, he isn't the worst option to have with Lehtonen's return uncertain at this time. His Stars career is off to a 2-0 start.
It's a mixed bag down the stretch for the Stars in terms of their schedule but their quality of opponents is the softest of the teams truly in the hunt here. Any advantage you can claim at this time of the season you'll take. However they still have road stops in St. Louis, Chicago and Pittsburgh to make as well as a resumption of the game against Columbus to squeeze into the schedule.
Dallas has been waiting since 2008 to get back to the playoffs after reaching the conference finals, coming so close every time. This time around they've put themselves in position to be the team with the leg up and not chasing. This might finally be the season they break back through to the other side.
Phoenix Coyotes
Points: 73
Games remaining (home/road): 16 (8/8)
Remaining opponent points percentage: 0.571
Sports Club Stats playoff odds: 34.1%
There is one truth that has developed in the past five or so years in the Western Conference: You can never count out the Coyotes. After missing the playoffs last season for the first time in a while, the Coyotes got their long-desired ownership stability and did a little retooling on the ice. All of that has them right in the thick.
The way it looks is there are truly just three teams for two wild card spots in the West and right now the Coyotes are the odd team out. They have played one more game than the two leaders and still are trailing by a point. But only a point.
All season the Coyotes have had an ongoing battle with consistency. They have their ups and their downs. Right now they're having an up with four wins in the last five games and so on Tuesday they very briefly held the second wild card spot until Dallas regained it in a later game.
In a twist from what we've come to expect from Dave Tippett's teams, scoring hasn't been the issue this season, it has been stopping teams from scoring. Tippett wants his team to try and find some kind of balance in there and regain some of their old identity. Maybe it's just a result of their recent schedule not containing offensive juggernauts or what, but that has come back at least a little thanks laregly to improved play from Smith. He was spectacular in the small sample of February and so far in March's six games he has a .926 save percetage, well above his now-season average of .914. If that continues, watch out.
The tricky part is seeing that it continues. They have a perfect home/road split to close and while they will get games with the bottom-feeders (Florida, Calgary, Edmonton, to a lesser extent Nashville), they also draw heavyweights, including the scorching Kings twice. What we'll wait and see is if the Coyotes can make sure the final game of the season matters because they close the season with Dallas at home. That could be a lot of fun.
Winnipeg Jets
Points: 68
Games remaining (home/road): 16 (8/8)
Remaining opponent points percentage: 0.606
Sports Club Stats playoff odds: 3.1%
There was a time not long ago that the Jets were really starting to make you wonder. They received the boost courtest of the coaching change from Claude Noel to Paul Maurice that rode them all the way back into contention in the West after looking like they had been left in the dust.
Like all good things, the new-found winning ways have come to an end and now a very small gap just a week ago has spread out to six points, most likely insurmountable, after four straight losses.
One small glimmer of hope for the Jets is that they will have a chance to help themselves a bit. Of their remaining 16 games they play the Stars twice, Coyotes once and Wild once. Unfortunately for the Jets, they have to make the brutal California swing (plus Phoenix and Dallas) once more.
Losing Mark Scheifele was a tough blow for the Jets, it's probably not hugely coincidental that the team has struggled to keep winning since he went down with injury. It makes the prospect of a 12-3-1 finish that much more daunting.
Vancouver Canucks
Points: 68
Games remaining (home/road): 15 (8/7)
Remaining opponent points percentage: 0.554
Sports Club Stats playoff odds: 2.0%
OK let's be honest here, the Canucks make the primer cut mostly for kicks and giggles. That's because the Canucks missing the playoffs is a pretty big deal considering how much they have dominated the Northwest Division over the years and have been one of the NHL's elite teams. Not this year.
About the only saving grace that the Canucks have is that they have the easiest schedule of all the remaining teams. But they have one fewer game than everybody else and, well, are just a complete mess these days. If there were any doubt about that, giving up seven goals in the third period to the Islanders on Monday night should have nipped that in the bud.
Just to further underscore how long of a shot the Canucks are, the Stars are on pace for 93 points. To get to 93 points the Canucks need to go something like 12-2-1 to finish. So yeah.
Sign up now, and your name can be under the Golden Knights' skates, too!

Pittsburgh coach Mike Sullivan says the team also respects players' right to protest

Some familiar faces are back, but a cap-strapped summer left Chicago a little shakier than...
The Pittsburgh Penguins will put politics aside and visit the White House out of 'respect'...

NBC will reportedly be devoid of NHL game broadcasts between Feb. 7-26

The Winnipeg winger suggests Trump is going after 'the principles the U.S. was founded on'