Western Conference Preview: (1) Chicago vs. (7) Detroit
The Chicago Blackhawks and Detroit Red Wings will meet in the Western Conference playoffs for one final time. How does their series shape up?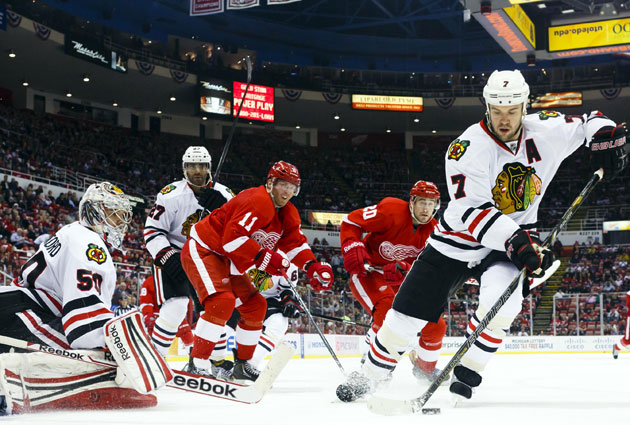 More NHL Playoffs: Scores | TV Schedule | Expert Picks | Odds | Mock Draft | Rumors
One last time, let's do this right.
In the final season before the Detroit Red Wings and Chicago Blackhawks move into separate conferences, the hockey gods decided to give us all one parting gift; a best-of-seven Western semifinal between them. Well, unless they meet down the line in the Stanley Cup Final, that is.
The two franchises are inextricably linked to one another as one-third of the Original Six franchises in the NHL. In today's Western Conference, there is no rivalry with as much history as this. So depending on your definitions of greatness, this is as good as it gets in the West.
But will it be as good of a series as we get in terms of the actual competitiveness? I mean, the great history and significance is cool and all, but will it be a good series?
The answer should be yes. Chicago has a clear advantage, especially considering they took all four games from Detroit this season. That's a bit deceiving, though, as only one game wasn't close. Chicago torched Detroit 7-1 in one contest, but the other three went beyond regulation. When Chicago earned at least one point in a record 24 consecutive games to start the belated season, it was Detroit that came the closest to defeating Chicago in the first half of the season until Patrick Kane scored in the closing minutes and the Blackhawks won in overtime.
Looking back at those four games, they were highly entertaining. Many would point to that game with Kane's late score as arguably the best game of the regular season. So, yes, Chicago took all eight points that it could from Detroit, but that hardly means the teams didn't play good, competitive hockey. Or that they won't play good, competitive hockey in this series.
For old time's sake.
CHI Offense vs. DET Defense

When it came to just the West, Chicago was the best in terms of scoring. They are simply lethal with enough stars to fill two lines before getting to the depth guys who can play as well.
What makes Chicago even tougher offensively beyond just the pure skill that players like Patrick Kane, Patrick Sharp, Marian Hossa and Jonathan Toews possess is that they are all very good with the puck. They won a lot of games this season for the sheer fact that they had the puck a lot more than their opponents. And when they have the puck, they direct it on net. They outshot the opposition in 33 of 48 games during the season, and that's always a sign of a good offensive team.
They continued it all over into the first postseason series, during which they averaged 3.40 goals per game in their five-game win over the Wild. And that was all with very little offense from Toews, the captain. Just wait until he starts doing what he's capable of.
On the other hand, you have the Wings, who were not anywhere near as bad on the defensive end this season as people anticipated they would be. The loss of Nicklas Lidstrom to retirement was obviously huge, but in his absence, the Wings have done alright. They were second only to Chicago in goals against in the West, and that is more than just good goaltending contributing to that stat. They also limited opponents to 27.5 shots per game.
That said, it's certainly not a perfect group that the Wings employ. They don't have the depth that they would prefer as they've been a frequent shopper for defensemen in recent years.
DET Offense vs. CHI Defense

When you think of the Red Wings in recent years, you tend to think of them as an offensive team. They have one of the game's most electric players in Pavel Datsyuk and a very reliable offensive player in Henrik Zetterberg. While they were a top-10 team this season in terms of shots on goal, they were 20th in goals scored. Finishing wasn't necessarily their forte.
Defending against Detroit means trying to key on Zetterberg, who has been carrying the Wings on his back. He and Datsyuk are playing on different lines, coach Mike Babcock trying to create two units that can possess the puck and turn it into offense. It spreads their top talent a little bit thinner but, at the same time, forces teams to worry about two lines instead of keying on just one.
Problem is, Chicago has enough defense to cover Detroit's whole roster. The Blackhawks were the NHL's top defensive team this season at least in terms of goals against per game. Some of the other measures weren't so bad, either, such as being fourth in shots against with 26.2 per game. That's partlially a product of the strong offense keeping the puck in the attacking zone, but the Blackhawks have good defensemen. A stable of them.
Even better for them, coach Joel Quenneville trusts all of them to play. In the first round, the sixth defenseman in terms of minutes was Nick Leddy, who averaged just a shade less than 19 minutes per game. The defenseman with the most time on ice was Duncan Keith at 23:21. There's not a lot of difference there; the Blackhawks have three pairings and are willing to play them all. Talented and deep, that's a good combination.
Goaltending

One of these days, Corey Crawford is going to get the attention that he deserves for the work that he does. Yes, the Blackhawks have a great team in front of him both in terms of forwards and defensemen, but the guy simply does his job behind them and does it well. Crawford had a sub-2.00 goals against average this season and a well-above average .926 save percentage. He was even better in the first round with a .950 save percentage. I know Minnesota is about as harmless as a fly at times; that shouldn't take away from the fact that he did all that they asked of him.
Oh, and if he gets injured or anything like that, Ray Emery is behind him -- should Emery be completely healthy. He only matched Crawford in GAA this season (1.94) with a .922 save percentage.
Not to be outdone, though, is Jimmy Howard for Detroit. You could make the argument that Howard has become their most important player in recent years, something reflected in the new contract that he was signed to. The Wings haven't typically spent big money on goalies, so it was a statement.
Howard wasn't unbeatable in the first round, but he was pretty darn good in Game 7 on the biggest stage. In the regular season, though, you can't complain about a .923 save percentage and 2.13 goals against average. I'll call it a draw.
Special Teams

Special teams remain an area of relative weakness for Chicago. though they boast such tremendous talent up front, they are not particularly potent with the man advantage. This season, they connected on 16.7 percent of attempts, just 19th in the league. It is a bit perplexing.
Detroit wasn't a whole lot better, though. They, too, have some elite talent to shine on the power play, and Johan Franzen is certainly a power-play weapon in the dirty areas, but they finished 15th in the NHL with an 18.4 conversion rate.
Chicago is the better of the two on the penalty kill. As you'd expect with such a strong defense and goaltending, the Hawks were third in the NHL this season, killing off 87.2 percent of penalties. They were perfect in the first round, refusing to allow a goal in 17 attempts. In fact, their PK outscored Minnesota's PP 1-0.
Detroit was closer to middle of the road, finishing 12th during the season. In the opening round, they allowed seven goals on 25 Ducks power plays, so they're not carrying the aura of invincibility that Chicago is.
Prediction

The 33-year-old veteran was diagnosed with Guillain-Barré syndrome

The NHL says it is 'completely satisfied' with its investigation into what Shaw said in the...

It may not be the most effective stickhandling training method, but it's certainly the most...
Steven Stamkos and Tampa Bay are soaring above all, while Montreal continues to dig its own...

Rage is all the rage in Montreal

Buffalo's 20-year-old phenom pulls off the highlight of the night against Vancouver