Western Conference Preview: (5) Los Angeles vs. (6) San Jose
Few people had the Kings and Sharks meeting in Round 2, but it's possible the winner of this series goes on to win the Stanley Cup.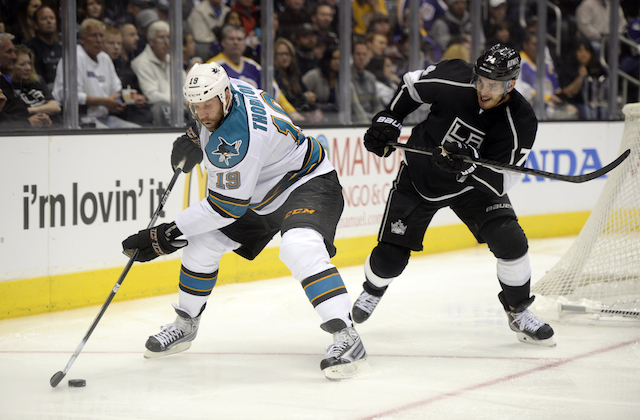 This probably isn't the second round matchup many people expected, but it's setting itself up to be a great one.
On one side, we have the defending Stanley Cup champion Los Angeles Kings  starting to get on a roll. Helping the cause has been starting goalie Jonathan Quick who was, if you can believe it after the way he played last season, probably one of the things that was holding the Kings back earlier in the year when they stumbled out of the gate.
Some called it a Stanley Cup hangover, but the Kings were playing the exact same way they did last season, only instead of suffering through some ugly shooting percentages like they did in the early part of last season, they were suffering through some poor goaltending.
A lot of it can be attributed to Quick coming off of offseason surgery, and some of it just being the fact Quick was never going to maintain the ridiculous save percentages he recorded a year ago. He probably wasn't as good as he showed last year, and he certainly wasn't as bad as his early-season numbers this year. There's a happy medium, and he's starting to find it.
He had a couple of blunders early in the opening round against St. Louis, but he's starting to find his groove in the crease, and if he can be even a fraction of what he was in last year's postseason he's going to make the Kings one of the toughest teams to beat.
On the other side we have the San Jose Sharks , a team that was said to have its championship window close before the season even started, and then be given up on when it started to shed some of the veterans that were slowing them down prior to the trade deadline.
Reports of their demise have been greatly exaggerated.
They've been one of the best teams in the NHL in the second half and just swept the No. 3 seed Vancouver Canucks out of the first round.
For all of the pre-series hype the Kings and Blues received in the opening round, this series should be getting just as much. Both of these teams look like they have what it takes to win the Stanley Cup, and it's quite possible that the winner of this series could go on to represent the Western Conference in the Stanley Cup Final.
Los Angeles forwards vs. San Jose defense

The Sharks probably gave up a few more shots and scoring chances than they would have liked in their opening-round series against the Canucks, at least in the first two games, but the defense has certainly looked a lot better since it moved Douglas Murray to Pittsburgh at the trade deadline.
The defense is going to have an even bigger challenge -- both literally and figuratively -- in the second round against the Kings.
Los Angeles has one of the best, deepest, and biggest collections of forwards in the league and they're able to roll at teams with all four lines. No team in the NHL was better at controlling the puck and outshooting its opponents in the regular season than Los Angeles.
Potential point of concern for the Sharks: Their top-two defensemen, Dan Boyle and Marc-Edouard Vlasic , have had some problems containing Los Angeles' top forwards, Anze Kopitar and Dustin Brown , over the past few years. Since the start of the 2010 season no San Jose defensemen have received more 5-on-5 ice time than those two against Kopitar and Brown and they haven't exactly done a great job shutting them down. The Kings have managed to generate more than 60 percent of the shot attempts in those situations. That's a sign that Los Angeles is tilting the ice in its favor when that matchup is taking place, and I'm not sure San Jose has any other defensemen it would trust to try and go up against the Kings' best offensive duo.
(Matchup stats via hockeyanalysis.com)
San Jose forwards vs. Los Angeles defense

It's not the Kings have a bad defense, because with guys like Drew Doughty , Rob Scuderi , Slava Voynov , and rookie Jake Muzzin they certainly don't. But I still think there are some players the Sharks could be able to exploit, including veteran-trade-deadline acquisition Robyn Regehr and Keaton Ellerby (he appeared in four of Los Angeles' six first-round games against the Blues).
The Sharks' depth up front is pretty impressive with Joe Thornton , Patrick Marleau , Joe Pavelski , and Logan Couture leading the charge. It's still amazing what Brent Burns has been able to do for San Jose since shifting from defense to forward, as he's not only been one of their most productive forwards since the switch, he's been one of their best all-around players since the switch.
That move doesn't get enough attention for how well it's worked out, because there probably aren't many defenseman in the league that could make that switch in the middle of the season and make such a positive impact.
Goaltending

Neither team has a weakness here. Both goalies have Stanley Cup rings on their resume. Jonathan Quick is starting to play like Jonathan Quick, while the always underappreciated Antti Niemi is having what might be the best season of his career -- including the year he won the Cup.
Consider it a draw, only because both starters are outstanding.
The Kings do have a better backup with Jonathan Bernier , but barring injury neither backup is going to have to play in this series.
Special teams

Again, it's hard to find a clear edge for either side in the special-teams game.
Both teams finished the regular season in the top 10 in power play and penalty kill, both have great goalies that can help when shorthanded, and they both have loaded rosters offensively that can take advantage when on the power play.
Prediction
Sharks in 7.
Former Lightning standout will be guarding the net in style in 2017-18

Devils are still in rebuilding mode, but they have reason for hope thanks to young additio...

Buffalo is in the midst of contract extension talks with Jack Eichel, and the payout could...
Los Angeles isn't rushing to sign the 45-year-old forward any time soon

The University of Denver star and Hobey Baker Award winner is drawing interest

Intrigue is high in Arizona after a wild offseason, but expectations should still be tempe...