What hockey fans can look forward to in 2013 once deal is final
Another year is upon us and hockey fans will have a lot to look forward to in 2013. Hopefully that includes actual hockey games.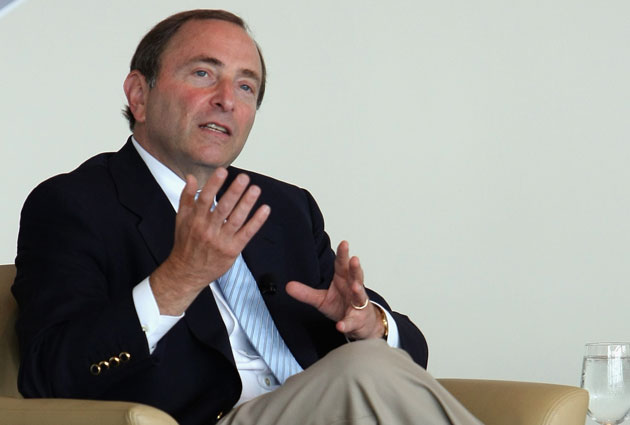 NHL Commissioner Gary Bettman can only hope that labor disputes will not once again be the theme of 2013. (Getty Images)
Quite a bit happened in 2012 across the National Hockey League. Most of it was good, some of it was bad, and some of the bad stuff went on into 2013.
A Shortened 2012-13 Season
If it's anything like the 1994-95 season, which was cut short by a lockout that cancelled half of the season, a 48-game season could in theory start in mid-January.
(For example the '94-95 lockout came to an end on Jan. 11 with the season starting a little more than a week later.)
And that may not be a terrible thing.
For one, a 48-game season would at least create the illusion for teams, fans, and media that every regular season game matters a little more and takes on more importance than the traditional 82-game schedule. Whether or not that's really the case is up for some debate, as most teams that are in the top eight of the conference standings after 48 games tend to still be there after 82 games anyway (we'll have more on this if and when a shortened season actually begins).
But the other benefit to the shorter regular season schedule is the teams that do make the playoffs won't have the same wear and tear on them heading into the postseason as they normally do, which could in theory create even better playoff games and matchups.
The 82-game season isn't really necessary for a number of reasons, and while hockey fans may not want to hear it (and shouldn't have to hear it, because there is no excuse for the lockout to still be going on) a shortened 2013 season may not be terrible once the games actually begin.
Let's hope it actually happens.
There's also the debate as to which teams would benefit from a shortened campaign. The easy answer is older teams with a lot of veterans, and especially teams that are coming off long playoff runs last season like the Stanley Cup champion Los Angeles Kings. We haven't seen a repeat champion in the NHL since the late 1990s and a lot of that is because of how grueling the schedule is coming off such a short offseason.
Impact Of A New CBA On Rosters
When a new deal is reached teams could have some tough decisions to make.
If the salary cap is lowered, even if teams are allowed a "transition year," some teams (Boston, we're looking at you) will have to trim excess salary somewhere along the line while others with additional cap space of their own may be there to take advantage and pick up useful players.
And what about teams looking to re-sign their own players, including the large number of restricted free agents that remain unsigned? That list includes Jamie Benn, P.K. Subban, Michael Del Zotto, Ryan O'Reilly, Dmitry Kulikov, and Cody Franson. Will the new CBA include term-limits? And if so, how long? The initial NHL proposal was five years for unrestricted free agents and seven years for your own players, along with the limit on year-to-year variance to cut down on front-loaded contracts.
There's also the trades we've been waiting to see happen, with Vancouver Canucks goalie Roberto Luongo being at the top of the list. Will the Canucks be prepared to roll with Cory Schneider as their full-time No. 1 goalie, and which team will be there to step up and acquire Luongo? Before the lockout started it appeared to be down to either Toronto or a return to Florida.
Nail Yakupov And Other Top Rookies
The Edmonton Oilers will be adding two more prized rookies to their stable of young talent, including No. 1 overall pick Nail Yakupov and defenseman Justin Schultz, who is currently dominating the American Hockey League in his first year of pro hockey.
Their debuts in the league, along with other rookies like Florida's Jonathan Huberdeau and New York's Chris Kreider should make for a fascinating Calder Trophy race.
For more hockey news, rumors and analysis, follow @EyeOnHockey and @agretz on Twitter and like us on Facebook.
The expansion Golden Knights officially moved into first place in the NHL on Sunday

The former Boston Bruin was the first black player to play in the NHL

Inclement weather led to the Charlotte Checkers and Bridgeport Sound Tigers playing in front...
The NHL chose the Detroit rocker as its All-Star Game entertainment and not everyone is th...

NHL fans from all over seem to agree on one thing: Hating Kid Rock

The team tweeted on Monday that Shaw would be re-evaluated in 7-10 days