Where do the Devils go after losing Ilya Kovalchuk?
The New Jersey Devils have a huge hole to fill on their roster without Ilya Kovalchuk. How are they going to do it?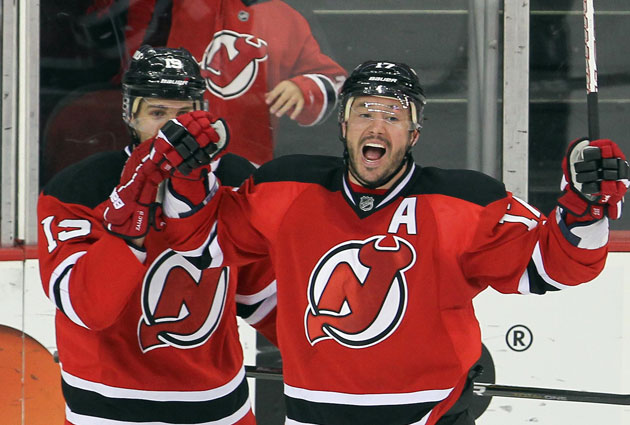 More NHL offseason: Rumors | Top 50 Free Agents | Buyout Tracker | Trade Tracker
What a situation the New Jersey Devils are facing after finding out on Thursday that 30-year-old Ilya Kovalchuk has retired from the NHL.
Kovalchuk will reportedly continue his career in the KHL, perhaps even signing a contract as early as Friday.
In some ways, all of them financial, Kovalchuk did the Devils a couple of favors by bolting when he did.
For one, it takes the remainder of his contract (12 years, $77 million) off the books, which could be crucial for a franchise that's had some financial issues in recent years. His contract being gone could also make them somewhat more attractive to a potential buyer.
He also did them a favor by doing this now instead of a few years down the road when it would have cost them a larger penalty against the salary cap. The Devils, as part of the CBA's cap recapture penalty, will have to commit $250,000 of cap space. Had Kovalchuk played just five more seasons and retired at age 35, it would have cost the Devils $3.7 million against the cap for seven years. That's a significant difference.
It also helps to do it now instead of in September, when it would have perhaps prevented them from being able to adequately fill his spot on the roster for the upcoming season. (That's not to say it's going to be easy to replace him now).
They also don't have to pay Kovalchuk through his mid- to late 30s (his 15-year contract would have paid him through the age of 42), when his career will surely be in decline and he won't have the same value to the team that he had in past seasons.
So, those are the positives for the Devils.
The negatives are all in the short term, and they will greatly impact the 2013-14 roster and the next couple of seasons.
Whatever you want to say about Kovalchuk -- his contract, his decision to leave the NHL or anything else having to do with his career -- there is one undeniable fact: The 2013-14 Devils are a worse team on Thursday afternoon than they were on Thursday morning before all of this madness broke loose.
How much worse remains to be seen.
The Devils already lost Zach Parise to free agency a year ago and watched this summer as David Clarkson signed a seven-year contract with the Toronto Maple Leafs. Martin Brodeur, perhaps the best player in franchise history, is at the very end of his career and will no doubt be phased out at some point as Cory Schneider takes over in net. It's pretty clear the Devils are a team in transition.
Remove Kovalchuk, clearly the Devils' best player, and you have a team that's really going to struggle to score. After all, they were just one goal away from being the lowest scoring team in the league last season, and that was with Kovalchuk and Clarkson.
The Devils attempted to address their offense in free agency by signing Michael Ryder to a two-year contract and Ryane Clowe to a five-year contract. It's hard to imagine them picking up the slack for what Kovalchuk provided.
Keep in mind, this is a guy who played a ton of minutes and in every situation. He transformed his game from being just an all-or-nothing goal scorer as he was earlier in his career as a member of the Atlanta Thrashers to a player who could be counted on in defensive situations. And that includes the penalty kill, where he was one of the best and most productive players on a unit that was consistently among the best in the league.
He was their most productive player in the playoffs in 2011-12, when they made their run to the Stanley Cup Final. And he did it while playing with a major back injury.
That's not an easy player to replace, and there isn't one in the remaining pile of free agents who can do it. There are some intriguing names, like future Hall of Famer Jaromir Jagr, former Maple Leafs forward Mikhail Grabovski and former Red Wing Damien Brunner.
All could help, but there isn't another Kovalchuk out there for them at the moment.
Something else to keep in mind when trying to figure out what happens to the Devils in the short term is that they're going to have to give up their first-round draft pick next season as part of the punishment for their original contract with Kovalchuk in the summer of 2010.
When the Devils tried to sign Kovalchuk to a 17-year, $102 million contract that summer, the NHL ruled that it was an attempt to circumvent the salary cap. The contract was re-worked to its current 15-year, $100 million figure while the Devils were fined $3 million and forced to give up a couple of draft picks. One of them was a first-round pick that they had to forfeit sometime over the next four years.
Three years have passed, and they haven't given it up. Not even last year, when they reached the Stanley Cup Final and had the next-to-last pick in the first round.
If the Devils struggle this season in the aftermath of this offseason, there's a chance that pick could be very, very high in the first round and cost them a talented prospect.
The question remains now just how much worse they might be. The Devils had some strong underlying numbers last season under second-year coach Pete DeBoer and were one of the best possession teams in the NHL. That's usually a positive sign when it comes to a team's ability to win.
Their struggles could be confined to two main areas: Poor shooting (just a 6-percent team shooting percentage at even strength) and terrible goaltending.
They addressed the latter on draft day by sending the No. 9 pick to Vancouver for Schneider. Assuming they give him the bulk of the starts, the position should see a dramatic improvement in 2013-14. But it's hard to imagine that shooting number increasing much, outside of some basic regression and luck, with the absence of a player like Kovalchuk.
No matter what happens, it's going to be a fascinating year in New Jersey.
Saturday's showdown will serve as a rematch of one of the NHL's first-ever regular season...

Stacia Robitaille says Donald Trump told her in an elevator that she was coming home with...

Vladislav Yeryomenko was the Teddy Bear Toss goal scorer for the Calgary Hitmen
The Golden Knights are finally getting their No. 1 goalie back after a 25-game absence

Washington has won four straight, and the Kings are also on a tear right behind the Lightn...

The NHL says it's only interested in expanding to Seattle, but here's a look at all the moving...