Where has Phil Kessel's offense gone against Bruins?
In 23 career games against Boston, Phil Kessel has three goals. Are the Bruins in his head or is it a much deeper issue with the Leafs?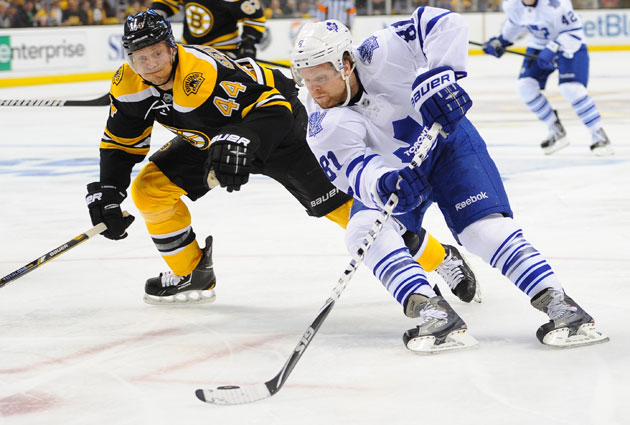 More NHL Playoffs: Scores | TV Schedule | Expert Picks | Odds | Mock Draft | Rumors
As if the Boston Bruins playing the Toronto Maple Leafs in an Original Six matchup isn't story enough, Phil Kessel has been the center of attention as his current team plays his former team.
Kessel was traded out of Boston in 2009, a deal that landed the Bruins two No. 1 picks, which they used to select Tyler Seguin and Dougie Hamilton. Since that trade, the Bruins faithful have thanked Kessel every time the teams have met. Each game means a resurrection of a years-old story at this point.
Perhaps it wouldn't be a story -- or at least not as big of a story -- if it weren't for the fact that Kessel has struggled to produce against his team since the trade. Kessel is one of the best shooters in the game and is undoubtedly an exciting player who is a fringe Hart Trophy candidate this season. However, he has scored only three goals in 23 career games against the B's, including Wednesday night's playoff game that the Bruins easily won 4-1.
Whether he has played poorly vs. the Bruins or not, it can't really be disputed that those numbers constitute a struggle for a player like Kessel. Making it look a little more striking is that he has only scored in two of 23 games against Boston, two goals coming in one game.
That has people looking for answers. Why is it that Kessel can't play the Bruins as effectively as he does every other opponent? Well, here's one theory from Christopher Gasper at the Boston Globe.
Give Kessel credit. The former Bruin spoke postgame on a night when his silence on the ice spoke volumes about his reputation as a faux franchise forward. Turned into white noise on skates, Kessel could only watch as the Bruins roared to a 4-1 victory over his Toronto Maple Leafs in Game 1 of the Eastern Conference quarterfinals at TD Garden Wednesday night.

The Bruins don't want to say it. They don't have to. You can see it. They're in Phil the Thrill's head. It's like when they sent him to Toronto in 2009 they put a hockey hex on him. He sees the Spoked-B sweaters and becomes an Empty Kessel.
I suppose that's possible, but there are probably a lot of other plausible suggestions that aren't about Kessel being weak-minded or afraid of his former team. Frankly, I don't think athletes get to this level in their sport no matter how talented they are if they are that psyched out.
Instead, it probably has a lot more to do with the Bruins and Leafs than just Kessel. The Bruins have these players you might have heard of named Zdeno Chara (plus his mate Dennis Seidenberg) and Patrice Bergeron. They are both arguably the best defenders at their respective positions in the entire NHL. They can limit a lot of players to one shot on goal in a game -- like they did to Kessel on Wednesday.
More important, though, is that the Leafs simply don't get a lot of shots period. That's not necessarily on Kessel. He fires when he gets the opportunity. But if the Maple Leafs remain pinned in their own zone, it's going to be tough for Kessel to make the impact that we're used to in any other game in this series.
It's not Kessel's fault that the Bruins outshot the Leafs 40-20 in Game 1. It's not his fault that he played a pedestrian 13:51. You'd think that a team trying to climb out of a 4-1 hole after 40 minutes would be inclined to let a guy with Kessel's offensive ability play a little more than 3:19 in the third period.
Nor is it all his fault that the Leafs were stuck in a defensive-zone jail by the Bruins. As James Mirtle pointed out, the Bruins are exposing and exploiting the Leafs' inability to break out of their own zone.
Or, perhaps even more simply, maybe it's that Kessel is hurt. He wasn't at the Leafs' practice on Thursday after having his wrist looked at Wednesday night. Though that doesn't explain the previous 22 games against the Bruins.
Perhaps there is something else going on, some kind of X-factor that can explain the lack of offensive production for Kessel against the Bruins. Overall, though, the Leafs just don't match up well with a possession team as strong as the Bruins. That's not all on Kessel.
The NHL said the Flyers defenseman was 'reckless' and used 'excessive force'

'How you gon' do that hockey?'
The puck didn't go in the net but the skater did!

Another sign that Houston is a potential destination for an NHL relocation

The two teams combined for 111 penalty minutes and five ejections