Why does home-ice advantage mean so much more this postseason?
Through only 58 playoff games, home teams already have more wins this postseason than last year. Why such a shift to home-ice advantage?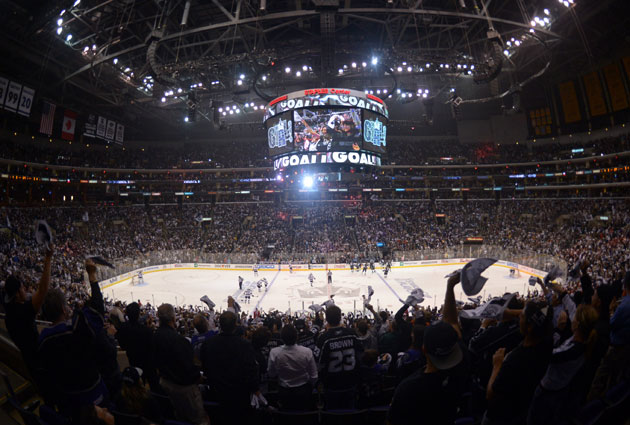 More NHL Playoffs: Scores | TV Schedule | Expert Picks | Odds | Mock Draft | Rumors
To say that home-ice advantage in the Stanley Cup playoffs has never mattered would be inaccurate. Naturally it does matter, quite a bit. But in comparison to a league like the NBA, it has been relatively meaningless in postseasons past.
This postseason is an exception to the norm.
This year there have been 58 playoff games played so far while last year there were 86 games in total after the Kings won the Stanley Cup in six. In 28 fewer contests so far, the home teams have already won more games this year (40) than all of last year (39). It's really exaggerated in the second round where home teams are a combined 10-1, for a .909 winning percentage.
Just to show how this year really is an outlier compared to more than just 2012, let me put it this way. The last time home teams had a winning percentage greater than .600 in the playoffs was back in 1993, 20 years ago. This season, while it has time to come down, home teams have a .690 winning percentage.
Why this dramatic shift toward home-ice advantage? What is it about this postseason that makes it so much more important than it was just last year when road teams actually had a winning record? It's tough to explain, really.
The advantages of playing at home are the same in most sports. Players have routines and the comfort of being at home with your family in your bed vs. traveling on the road makes a difference. They will all tell you they thrive on the energy of a home crowd. Noise can be distracting. Familiarity with the sight lines, boards, etc.
More tangibly, home teams get more penalty calls in their favor than road teams. That, more than noise, is the biggest influence a home crowd has on a game. When there are 18,000 referees in the stands as well as the pair on the ice, calls tend to be a little one-sided.
So far, that part is again holding true. In the 58 games already the road teams have been called for 35 more penalties, more than 0.5 per game more than their foes. Naturally it's going to be harder to win on the road when you are spending more time killing penalties than on the power play.
But again, this is not different really from last postseason when road teams were called for 40 more penalties than the home teams. The disparity is a bit greater this season -- ratio wise -- but it wouldn't seem to indicate a correlation with this massive jump in home winning percentage. Officiating is a big factor in the talk of home-ice advantage, don't get me wrong, it just does little to explain why such a difference from one year to another.
Interestingly enough, the times when home ice has mattered the least has been in the most crucial games, Game 7s. There were three of them in the first round and the road team won two of them while the third (Toronto) had a monumental collapse in Boston. Presumably the crowds were more amped up before those games than any others and yet the advantage disappeared.

Maybe you can chalk that up to the swings feeling more impactul with great emotions in a Game 7, I don't know, just a theory. Take away those three games and road teams have won just 16 of 55 games.
The even bigger anomaly here is that in the first round despite the general dominance of home teams, the lower-seeded teams (obviously the ones without home-ice advantage) were 5-3. That's because those five winning teams went a combined 12-1 at home. If you hold serve it means as the lower seed you get four chances to win just once on the road, that's all that's needed.
It's possible that we have the best collection of home teams ever assembled in these playoffs, teams that just play better at home for a multitude of reasons. At the same time, though, there are a couple of teams in this postseason who were excellent on the road, too, so I am not keen on buying that as a likely hypothesis.
Really, it probably comes down to a matter of sheer coincidence. Last year's home win percentage was awfully low and over time home teams will win more than not. So you can look at the two years together as balancing out, some regression to the ol' mean.
Still, if you're a betting man, you might as well see how long this home wave could take you because this postseason it's been as safe a bet as there is.
Buffalo is in the midst of contract extension talks with Jack Eichel, and the payout could...

Los Angeles isn't rushing to sign the 45-year-old forward any time soon

The University of Denver star and Hobey Baker Award winner is drawing interest
Intrigue is high in Arizona after a wild offseason, but expectations should still be tempe...

Players are set to give personalized messages for Adidas' former hockey equipment brand

The 40-year-old center is returning to the Wild after a successful run in Pittsburgh