Will Ilya Bryzgalov find a new team in the NHL for next season?
Ilya Bryzgalov remains unsigned. Will the recently bought-out goalie be able to land a job for next season in the NHL?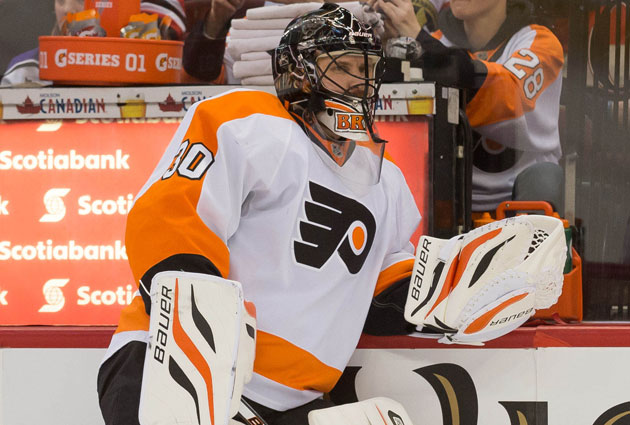 More NHL offseason: Rumors | Top 50 Free Agents | Buyout Tracker | Trades | Transactions
Go back just two summers, and a 30-year-old Ilya Bryzgalov was a hot commodity. He was one of the top names overall in free agency, desirable enough for the Philadelphia Flyers to acquire his rights before the opening of free agency to get a deal done. It didn't take long for him to sign a nine-year, $51 million deal to be the goalie whom the Flyers had been looking for.
Fast forward to this summer, and the Flyers bought out the final seven years of Bryzgalov's deal with one of their two amnesty clauses. It was done a few days before free agency, giving enough time for Bryzgalov to potentially find a new team.
It's now mid-July, and Bryzgalov is still unsigned. What's more, there don't appear to be any obvious landing spots at this point. When reached by CBSSports.com, Bryzgalov's agent, Ritch Winter, declined to give an update, saying he doesn't give updates on ongoing negotiations.
We all know Bryzgalov's time in Philadelphia was pretty much a hot mess and GMs undoubtedly wouldn't be clamoring for his services. But at this point, is he this undesirable? He's only two years off a very good season in Phoenix and is still relatively young in goalie years, having just turned 33. At a discounted price on a short term, wouldn't you think he might find a new home?
Keep in mind there are a lot of teams around the league that are handicapped by the salary cap this season, and that's undoubtedly a factor. A team such as San Jose is so strapped that it is going into the season with a cheap, unproven backup in Alex Stalock, he of three career games in the NHL.
At this point, Bryzgalov couldn't possibly be demanding a lot of money. A deal similar to what Nikolai Khabibulin signed in Chicago would probably be in the ballpark -- one year, $2 million. If Bryzgalov wants to continue playing in the NHL for a few more years, he would have to take that route and then prove he can still do it.
If we're being honest, though, we have to admit there are probably other factors at work here. In terms of pure ability, Bryzgalov still has to be an intriguing option for teams to take a flyer on (no pun intended). For as bad as he was in Philly, that defense did him no favors. To put it most succinctly, Bryzgalov was a sideshow in Philly, a distraction at times. I found it refreshing and fun, but not everybody did, including those teammates in the room if you believe some of the rumblings. Bryzgalov's relationship with the media was rocky as well, and you never quite know what he's going to say.
In other words, Bryz has some baggage.
The question now becomes: have we seen the last of Bryzgalov in the NHL? Or at least, will we see Bryz back in the NHL next season? To get to this point without a team, the prospects aren't bright for a job -- same goes for Tim Thomas, but that's a whole other discussion. What teams could even be possibilities for Bryzgalov?
Florida Panthers. From a playing standpoint, the Panthers would make sense. Bryzgalov would come in and might be their best goalie right away -- which does say something about their situation in net. But, at the same time, the Panthers are a team that lives on a very fixed income. They have two goalies on the roster already in Scott Clemmensen and Jacob Markstrom.
Something minor but interesting happened this week. Markstrom signed a new two-year contract with the first year being a two-way deal. It's assumed that Markstrom will be the starter on opening day, but leaving that kind of flexibility on his contract is interesting. Adding just a touch more intrigue was this comment from assistant GM Mike Santos this week.
#FlaPanthers AGM Mike Santos says team could bring in another goalie to compete if it fits "within budget" ... So there is that

— George Richards (@GeorgeRichards) July 15, 2013
If it were to happen, Florida might be a pretty good place for Bryzgalov to try to get a foot back in the league. It would put him in a low-key spot where he could just play hockey and could probably see a lot of time to try to prove himself.
Nashville Predators. The Predators have a starter in Pekka Rinne. That's not going to change, and that's not even in question. But what about their backup spot? They are going to ride with the inexperienced Carter Hutton. At least that's what GM David Poile has said.
But why not Nashville? It seems like it would be an ideal spot for him. Similar to Florida, it would put him back in a market where the scrutiny is not as intense and it would put him in a system with a defensive approach with some very promising young defensemen. Not to mention, the Predators have cap space to work with.
From Nashville's perspective, they get a second goalie on the roster with experience who could actually give meaningful backup minutes to spell Rinne, one of the NHL's big workhorses. Give Bryz a defensive system, and maybe he could return to some of his old numbers.
The rest. There are a few teams with space and cheap, unproven backups right now such as the Islanders and, yes, the Winnipeg Jets. Given Bryzgalov's history with Winnipeg, that would be fun, right? The thing is, I don't see either of those teams bringing in Bryzgalov right now. The Isles have Kevin Poulin back as the No. 2, while the Jets re-signed Al Montoya. Would Bryzgalov be an upgrade over those two? Probably. But they aren't in desperate need, and both teams live on the cheap.
I normally would throw the Flames into the conversation, but Jay Feaster gave a two-year deal worth $5.5 million to Karri Ramo. With Joey MacDonald slated to make nearly $1 million himself, the Flames look to be set for this season as well, even if Miikka Kiprusoff does indeed retire.
As you can see, the options at this point are few and far between for Bryzgalov. The KHL could be an option, but he has said he would like to stay in the NHL. It's just not clear where that could be.
Stacia Robitaille says Donald Trump told her in an elevator that she was coming home with...

Vladislav Yeryomenko was the Teddy Bear Toss goal scorer for the Calgary Hitmen

The Golden Knights are finally getting their No. 1 goalie back after a 25-game absence
Washington has won four straight, and the Kings are also on a tear right behind the Lightn...

The NHL says it's only interested in expanding to Seattle, but here's a look at all the moving...

The NHL says it is only looking toward Seattle for the next expansion team