Will Ilya Kovalchuk's departure affect other Russian players?
Ilya Kovalchuk left the NHL in favor of the KHL, bringing up fears of the Russian Factor for some again. Will this impact other Russians?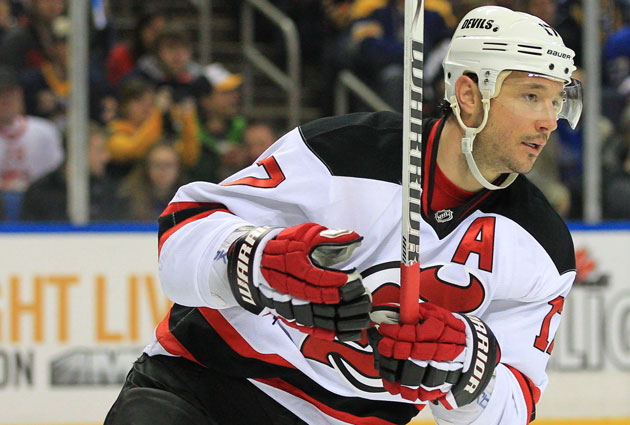 More NHL offseason: Rumors | Top 50 Free Agents | Buyout Tracker | Trades | Transactions
When Ilya Kovalchuk decided to hang up his NHL skates and head back to Russia to play in the KHL, he might have hurt more than just the New Jersey Devils, he could have done damage to every other Russian player in the NHL or every Russian who has dreams of playing there going forward.
Fair or not, there have been people in hockey who have been nervous of the so-called Russian Factor for years and have never quite gotten over it. For as talented as many Russian players are who seek to come to North America, there are fears they aren't committed to playing on this side of the globe, not when home and the big bucks of the KHL come calling.
But for all the talk of the Russian Factor, Kovalchuk really only marks the second major player who has taken the temptations of home over the NHL -- and that was after playing in North America for a decade. The other player is Alexander Radulov, whose name I'm pretty sure is a dirty word in Nashville hockey circles. That's pretty much it. Anybody else who ventured to the KHL didn't really have an opportunity left in the NHL.
Now though, somebody who had been an NHL player and who had a mega deal over here has decided to leave.
We all know the stereotypes about Russian hockey players. They are gifted but they are also lazy. They're bad teammates. They aren't committed. They're soft. Kovalchuk was the anti-Russian Russian. He was so out of the stereotype mold that even Don Cherry had nothing bad to say about the guy -- until he bolted, that is.
If Kovalchuk could ditch his NHL team, who's to say another Russian won't follow suit, especially when Sergei Fedorov is openly talking about poaching players?
It might prove even tougher for general managers to take a leap of faith on Eastern European players. That's not me espousing an opinion, that's Washington Capitals coach Adam Oates, who coached Kovalchuk as an assistant in New Jersey and has a pretty high-profile Russian player on his team now in Alex Ovechkin.
"You're obviously committed to a player and you kind of build your team around a guy and then that player leaves -- it's not a precedent that we want to start for sure," Oates told Katie Carrera of the Washington Post. "It will make it difficult for many more Europeans to come over because general managers won't trust them."
The question becomes a matter of how much Kovalchuk's decision will impact other players moving forward. Will GMs be less likely to trust them, as Oates mentions?
It probably depends on the GM even though it shouldn't. Some are just going to have more distrust no matter what history really says.
Of the amount of Russian players to come over, the number of "defectors" who returned to Russia is so small. Kovalchuk isn't the new norm, he's still an exception. This isn't the sign of some mass exodus -- and no, I don't consider Alex Burmistrov to be a big blow at this point.
For years now the KHL has been trying so hard to make inroads with the world's top talent. For the first time, the league now has something to thump its chest about. Don't get me wrong, it's a significant blow, but it's only one blow, just the first between the two leagues. They're not even rival leagues, that's how much above the KHL the NHL has been. The world's best hockey is still played in North America's top league.
If one player decided he would prefer the comforts and even bigger bucks of the KHL then so be it. That's obviously within Kovalchuk's right as he has just proven. But it shouldn't affect any player besides him, this is an individual making an individual decision.
"I don't think it's an epidemic or anything like that," player agent Mark Gandler told Stephen Whyno of the Canadian Press. "I think each person makes his decision based on the circumstances that he's in, based on his environment, his family, his upbringing."
That and his experiences.
Let's face a reality here; Kovalchuk almost assuredly isn't a full-time player in the KHL today if it weren't for the lockout. Not only did the negotiations cost the players some rights and a few other issues -- escrow has been a popular topic of something that Kovalchuk hates -- but it gave him a chance to play in Russia. You might recall there was a lot of drama when the lockout ended of whether or not Kovalchuk would come back to the NHL, he apparently liked it that much in St. Petersburg. Without that experience, without seeing firsthand what the KHL is today, I doubt Kovalchuk is anything but still a Devil. At the worst, the KHL proved to be a viable backup plan, at best a place he'd love to play.
Other players were afforded the same opportunity as Kovalchuk but don't seem as ready to jump ship. Kovalchuk had to go the retirement route to get out of his contract to make the move, other players like Pavel Datsyuk and Evgeni Malkin could have gone back to Russia by virtue of contracts ending. They both re-signed in the States.
What Kovalchuk did in electing to take the KHL was indeed big news and was probably enough to send a shiver down the backs of just about every GM across the league. That's as far as their fears should go.
SportsLine's Mike McClure, a DFS pro with more than $1M in winnings, gives optimal lineup...

Smith-Pelly confronted the fans from inside the penalty box before they were escorted out

The NHL will be a no-show in Pyeongchang, and it could be the norm for future Olympics
David Kelly has nailed his past 15 NHL picks and 23 of 26 predictions

Tampa Bay has been a little too goalie dependent lately, but it remains the head of the pa...

It appears New York's leadership is waving the white flag on this current group