Will new TV deal lead to NHL version of NFL's Red Zone channel?
With the new mega TV deal in Canada announced on Tuesday, Sportsnet seems like it might be developing an NFL Red Zone-esque channel for the NHL. Or so we hope.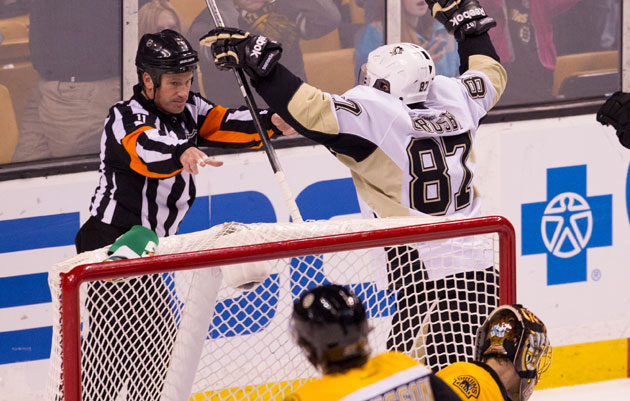 More NHL: Scores | Standings | League Leaders | Odds | Injuries | Power Rankings
If you've ever sat down on your couch on a Sunday afternoon in the Fall to watch some football, you're probably more than familiar with the NHL's Red Zone channel. It's a station that flips back and forth between all the games showing every score and focusing on games when teams are closing in on scores, in the red zone. And it has no commercials. Watching the NFL has never been better.
It has made many a hockey fan wonder; could the NHL ever have a similar channel? Typically, Tuesday, Thursday and Saturday nights are full of games going on simultaneously and it's tough to keep up with them all at once.
Well maybe the new mega TV deal in Canada will test this theory out. Rogers Communications, which owns Sportsnet, became the TV network of the NHL in Canada on Tuesday. It's a big undertaking and already they are mapping out what it would look like. For example, this is what a Saturday night could be like under the new contract.
New deal gives fans more games, more content, more choice and more flexibility. What a Saturday might look like: pic.twitter.com/AxvLWrFw64

— Sportsnet PR (@SportsnetPR) November 26, 2013
You'll notice that Sportsnet NHL and a French equivalent have listed "Ice Surfing" from 7 p.m. until 1 a.m. Eastern. It comes complete with a logo and everything.
While there wasn't much information provided about this Ice Surfing channel on Tuesday, it seems pretty easy to deduce what is going on here.
That Ice Surfing channel sure looks a lot like NHL Red Zone to me.

— Steve Lepore (@stevelepore) November 26, 2013
Sounds about right. Let's go ahead and assume that is what we're looking at here, an attempt at a Red Zone-type channel in Canada. The questions beyond that are plentiful. How would it work? Would it be sans commercials too? Would it ever be available to people in the States?
It's hard to find a suitable engine to run a Red Zone-type channel given how fluid and up-and-down hockey is. But the closest equivalent the NHL has to the red zone in its game is of course the power play. Scoring action picks up a lot when teams go on the man advantage. If there is a power play happening? Flip to that game. Two power plays? You can use a double box on the screen. Heck, the NFL channel has gone to a quadruple box at busy moments on an NFL Sunday.
As for other goals being scored, well the show would serve as pretty much an instant highlight reel for those, faster than you'd see elsewhere. It would provide an ideal way to follow the entire league instead of just one game if that's your interest.
If this indeed is what the channel is designed for, it's hard to imagine it wouldn't make it's way to the States in some capacity soon enough should it be a hit for Sportsnet (and why wouldn't it be?). What might make the most sense is having it become a permanent channel on the NHL Center Ice package, making it a pay-per channel.
So if this Ice Surfing block indeed is designed to be a Red Zone-esque channel for hockey, this massive television deal reached on Tuesday could be a boon for everybody.
The puck didn't go in the net but the skater did!

Another sign that Houston is a potential destination for an NHL relocation
The two teams combined for 111 penalty minutes and five ejections

The veteran Minnesota goaltender has recorded three consecutive shutouts

The historic start for the NHL's newest team has come largely from unprecedented balance in...