Will the Buffalo Sabres' new alternate jersey be gold?
The Buffalo Sabres have had some interesting looks over the years, and their newest alternate jersey could be a gold one.
More NHL offseason: Rumors | Top 50 Free Agents | Buyout Tracker | Trade Tracker

The Buffalo Sabres are expected to unveil a new alternate jersey at some point this offseason and, according to the folks at Icethetics, it could be gold.
That would obviously be quite a change from both their current jersey and all of the ones that they've worn in the past (more on them in a minute). Adding to the intrigue was a Tweet sent by Kelly Pegula, the daughter of Sabres owner Terry Pegula, on Tuesday via the team's official Twitter feed in which she said fans attending Friday's Summer Fan Fest would be getting a sneak peak at the new threads.
We'll obviously have no idea what the new jersey will look like until it's revealed, but the Sabres have certainly had some strange looks over the years.
And, let's face it, a gold jersey would have to be better than the red abomination that they wore in the 1990s, right?
Their current uniforms are very similar to the franchise's original look, and it's easily the best one that they've ever had.
Here we have the original worn by legendary Sabres forward Gilbert Perreault in the 1970s.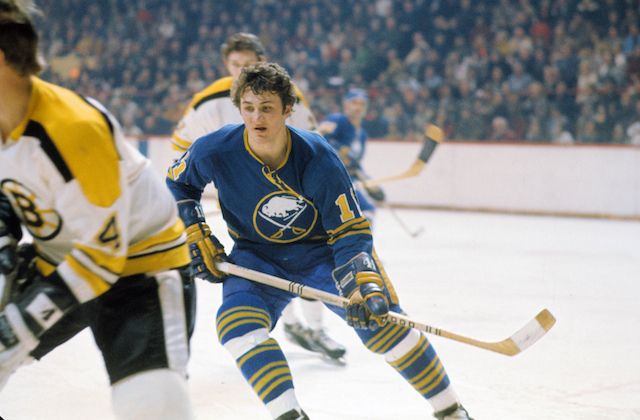 Classic.
And the current jersey, as modeled by 2013 first-round draft pick Nikita Zadorov.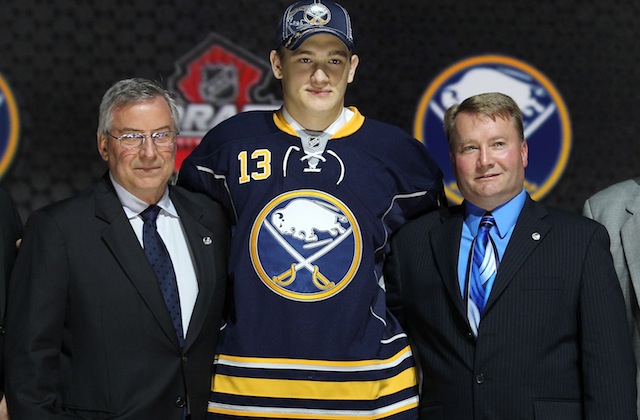 Similar look, but a different shade of blue. Still a strong sweater.
The 1990s and early-mid 2000s, however, were not kind to the Sabres in the looks department.
First, we have the jersey that was made famous during the Dominik Hasek era and features a rather large Buffalo head charging forward. Jay McKee doesn't look thrilled in this picture.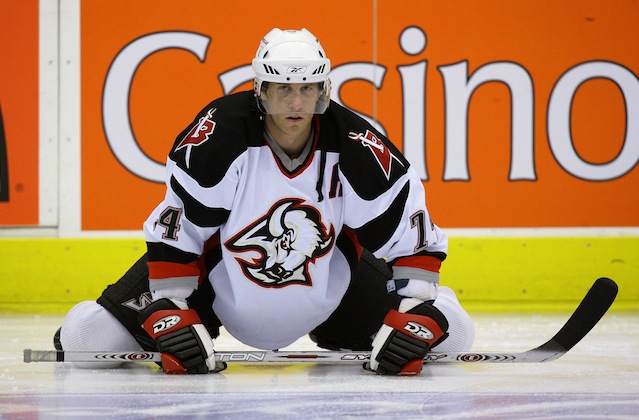 As the 2000s began, the Sabres introduced a third jersey to go with the above look that was (in my opinion, anyway) their worst one. It wasn't worn often (and it's hard to find many shots of them in action), but even putting it on once was too many times.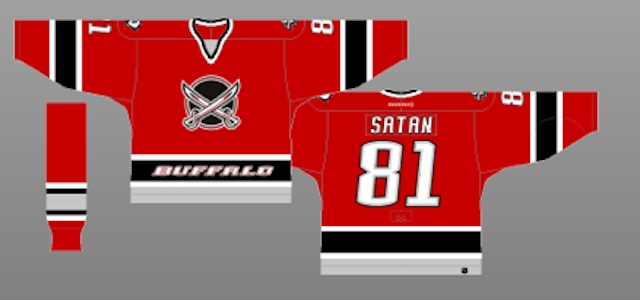 And then we have the jersey that made its debut in 2005 and became simply known as, "The Buffaslug."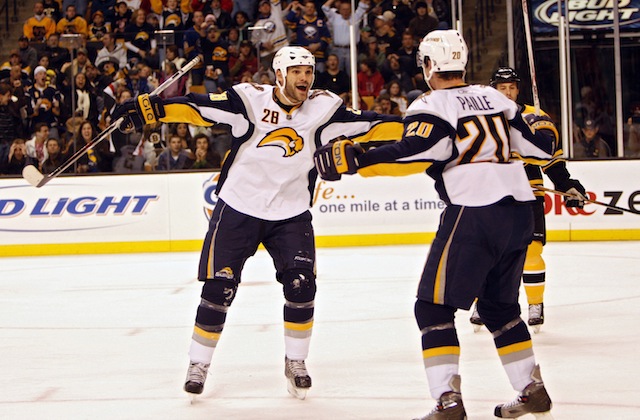 Follow Adam Gretz on Google+
The University of Denver star and Hobey Baker Award winner is drawing interest

Intrigue is high in Arizona after a wild offseason, but expectations should still be tempe...

Players are set to give personalized messages for Adidas' former hockey equipment brand
The 40-year-old center is returning to the Wild after a successful run in Pittsburgh

Edmonton locks up its 21-year-old RFA a month after McDavid's historic extension

Even with a new coach and added veteran help, the Canucks have a long road ahead