Winnipeg seems to have a problem with Evander Kane
It seems like Winnipeg is trying to run Evander Kane out of town. And that makes no sense.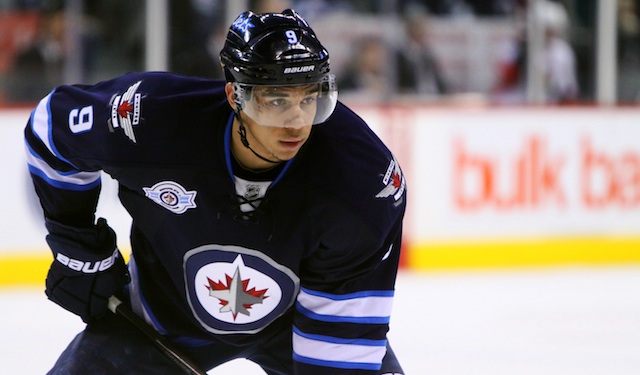 Winnipeg seems very unhappy with Evander Kane. And that doesn't make any sense. (Getty Images)
Evander Kane might be one person that wishes the Jets had just stayed in Atlanta given the way that Winnipeg seems to be trying to run him out of town.
For whatever reason, Kane, an emerging star and franchise player for the Jets, has angered some people in Winnipeg. Actually, he seems to have angered a lot.
The latest incident that drew the ire of the general public and media (mostly the media, probably) came earlier this week. He took to his Twitter account and posted a picture of himself posing with stacks of money in Las Vegas trying to get the attention of Floyd Mayweather, which seems like a completely normal thing to do in Vegas.

It didn't take long for the outrage to start.

Mike Stubbs of CJBK in London, Ontario wrote in the aftermath, "If Kane is still the face of the franchise and the man to lead them to wherever they want to go, then the Jets are bound for a whole lot of cold winters in Winnipeg."
That, of course, is insane. It's a picture on Twitter.
Gary Lawless of the Winnipeg Free Press took it in a slightly different direction and penned a column titled "Kane's days are numbered in 'Peg," and argued that Kane's act will eventually have to change or it will force the Jets to make a trade.
He closed the column with "Bet on the trade."

Among the other concerns brought up in the Lawless column:
They also point to a trend. Kane isn't very coachable. On or off the ice. He's a talent. But he's also a problem -- there's no disputing that.

Teammates have tried to reach him on certain subjects. He doesn't listen. If he wants to bring his girlfriend along on the road, he does so. Veterans have tried to hammer home that road games are business trips. Focus should be on the work. Kane does what he wants when he wants. He's a teammate but not yet a good one.
This isn't the first time that Kane's name has been brought up in off-ice controversies.
There have been (unfounded) allegations about him skipping out on restaurant bills in Winnipeg and suffering a concussion as a result of a bar fight, not to mention rumors that he was unhappy with the team and even at one point asked for a trade. As Lyle Richardson put it on Friday, a lot of these rumors, if not all of them, were nothing more than hearsay and "friend of a friend" stuff.
But let's get to the bigger point here: None of these "issues" should be enough of a distraction or concern to make the Jets want to trade a person that is not only their best player but the one player on the team with the most long-term upside to be a franchise cornerstone for the next six years.
The problem with the Jets isn't Evander Kane or his off-ice shenanigans. The problem with the Jets is they don't have enough players like Evander Kane on the ice.
He's good. Really good.
And the Jets seem to agree based on the significant financial commitment they made to him in the hour before the NHL CBA expired in mid-September, signing him to a six-year, $31.5 million contract, the last player to sign a long-term deal under the previous CBA. If the Jets were confident enough to give him that sort of a contract after the previous off-ice "rumors" and "concerns," I can't imagine that a 21-year-old Tweeting a picture of himself with a pile of money would do anything to change their opinion of him in the three months since he put pen to paper on a contract extension.
(After all, it's not like Kane is the first player to embarrassingly post a picture of himself with stacks of money.)
So how good is Kane already? Just keep in mind that's a 21-year-old power forward who already has a 30-goal season on his resume and has improved his production (both his box score numbers and his underlying numbers) every season. He is still probably another year or two away from entering what will be the prime of his career. 
He scored 63 goals in the NHL before his 21st birthday, something that few players over the past two decades can claim.
Since the start of the 1990-91 season, only 11 players in the NHL scored more than 60 goals before their 21st birthday: Steven Stamkos, Ilya Kovalchuk, Sidney Crosby, Jaromir Jagr, Eric Lindros, Owen Nolan, Marian Gaborik, Jordan Staal, Vincent Lecavalier, Geoff Sanderson and ... Evander Kane.
Nice list to be a part of.
Even more impressive is that more than 50 of those goals came at even-strength, so it's not like he's feasting on the power play and boosting his numbers that way. He's a difference-maker at 5-on-5 play, which is a positive sign for such a young player. Since 1990, only seven players have scored more than 50 goals at even-strength before their 21st birthday (Kovalchuk, Jagr, Stamkos, Crosby, Lindros, Gaborik, and ... yup, you guessed it, Kane.)
That type of talent doesn't grow on trees. Perhaps Kane has some growing up to do. What 21-year-old doesn't? But the only opinions that matter in this situation are the ones in the Jets' front office, and they seemed to have made their opinions pretty clear on how much they believe in Kane on Sept. 15, 2012, when they gave him $31 million over the next six years.
For more hockey news, rumors and analysis, follow @EyeOnHockey and @agretz on Twitter and like us on Facebook.
The Oilers' young star remains seriously unfair

David Kelly, a Toronto-born hockey analyst, has strong advice for Edmonton vs. Chicago game...

Gary Bettman says otherwise, for the time being, but Houston could be primed for a team
Here's what you might have missed across the NHL on Wednesday night

Ovi breaks down doors in Virginia

Winger also says he will no longer raise a fist during the anthem after his protest started...