With baby on way, Jerred Smithson traded to Oilers from Florida
Jerred Smithson being traded from Florida to Edmonton isn't the biggest trade you'll hear. But Smithson got the news while on the way to the hospital with his wife to induce labor. Ouch.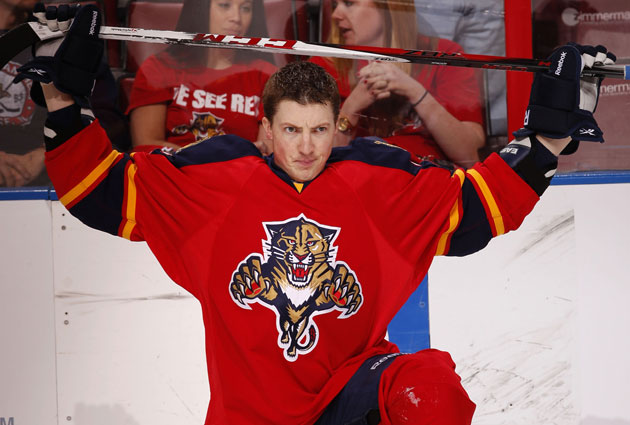 More NHL: Scores | Standings | Odds | Fight-O-Meter | League Leaders | Rumors
The Edmonton Oilers made a depth move on Wednesday, acquiring centerman Jerred Smithson from the Florida Panthers for a fourth-round pick.
This is not big news. Smithson is a 34-year-old, fourth-line guy who is good in the faceoff circle and can kill some penalties. He's not a big player, but he does have a little value. However, most everybody is going to meet this with a collective shrug, especially considering the Panthers and Oilers are both out of playoff position.
But there's an interesting wrinkle involved in this trade as well, some personal stuff. Remember, these guys are guys, they have personal lives and sometimes their job can interfere.
Newest Oiler Jerred Smithson just found out he was traded while on way to have his wife induced w their first child! #TradeTracker

— Josh Rimer (@JoshRimerHockey) April 3, 2013
Ouch. Imagine that trade call from Panthers GM Dale Tallon (assuming he was even able to get through to Smithson): "Congrats, Jerred! Now pack your bags and leave."
This isn't to say the Panthers did anything callous by trading Smithson. It's a business and they made a business move; nothing wrong with that. In fact, it looks like a pretty good move for Tallon. He acquired Smithson from Nashville last year for a conditional seventh-round pick and trades him this year for a fourth-rounder. That's not bad business.
It's just a reminder of how sometimes these trades really affect guys personally. The next time a player declines to waive a no-trade clause to stay in what seems like a bad hockey situation, remember this.
Talk about a whirlwind day of emotions.
Buffalo is in the midst of contract extension talks with Jack Eichel, and the payout could...

Los Angeles isn't rushing to sign the 45-year-old forward any time soon

The University of Denver star and Hobey Baker Award winner is drawing interest
Intrigue is high in Arizona after a wild offseason, but expectations should still be tempe...

Players are set to give personalized messages for Adidas' former hockey equipment brand

The 40-year-old center is returning to the Wild after a successful run in Pittsburgh