With drama's final act over, Cory Schneider trade will work for all
It took many twists and turns but the Roberto Luongo trade eventually became a Cory Schneider trade. Not how they drew it up, but it will still work out well.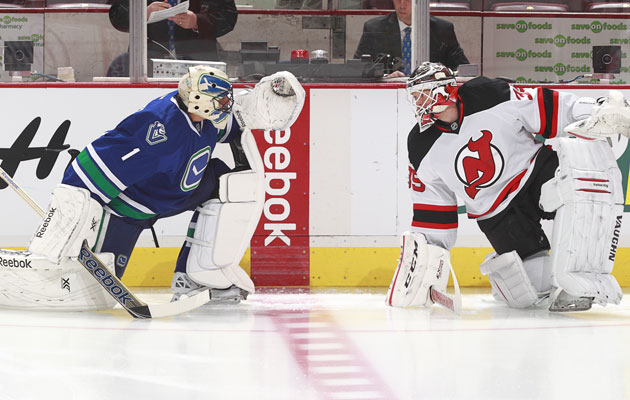 More NHL: Scores | Standings | League Leaders | Odds | Injuries | Power Rankings
After more than a year of drama thick enough to make the creator of Grey's Anatomy blush, the last chapter was written Tuesday night on the Great Vancouver Goaltender Game. At least that's the hope.
No trade ever seems truly complete until a player sent packing makes a return to the city he once called home as Cory Schneider did on Tuesday night. It only added to the intrigue by just a little bit that he got the start for the Devils and on the opposite end of the ice Roberto Luongo was in net for the Canucks.
The final result of the game was a 3-2 win in overtime for the Canucks, leading to the joking notion that see, the Canucks made the right move when they dealt Schneider instead of Luongo. This should typically be followed by something like "neener, neener, neener!"
Here's the thing, though; there really wasn't a wrong decision to be made. It didn't always seem that way but it will play out that way. The only thing wrong in the whole ordeal was how the entire situation was handled by the Canucks staff but now that's neither here nor there now. It all appears to be water under the bridge.
The plan was never to let Schneider go, it just happened that way. There's no ill will; the Vancouver fans gave Schneider a huge ovation, he has had nothing but positive things to say about his time in Vancouver since the trade and he and Luongo maintained a friendship through it all.
Miss you buddy..... pic.twitter.com/wjc5da78Ss

— Strombone (@strombone1) October 8, 2013
Immediately in the aftermath of a trade, especially as big as the Schneider deal was, we all like to grab our gavels and become judges. Everybody wants to know, needs to know, who "won" the trade. Never mind that these things always take time to judge, these are questions that need answers. Still, with a little more reflection and one mostly meaningless regular season battle behind them, this one might just go down with "everyone" as that winner.
Ideally would the Canucks have preferred to keep Schneider? At this point there's no denying that. The goaltenders themselves would have probably preferred that too. But it didn't happen that way thanks to Luongo's immovable contract so here we are. But just because that's not how the Canucks saw it playing out when the entire odyssey began doesn't mean it's not an agreeable solution.
Luongo's contract is long and takes him into his 40s but his cap hit of $5.33 million isn't bad. It's not necessarily great but take a look around the league at what goalies are making now and for the caliber of netminder that Luongo still is, it's not crazy. If a team gets "stuck" with him in their crease, well, there could be worse lots in life.
In that regard, Canucks GM Mike Gillis is almost lucky in the whole thing. Despite what seemed like his best efforts to the contrary, Gillis still ended up in pretty much a no-lose situation. If Luongo is your consolation (and you get a good draft pick-turned-promising prospect in Bo Horvat as well), you're doing alright.
That's a testament to the men as much as the players here. Without the unflappable attitudes that Luongo and Schneider each brought to the table, it could have been much worse. It would have been. However the two remained professional through it all and while the trade was tough for each of them to handle, they will remain professional moving forward, too.
The Canucks will be good with Luongo and the Devils will be good with Schneider. He's off to a slightly slow start this season but Luongo should find life nice under John Tortorella the same way Henrik Lundqvist did once he gets comfortable. As for Schneider, well his story is clear. He's proven himself to be a top goaltender and is soon to receive the keys to drive the Devils franchise car once Martin Brodeur hanges them up. Just because things don't always go as they were drawn up doesn't mean they don't work out. At least for now, while the Canucks' window remains open, it will work out.
There haven't been as many soap operas as long or as dramatic as the Luongo/Schneider situation in Vancouver for some time. However thanks to the lead actors, it would never become a tragedy.
The expansion Golden Knights officially moved into first place in the NHL on Sunday

The former Boston Bruin was the first black player to play in the NHL

Inclement weather led to the Charlotte Checkers and Bridgeport Sound Tigers playing in front...
The NHL chose the Detroit rocker as its All-Star Game entertainment and not everyone is th...

NHL fans from all over seem to agree on one thing: Hating Kid Rock

The team tweeted on Monday that Shaw would be re-evaluated in 7-10 days