With Ryan Suter gone, what will happen with Shea Weber in Nashville?
With one decision on Wednesday, the Nashville Predators might have just been dealt two massive blows.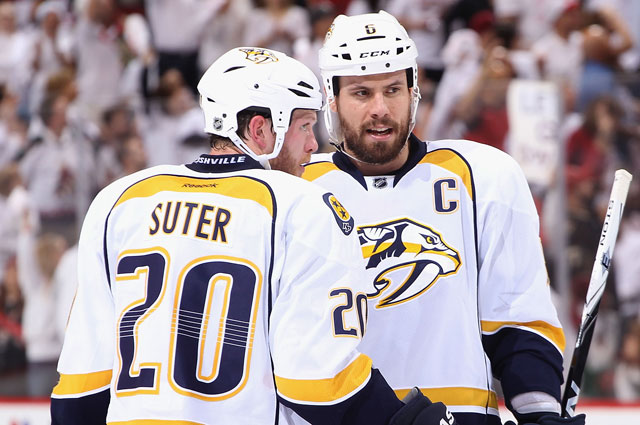 Ryan Suter has left Nashville, will Weber follow suit? (Getty Images)
With one decision on Wednesday, the Nashville Predators might have just been dealt two massive blows.
Ryan Suter, one of Nashville's big three players and the top defenseman available on the free-agent market, picked the Minnesota Wild for the next 13 seasons. Obviously that means he's not coming back to Nashville, at least in a Preds sweater. That's one blow.
Wild land Suter, Parise
More NHL coverage
"Today this is very very very disappointing," Predators GM David Poile said.
The next domino to fall could then be Shea Weber, their top Norris Trophy candidate. Suter and Weber have been playing alongside each other for years and were somewhat tied at the hip in the future of the franchise. They both said the same things: They want to see a team that's going to win. The prevailing wisdom was that if one goes, they both go.
Well, one is gone.
It leaves Poile in a very tough position. He just lost one of the premier defensemen in the game for nothing. He certainly gave it his best try and put in an offer that was certainly competitive with the 13-year, $98-million deal Suter received from the Wild.
According to an NHL source #preds offer was 13 years, $90 million

— JoshuaCooper (@JoshuaCooper) July 4, 2012
Still though, big-money offer or not, it yields absolutely nothing for the Predators. Suter walks away with nothing in return other than maybe dispelling the reputation that they don't have money to spend in Nashville.
If you are Poile, do you really want to see the same happen with Weber next summer? You are talking about a defenseman that is, for almost everybody's money, the better defenseman between Weber and Suter. It's like a Ferrari vs. a Lamborghini, but you get the point. Weber is a restricted free agent for one more year. The Predators haven't re-signed him to an extension obviously and said extension seems like a long-shot now. If Weber takes a qualifying offer from the Preds then he will be going through the same process Suter just did and if he walks, Nashville gets nothing.
All of a sudden, we might have another star player on the trade block. Nashville will have to determine if they really think they can keep Weber around long-term. If the answer is no, then how do you not try and get a massive return in a trade and start rebuilding the team around some different faces?
Or he could roll the dice again. Right now Poile seems set on trying to make it work with Weber.
"Our focus is now turning to our captain, Shea Weber," he said on Wednesday while admitting they have been talking extension with Weber. "We want to build the team around him. I told Shea on numerous occasion that 'you are the captain of our team and we want to build the team around you.'"
It's certainly still possible Weber will decide to re-sign in Nashville. But you have to think Poile will be a bit more cautious and consider all of his options. If an extension isn't worked out in relatively short order, it might be time to think about it.
Put it this way: If you are David Poile and you are looking at this same possibility before next season's trade deadline, aren't you looking at trade options? I know I would be.
Wednesday was a great day in Minnesota. Not so much in Nashville.
"We're going to find a way. It's a credit to the Predators, we've found ways to fight back before," Poile said. "We'll replace Ryan and stay competitive."
For more hockey news, rumors and analysis, follow @EyeOnHockey and @BrianStubitsNHL on Twitter and like us on Facebook.
Players are set to give personalized messages for Adidas' former hockey equipment brand

The 40-year-old center is returning to the Wild after a successful run in Pittsburgh

Edmonton locks up its 21-year-old RFA a month after McDavid's historic extension
Even with a new coach and added veteran help, the Canucks have a long road ahead

Unlike expansion teams before them, the Knights have enough talent to entertain right away

Brian Lawton says he 'would not be surprised' if Boston deals its young star to end contract...