With shootouts on rise, atmosphere could finally be ripe for change
The shootout is factoring in on close to 16 percent of games this NHL season, impacting standings more than ever. If it continues, maybe change will come sooner.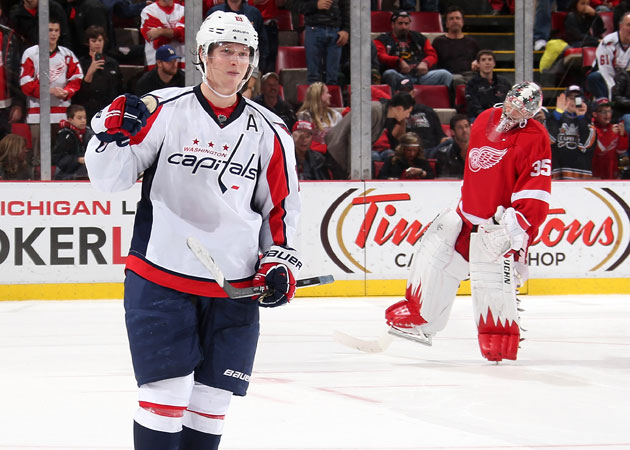 More NHL: Scores | Standings | League Leaders | Odds | Injuries | Power Rankings
Something strange is going on in the NHL these days, something people aren't used to seeing; the Detroit Red Wings aren't winning. For the first time in more than a decade the Wings have lost a whopping seven straight games. They have dropped eight straight at home, their last win at the Joe coming way back on Oct. 15.
Even in some of their recent "down" seasons they didn't have slumps this like. The organization has been a beacon of consistency through the years and just doesn't experience seven-game skids like this often. But this isn't your average losing streak either; the Red Wings have lost three of those games in a shootout and two more in overtime. Their record in this skid: 0-2-5. So while they aren't picking up wins they have at least been picking up points.
It's a good thing for them that they moved to the Eastern Conference already because if this were happening to them in this season's West we'd already be talking about them booking tee times in May. They just haven't been able to win a shootout this season; quite literally. They are 0-4 in the skills competitions and that's with players such as Pavel Datsyuk, Todd Bertuzzi and Henrik Zetterberg to trot out.
"It's pretty obvious we got to win in regulation because the shootouts are killing us," coach Mike Babcock quipped earlier this week.
No wonder GM Ken Holland wants to see the shootout diminished.
The shootout has never been a candidate to win any popularity contests in NHL circles, its existence seemingly tolerated at best and downright despised at worst. While it has never favored much curry as it is, lately the ol' shootout has come under particularly heavy attack as GMs tinker with the idea of abolishing it, or reducing it to an endangered species at least.
Spearheading the charge against the shootout has been Holland. He's not new to the cause, he has been grandstanding for a few years to try and not necessarily eliminate the shootout but to dramatically reduce its need and impact. For a lot of people it feels wrong that a one-on-one competition can have a major impact on the standings of a team sport. His brainchild is to go to a few minutes of 3-on-3 before ultimately turning to a shootout should the tie not be broken. Presumably his idea would lead to the ultimate goal: fewer shootouts.
Shootouts by season
Season
No. of shootouts
Percentage of games
05-06
145
11.8%
06-07
164
13.3%
07-08
156
12.7%
08-09
159
12.9%
09-10
184
15.0%
10-11
149
12.1%
11-12
181
14.7%
13*
97
13.5%
13-14
51
15.7%
*48-game season
With the way things are right now, the opposite is taking place; the shootout is only increasing in its frequency at the moment, not the other way around. There have already been 51 shootouts this season and there have only been 325 games played. That means nearly 16 percent of games have required the skills competition to settle matters.
If you guessed that's a high percentage you're right; we're on pace to have more shootouts this season than any before. At this rate there will be around 193 shootouts over the course of the full season, the previous high was 184 back in the 2009-10 season. Overall, the number of games requiring a shootout seems to be trending upward, not the other way around.
However you feel about the shootout taking place it does indeed seem to be a more-than fair argument that players taking leisurely strolls down the ice almost as if it were the end of practice affects the standings more than it should.
Since the shootout was introduced, the point that comes along with an overtime defeat has been referred to as the loser point when really it's more about the extra point being awarded than anything else. The Red Wings for example are 0-4 in shootouts but that means they still picked up four points. In the previous world without shootouts the Red Wings would have had four ties in that spot and thus four points. It's the points being awarded that make the big difference.
So while the struggles of the Wings and other winless shootout squads -- Senators, Devils, Predators, Flyers -- are magnified it doesn't hurt them per se as much as winning helps the other teams (in relation to the non-shootout world). The Capitals, for example, are 5-1 in the skills competition this season, five points they wouldn't otherwise have in the world before shootouts (obviously we can't say how the results would fare if overtime were extended). Take away those five points they go from a comfortable second place in the Metro to a three-way tie for third and the last playoff spot. The Jets are another benefactor of the shootout system with half of their 10 wins this season coming in the skills battle. The Coyotes (4-2) and Kings (4-1) have also enjoyed the tiebreaker.
Cleary, at least so far, the shootout is having a greater impact on the standings this season than ever before. That kind of timing only helps Holland get the changes he wants even if his team is struggling with the increased number of shootouts in the process. If it continues like this, the atmosphere really could be ripe for change when the GM meetings role around in March.
In other words, if you're one of those people who enjoys the shootout, enjoy it while you can. Just don't expect the fans in Hockeytown to sympathize.
Vladislav Yeryomenko was the Teddy Bear Toss goal scorer for the Calgary Hitmen

The Golden Knights are finally getting their No. 1 goalie back after a 25-game absence

Washington has won four straight, and the Kings are also on a tear right behind the Lightn...
The NHL says it's only interested in expanding to Seattle, but here's a look at all the moving...

The NHL says it is only looking toward Seattle for the next expansion team

The 33-year-old defenseman hopes to help find a cure for serious head injuries in athletes