World Cup of Hockey: Kane, Pavelski lead USA roster with some surprises
Here are five things to know about Team USA's early roster for the 2016 World Cup of Hockey.
Though the NHL trade deadline just passed and the playoff races are heating up, the 2016 World Cup of Hockey is at the forefront of the hockey world Wednesday as each of the eight teams competing are releasing their 16-player preliminary rosters one-by-one. Each team will eventually have 23 players (20 skaters and three goalies), so more additions will be unveiled at a later date.
Team USA may still be trying to shake off the sting of leaving Sochi without a medal after dropping the semifinal to Canada, 1-0, and dropping the ball in the bronze-medal game against Finland. The 2016 World Cup of Hockey, which will be held 20 years after the last major title won by Team USA's men at a best-on-best tournament (the 1996 World Cup of Hockey), may give this club a chance to finally exorcise those demons.
Kings GM Dean Lombardi was charged with building the roster and John Tortorella will serve as the head coach. Here are the first 16 players chosen to represent the United States at the 2016 World Cup of Hockey:
Goalies
Ben Bishop, Tampa Bay Lightning
Jonathan Quick, Los Angeles Kings
Cory Schneider, New Jersey Devils
Defensemen
Dustin Byfuglien, Winnipeg Jets
John Carlson, Washington Capitals
Ryan McDonagh, New York Rangers
Ryan Suter, Minnesota Wild
Forwards
Justin Abdelkader, Detroit Red Wings
Patrick Kane, Chicago Blackhawks
Ryan Kesler, Anaheim Ducks
T.J. Oshie, Washington Capitals
Max Pacioretty, Montreal Canadiens
Zach Parise, Minnesota Wild
Joe Pavelski, San Jose Sharks
Derek Stepan, New York Rangers
Blake Wheeler, Winnipeg Jets
Here are five things to know about Team USA, including which players are worth watching that didn't make the club yet.
1. Justin Abdelkader is a huge, huge surprise to make the roster
There are a lot of names that you expect on this roster. Twelve of these players were on the Sochi roster. The one name that wasn't going to be found on any roster projections for this team: Justin Abdelkader of the Detroit Red Wings.
He is a high-energy player, plays a big role for the Red Wings and has speed. But in a best-on-best tournament? It's a head-scratcher based on who else was available, especially when you're only naming 16 players to start.
Abdelkader very well could end up having a career year this year, but he has a career points-per-game average of 0.36. USA apparently wants to go with a full on checking line, which to me actively takes away their depth of scoring. In tournaments like these, it is so hard to score and as many guys that the U.S. has that can do it, we even saw last time around, they couldn't score enough.
I know these tournaments are about taking the right players and not necessarily the best players, but this is a tough sell for me as USA goes way off the board in a tournament where depth of talent matters.
2. There's still a good amount of skill up top
Patrick Kane is leading the NHL in scoring, with 85 points, and could be the first American to win a league scoring title. He'll obviously be a focal point of the offense. As will Joe Pavelski, who is one of the more underrated goal scorers in the game today. He might even have a chance to wear the C. Also, I think Blake Wheeler is way more prepared for this year's tournament than he was for the Sochi Olympics. His size and speed will be necessary commodities in this tournament.
Then you've got a lot of the usual suspects like Max Pacioretty, Zach Parise, T.J. Oshie, Ryan Kesler and Derek Stepan. 
The center position is going to be a trouble spot again for USA like it was in Sochi, but they've got guys that can and should produce. 
3. Goaltending was a no-brainer
Team USA didn't waste any time picking their trio of goalies and this is going to be a strength of the team. What is going to be interesting is who they go with as a No. 1. Quick was the guy in Sochi and was very good until the bronze medal game. He has the two Stanley Cups as well.
However, over the most recent body of work, Cory Schneider has been the better goalie from a statistics standpoint. I think they'll lean Quick, but don't count out Schneider for some serious reps in the net, while Ben Bishop is having a really strong year himself and could sneak into the conversation.
4. The defense is off to a good start
Team USA's defense should be quite good at this tournament. They'll probably be even better than the Sochi Olympics. They decided to only go with four and that was a bit of surprise. They opted to add more forwards and finish off the goalie instead.
Suter, McDonagh and Carlson were no-doubters. Having been left off the Sochi team, Byfuglien wasn't necessarily a lock for this thing, but he definitely should be there. He's big, he's mean and he produces.
The one guy I was really surprised not to see was Justin Faulk of the Carolina Hurricanes. To me, he's a top-four defenseman among Americans and I think he'll still be on the team. The bubble gets a little more interesting, which brings us to the final point…
5. Players in the mix worth keeping an eye on for the final roster
The large pool of players not included on the roster is going to make things interesting. There are several players I was surprised not to see, none more so than Faulk.
There are three defensive spots and four forward spots open.
It was less surprising, but not seeing Phil Kessel's name on a USA roster is a little jarring. He was named to the All-Tournament team at the 2014 Olympics and led the U.S. in scoring. He's not having a great year, but his speed and scoring ability are going to be needed on this roster. I think he'll make it, but I was not totally surprised not to see him now.
You also have to look to Bobby Ryan and Kyle Okposo on the wing as possiblilities, but the Abdelkader selection tells you one thing. They are going to have a grind line. It could end up being Kesler, Abdelkader and then another grinder type. Perhaps Brandon Dubinsky from the Columbus Blue Jackets? Or maybe Ryan Callahan from the Tampa Bay Lightning or David Backes of the St. Louis Blues? Or, and this would be weird to see, could Zach Parise be the left wing on the grinder line? It might open up some space for more skill in the next additions and give that line some scoring pop.
On defense, Faulk is likely to be there, but then who else do they bring? Olympians Cam Fowler and Kevin Shattenkirk should be in the mix based on their experience. GM Dean Lombardi has a known affinity for Keith Yandle. Matt Niskanen has a huge role on the Washington Capitals and should get a long look. Another dark horse candidate, is New Jersey Devils captain Andy Greene. He's an underrated guy that brings some depth, but we'll have to wait and see. They have options.
The other thing to point out: Team USA is also going to be missing some candidates that absolutely would have been on the team had they been eligible. You have to take out Johnny Gaudreau, the second highest scoring American in the NHL this year because he is on Team North America. Brandon Saad is another one that probably would have had a good shot at USA, as would defenseman Seth Jones.
It's going to be interesting to see how they finish off this roster.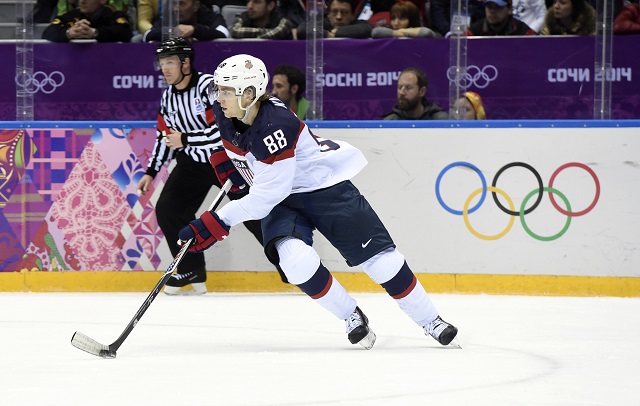 CBS Sports HQ Daily Newsletter
Get the best highlights and stories - yeah, just the good stuff handpicked by our team to start your day.
Please check the opt-in box to acknowledge that you would like to subscribe.
Thanks for signing up!
Keep an eye on your inbox for the latest sports news.
Sorry!
There was an error processing your subscription.
MacKinnon is off to a red-hot start for the Avs so far

What's right and wrong in the NHL this week

Here's a primer on how the three major North American pro leagues in Canada are approaching...
After two weeks of hockey, here's what each team can hang its hat on

SportsLine's Mike McClure, a DFS pro with almost $2 million in career winnings, gives optimal...

Crosby and Mackinnon look as happy as the players who idolize them