World Juniors: Don Cherry isn't taking Canada's loss very well
Don Cherry isn't taking Canada's loss to the United States very well, and he's still mad that non-Canadian players are playing in the Canadian Hockey League.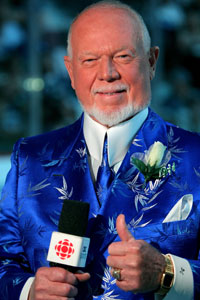 Outspoken Don Cherry. (Getty Images)
In case you missed it on Thursday, the United States defeated Canada at the World Junior Championship to advance to Saturday's gold-medal game against Sweden.
It was a decisive victory -- the United States won 5-1 -- and it has resulted in quite the reaction from the Canadian media.
Some have praised the USA hockey program for its progress in recent years and for starting to close the gap. Others are shocked that Canadians still believe hockey is their game and only their game.
And that last one brings us to Don Cherry. Again. (In the end, it always comes back to Don Cherry one way or another.)
The legendary Canadian hockey figure went back to Twitter on Friday afternoon and ranted once again about how the Canadian Hockey League (the three major junior leagues) allows players from other countries to come in and take the roster spots of good old Canadian boys.
Here is his rant in full, which could also go under the headline "Old man yells at cloud":
Just listening to the sports experts on radio and tv talking about our Canadian defeat. Saying we must give credit to the coaches and their development in foreign lands. Check out the stars on the foreign teams where the majority of them played and where they got their development and what coaches are coaching them in their development. You'll find that it was Canadians in Junior Hockey. I still say the Canadian Hockey League should be for Canadians either that or change the name. Some Canadian guy spends thousands on sticks, travel, equipment, pays his taxes and his kid is cut from the CHL for some kid who's father never contributed a cent to Canada. I know alot of people don't agree with me and I look bad saying stuff like this. But I've gone a long time without worrying what people say. I know we lost. I am not a gracious guy. Lets see how many guys from the tournament make the NHL. You'll find Canada will be number one. Hey maybe I am a spoiled sport. But that's the way I am and feel. Lots of people agree with me but when asked say the safe thing. I don't blame them. As my mother used to say, if you don't like my gate, don't swing on it.
So tell us how you really feel, Don.
This isn't the first time during this very tournament that Cherry has gone off on non-Canadians playing in the CHL.
When Nail Yakupov accused the Canadian team of playing dirty, Cherry went on a similar Twitter rant regarding Yakupov and his development in the CHL. Yakupov played for the Sarnia Sting of the Ontario Hockey League before being drafted No. 1 overall by the Edmonton Oilers in 2012.
Canada will take on Russia early Saturday morning in the bronze-medal game of the World Junior tournament. The United States will play Sweden for the gold at 8 a.m. ET.
For more hockey news, rumors and analysis, follow @EyeOnHockey and @agretz on Twitter and like us on Facebook.
The Penguins have some fun with the names of some Ducks linemen

Rookie Tyler Wong scores a hat trick to lift the NHL's newest team in its exhibition debut

Depth is a concern, but Edmonton is all in on its young, speedy stars with Stanley Cup pot...
The longtime Olympics enthusiast and Capitals standout releases a statement on the 2018 Ga...

Playoffs in sight for Rangers with younger, better defense, but questions at center lower their...

From Skyline to Neon Warriors, we put the names in their place for the sake of Seattle