Zach Parise doesn't understand why Devils play 'second fiddle' to Rangers
The Devils and Rangers are set for their Eastern Conference final series starting Monday in Madison Square Garden and before they begin Zach Parise took a slight shot across the Rangers bow while saying he doesn't understand why the Devils play second fiddle.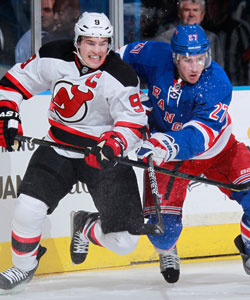 Blueshirts love. (Getty Images)
One of the things that makes the Eastern Conference final so interesting is that you have two teams who are separated by only a couple of miles, a state line and the Hudson River. The point is, familiarity breeds contempt and these teams don't like each other.
And there is the whole little brother vibe you get from the New Jersey Devils toward the Rangers, wanting to beat them to get mom's attention. In this case, of course, mom is New York City. A weird analogy, I know, but let's go with it.
The Devils are even honest enough to admit the Rangers are the big boys in town. It's just that Devils captain Zach Parise doesn't exactly see why that should be the case.
"I don't know why we would be playing second fiddle. We've won," Parise told Tom Gulitti of the Bergen Record. "They've been around longer. They've got the media. They have a huge fan base. But if you go on winning alone, it's not really a contest -- if you compare how many times this team has won compared to them in the last little while."
Parise has a definite point there. In 85 seasons the Rangers have four Stanley Cups. Only one of those has come since 1940 -- their Cup in 1994. The Devils have won three Stanley Cups in 37 seasons, all since the Rangers last won Lord Stanley's prize.
But fair and legitimate point or not, them's fighting words, Mr. Parise. It doesn't take Rangers fans much to read that statement as a dig against them and their favorite team. It will make that boistrous majority a little louder ... in both arenas.
"We understand in this area that the majority of the people are Rangers fans," Parise said. "That's the way it is. What do you do? You see it when we play at home. There's a lot of Ranger fans in our building. It's just they have a bigger fan base. That happens. That's fine."
Yes, everybody knows it, but it still surprises me to see somebody admit to it. Then again, I'm sure if asked, Parise would say the same as somebody from all other 29 teams -- that they have the best fans.
We all know that Martin Brodeur is their favorite target in Madison Square Garden, but Parise might have just cemented himself as Enemy No. 2. Maybe they'll count down to the nine-minute mark this round at MSG instead of 8:00.
For more hockey news, rumors and analysis, follow @EyeOnHockey and @BrianStubitsNHL on Twitter and like us on Facebook.
Pittsburgh finds itself a new third-line center as it looks to make a third straight run at...

The All-Star is one of the biggest names in the rumor mill, and reports say a move is on the...

SportsLine's Mike McClure, a DFS pro with more than $1M in winnings, gives optimal lineup...
The 38-year-old Luongo has been a longtime Parkland resident and is a father of two

This might be the new norm at the Winter Olympics, so here are three reasons why

It isn't a surprise to anyone, but an NBC executive acknowledged the ratings