Zach Parise says 'no way' he'll join Rangers, could re-sign with Devils
A lot of people thought Zach Parise might join the Rangers this summer. Parise is not one of them.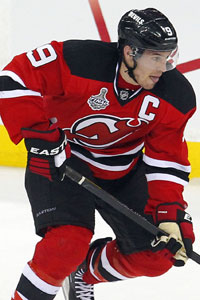 Parise had 31 goals, 38 assists this season for N.J. (Getty Images)
All season long, Zach Parise declined to talk about his contract status and the fact that he's facing unrestricted free agency this summer. Since Parise's Devils lasted all the way to the end of the season, we've had to wait to hear from him so instead the rumors circulated over the most-coveted free agent out there.
One of the more popular suggestions was that the Rangers could take Parise from their rivals across the Hudson River. It was blown out a little bit more when Zach's dad J.P. Parise suggested his son would be a good fit with John Tortorella's team.
Now though we can hear from Zach. Obviously there are few certainties with a player who is about to be courted by ever team in the NHL. There is one certainty, though. He sure as heck won't be going to Manhattan to play his home games.
With the Devils having their end-of-season separation day and media exit interviews that come with it, Parise was asked specifically about maybe signing with the Rangers. His response was simple enough.
"No way," Parise responded.
Well then. That's pretty definitive.
As a guy who loves rivalries in sports, I personally find this awesome. It's great to see that his disdain for the Rangers won't be compromised by money. Not to mention he probably isn't interested in being Benedict Arnold in New Jersey.
2012 NHL Free Agency
| | |
| --- | --- |
| | Free Agency starts July 1 |
More NHL coverage
Some -- likely disappointed Rangers fans -- will see this as a bad move to eliminate a potential suitor, especially a big one like the Rangers. But it's not like there will be any shortage of GMs ready to woo Parise and keep a bidding war alive. The Red Wings are seen as a major contender, the Minnesota Wild will take their shot at the kid from Minneapolis, it's been suggested the Stanley Cup champion Kings will make a massive push.
And of course there are the Devils. About the only comment that Parise had made before about his UFA status was that he's only look to return to the Devils if they had a chance to win. Considering his team just lost in the Stanley Cup Final, that's a pretty strong argument for New Jersey.
The biggest question with the Devils, though, is if they're in position to offer Parise a competitive bid compared to the other teams. He said on Wednesday that talks with the Devils haven't begun yet but he talked like a player who plans on being around longer.
"This is a great place to play and I love playing here. I love being here." Parise said. He added the following:
Parise said it's possible he'll re-sign before July 1. Obviously, have to wait to see what happens.

— Tom Gulitti (@TGfireandice) June 13, 2012
The only thing we don't have to wait and see is whether or not Parise will wear the Rangers logo on his chest next season. No way.
For more hockey news, rumors and analysis, follow @EyeOnHockey and @BrianStubitsNHL on Twitter and like us on Facebook.
NBC will reportedly be devoid of NHL game broadcasts between Feb. 7-26

The Winnipeg winger suggests Trump is going after 'the principles the U.S. was founded on'

League gets excited about exhibition matches in Beijing and Shanghai
NHL players are still disappointed they won't be going to skate in PyeongChang

With Artemi Panarin in the mix and a Vezina winner headlining the defense, Columbus can be...

The league's crackdown on faceoff infractions and slashing penalties isn't without some cr...