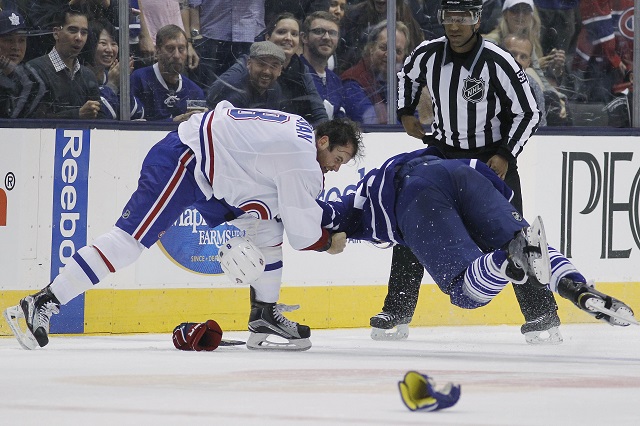 The NHL and NHLPA announced Monday that Montreal Canadiens forward Zack Kassian was placed in "Stage 2" of the Substance Abuse and Behavioral Health Program jointly run by the two entities. As a result, he will be suspended without pay until he is cleared by program administrators.
The suspension comes after Kassian was involved in an auto accident early Sunday morning. He was a passenger in a truck that struck a tree around 6:30 a.m. in Montreal. He ended up sustaining a broken nose and foot in the crash, which triggered some pointed comments from Habs GM Marc Bergevin on Monday.
Kassian is a former first-round pick of the Buffalo Sabres but has struggled to live up to expectations and is now on his third NHL organization. Montreal acquired the bruising forward this summer from the Vancouver Canucks for Brandon Prust.
Bergevin said Monday that Kassian showed a lack of character based on the limited information he had on the car accident. It is believed a 20-year-old woman was behind the wheel of the car when it struck a tree. He also admitted that the team felt it was taking a risk on acquiring Kassian and was disappointed over what happened.
Placing Kassian in Stage 2 of the NHL-NHLPA program is a pretty rare step. TSN's Bob McKenzie explained the differences between the various circumstances in which a player is placed in or enters the Substance Abuse and Behavioral Health program.
On NHL-NHLPA program (Kassian), Stage 1 can be voluntary or mandatory depending on circumstances but there is rarely public acknowledgement.

— Bob McKenzie (@TSNBobMcKenzie) October 5, 2015
Stage 1 is with pay. But any violation of Stage 1 conditions (can be very strict) leads to automatic entry to Stage 2, suspended without pay

— Bob McKenzie (@TSNBobMcKenzie) October 5, 2015
There is always public acknowledgment of Stage 2 because the player is suspended without pay. Once in Stage 2, only doctors can reinstate.

— Bob McKenzie (@TSNBobMcKenzie) October 5, 2015
Kassian has developed a bit of a reputation over the years and has had previous public missteps. In 2010, he was charged with assault after a bar fight while he was playing junior hockey with the Windsor Spitfires. The charge was later dropped after Kassian, who was 19 at the time, completed community service hours.
This program might be Kassian's best chance at getting his career back on track, but far more importantly, taking important positive steps in his personal life as well.