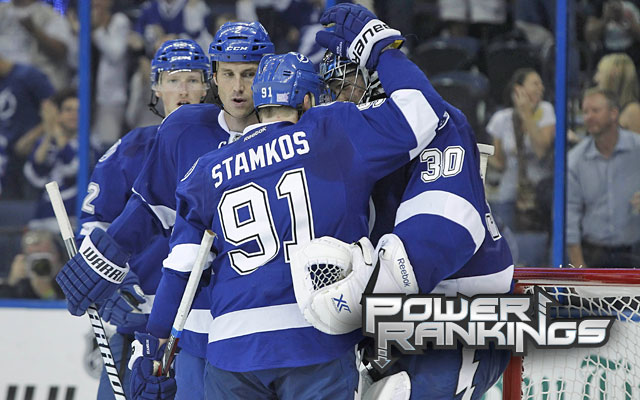 When looking at the standings just a couple of weeks into the season, perhaps one relatively quick starter that jumps out is the Tampa Bay Lightning. Since coming a game from the Stanley Cup Final a couple of years ago they have been pretty much relegated to being the Steven Stamkos and Martin St. Louis Show. There has been little beyond that as Tampa sagged toward the bottom of the standings.
The difference so far this season? They have goaltending. Finally, they have competent goaltending. Even when they reached the Eastern finals in 2011 that was an issue. But with Ben Bishop standing up well (the Lightning's last game vs. Boston not withstanding), the Bolts are keeping pace out of the gate with their Atlantic Division brethren.
So far the Lightning can boast something that only Pittsburgh can match in the East; they're yet to lose a game to the West, which has proven to be vastly superior. They are 3-0-0 against the other conference, including wins over the last two Stanley Cup champs.
Still, Tampa Bay is a tough team to get a read on. For a team that has been built around offense in the past couple of years, they sure don't play like an offensive team. They are averaging 25.9 shots on net per game, the lowest mark in the league. At the same time they are allowing just 26.6 shot per game, the fourth-best mark.
Coach Jon Cooper has helped to slow things down and so far it has been a big help, particularly to the goaltenders, or at least Bishop. He has a .924 save percentage in six starts this season for the Bolts -- and that's with getting lit up for four goals in two periods over the weekend by Boston.
Can the Lightning keep it up? So far they have a plus-5 goal differential and are fourth in the conference in goals per game despite so few shots. The Lightning have proven over the past few years they can sustain high shooting percentages largely because Stamkos is such a marksman. Still, it's tough to rely purely on that and at some point they'll have to lean on their goaltending.
It really boils down to if you believe the Lightning can continue to keep the shots against down and Bishop can keep stopping the ones that make it to his net. If the answer is yes then the East's better division adds another team to what will be a season-long dogfight.