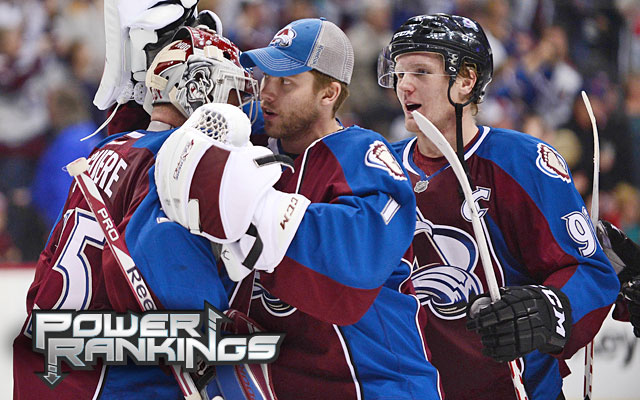 At what point does a hot streak become something more? The Colorado Avalanche seem determined to find out.
In the beginning it was easy to rationalize the Avs' start this season as just being hot out of the gate. They started fast a couple of seasons ago too but plummeted and missed the playoffs. With a first-year coach in Patrick Roy, a young core that seemed like it still had a little bit of maturing to do and a defensive corps that didn't inspire a ton of confidence, it seemed a safe play that the Avs would soon find reality a little less enjoyable.
Yet here we are, more than a month into the season and the Avalanche have one loss. They have moved to the top of the Power Rankings this week with a torrid pace of play that has actually been picking up in recent weeks.
When we last checked in on the Avalanche at Eye on Hockey, the underlying numbers didn't lend themselves to Colorado keeping it up. Their even-strength Corsi Close percentage (the rate of shot attempts on net, missed or blocked in a team's favor while the game is defined as close) was not great. A couple of weeks ago it checked in at 48.9 percent, 17th in the league. In traditional shots on goal they were 21st in shots for per game and 25th in shots against. In other words, they were outperforming what would otherwise be expected of them.
Now, a few weeks later, those numbers are trending the right direction. They are at the point where their even-strength Corsi Close is above 50 percent, indicating they are a plus-possession team. They've jumped up to 15th in shots per game (30.2) while decreasing the shots against from 33.8 to 32.2. While all of those numbers still don't necessarily point to a team that's 12-1-0 in the first week of November, they're improving and looking more sustainable but there is definitely still some anticipation of regression.
So far this team has been led by goaltenders Semyon Varlamov and Jean-Sebastien Giguere. Not even Varlamov's recent legal troubles have been able to slow the duo down. The team save percentage of .955 is well ahead of second-best Toronto (.935). It seems impossible that number can stay so high.
In the meantime, the Avs are gaining confidence and picking up their game as a group while stockpiling valuable points for whenever the first skid does come, because even the best teams hit bumps.