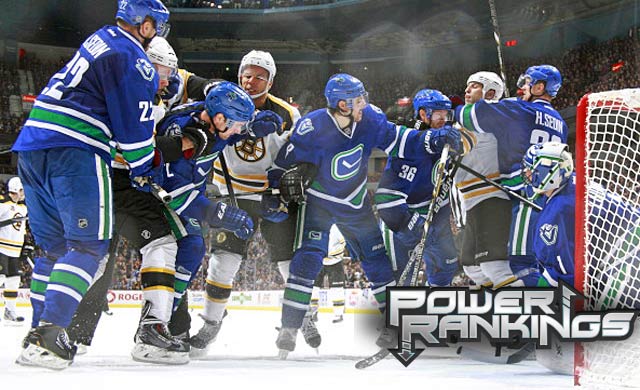 It took some time and certainly wasn't always pretty, but the Vancouver Canucks look like they've found themselves under new coach John Tortorella. No team in the NHL is as hot as the Canucks are right now.
Since the calendar turned to December, the Canucks haven't lost a game. They have won seven in a row, punctuated by a 6-2 smackdown of the Bruins over the weekend. The scoring is coming around, too, with 10 goals in the past two games.
Not bad for a team that is supposed to be at the tail end of its competitive days.
Speaking of supposedly being at the tail end of things, Roberto Luongo sure has been strong this season, particularly of late. The goaltender people seem to love to beat up on (I'm looking at you, Chicago and Boston) has been darn good, helping validate the Canucks' decision to trade Cory Schneider instead of Luongo. As the main man again, Lu has responded, posting a .921 save percentage in 29 starts with a 16-8-5 record. Considering he struggled early under Torts' preference for a shot-blocking style, that has been quite the delight.
Yes, the staple of Tortorella in recent years has transitioned to Vancouver. The Canucks aren't leading the league but they are in the top 10 in blocks after finishing last season 27th in the league. They are playing the Torts way and dividends are starting to show. Eight goals against in seven December games can't all be attributed to the goaltending.
Now the question is if they can continue the offensive production they've had of late. They have worked themselves up to 11th in the league in goals per game at 2.77 while building a defense that's in the top six in terms of average goals against. It's tough sledding in the West, but even there that is a recipe for a playoff team, something the Canucks didn't necessarily look like a few weeks ago.
With the perfect half-month the Canucks have gone from the unfortunate position of ninth best in the West to being on the verge of surpassing the Sharks for the third guaranteed playoff spot from the Pacific Division.