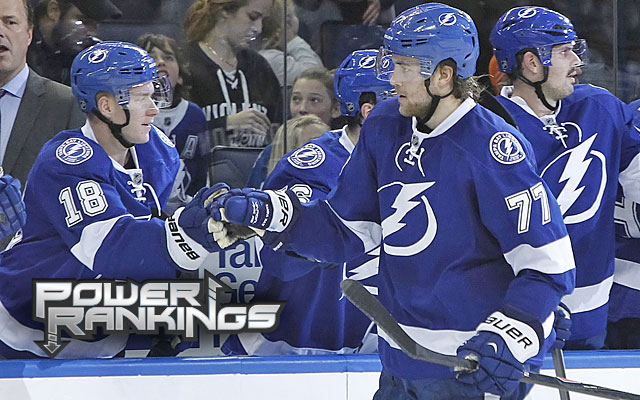 Even though it was still early November when Steven Stamkos went down with a broken leg against the Bruins, it felt like the Lightning might go down with him. For a team that has relied so much on offense over the past few years, to lose one of the best pure goal scorers in the game was potentially crippling.
Or so we thought.
There is no denying that Stamkos' absence has been felt. In the 17 games before his injury the Lightning were an offensive juggernaut, averaging 3.17 goals per game. In the 19 games since, their goals per game have fallen to 2.42 and they have been blanked four times. Yet here they are, still sitting comfortably in playoff position and streaking once again.
The Lightning, the same franchise that has cycled through defenseman after defenseman and whose last good goaltending came from Dwayne Roloson (which is saying something), have turned to defense and it hasn't let them down. Believe it or not, the Bolts are in the top 10 in the NHL in goals against per game ... as in allowing the fewest. They have only been ranked better than 20th in the NHL once since the 2006-07 season. Their Achilles heel isn't so weak anymore.
When it comes to credit, there is enough to go around.
You can start with goalie Ben Bishop. He has been superb with a .934 save percentage, 1.96 goals-against average and an awesome 19-5-2 record. Those numbers are even more impressive when you consider the canyon-sized difference between him and backup Anders Lindback (.889 save percentage).
Or what about the cast of blue-liners, led by Victor Hedman? The former No. 2 overall pick has been solid since stepping foot in the NHL but he has quietly taken his game up another notch this season. Not only has he set a new career high for goals with seven, putting him on pace to smash his career-best point total, but his all-around game has improved. He's now a positive possession player as determined by Corsi Close, taking a big leap from last year in that department.
We would be remiss not to mention Martin St. Louis and the offense. The Lightning have been getting by on the strength of their defense but that doesn't mean they haven't been scoring some without Stammer either.
When Stamkos went down, the Lightning led the Atlantic Division by a point over Boston. Now, after having won four in a row, the Lightning have lost just four points to the Bruins, sitting three back in the division as Christmas nears. Without their best player, they have more than held their own, highlighting the improvements of this team around Stamkos. Now imagine when he is able to return.