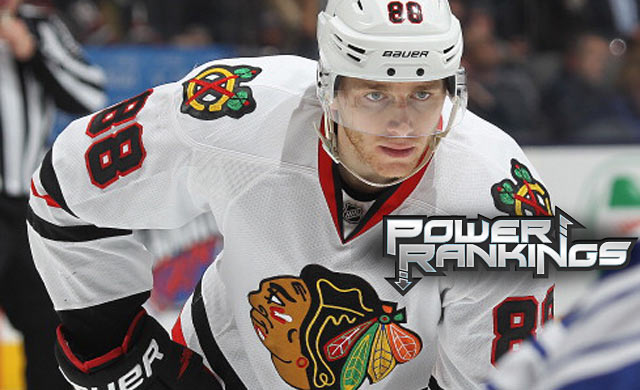 As the new year approaches, eyes are on the Winter Classic coming up this week in Michigan. In the meantime, most teams are going to be passing the midpoint of their seasons if they haven't hit 41 games already.
Indeed, we're halfway home thanks to the slightly condensed schedule to fit the Olympics.
So in this week's Power Rankings we added a little theme to the proceedings by taking a look at the halfway point and picking an MVP for each team. For some teams it's a lot easier than others as you might expect. For example, not every team has a clear-cut top guy while others have a slew of candidates.
While we're on the subject of team MVPs, we might as well take a look at how the Hart Trophy race is shaping up, too. Just the same as the Art Ross Trophy (for leading scorer), two names are quickly distinguishing themselves as top candidates: Patrick Kane and Sidney Crosby.
When you look at Crosby it really is quite amazing to think he has only won the Hart Trophy once in his career. He has pretty much been accepted as the best player in the game but has only once been MVP. This could become his second, especially given how he has played while the Penguins have been ravaged by injuries. They haven't missed a beat and are running away with their division and hold the top seed in the East.
Crosby putting up 55 points in 40 games so far while averaging more than 22 minutes per game has been a massive reason. Crosby passes the sniff test for exceptional stats but also the old "value" gauge. With a lot of top talent down for the Pens, they have more than stayed afloat.
In most years he would probably be pulling away from the field, but this isn't most years because Kane has taken his game to new heights in Chicago. With 23 goals and 30 assists already in just 41 games, he's on pace to obliterate his career highs in goals and points. He's only two points off Crosby's pace, and with how porous the Chicago defense has been at times, the argument is easy that Kane leading a big offensive charge has been the key to the Blackhawks' success.
Between the two of them, it's incredibly difficult to pick one leader, and that's without mentioning the other guys who are making claims like three-time winner Alex Ovechkin, Alex Steen, Ryan Getzlaf and maybe even Tyler Seguin. Good thing there is a whole second half of the season to watch it unfold.