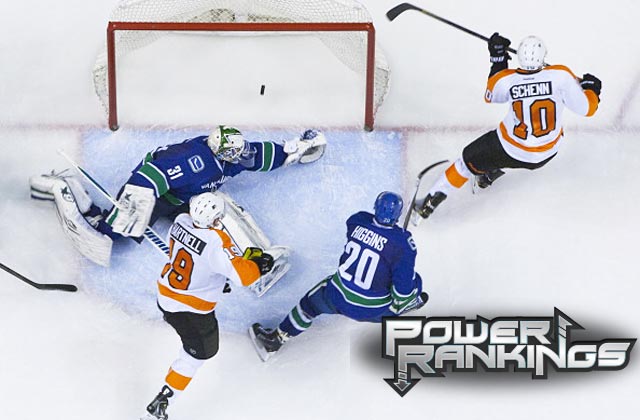 Will the real Philadelphia Flyers please stand up?
Craig Berube's bunch has been one of the hottest teams in the NHL lately, pulling into playoff position and hitting the .500 mark at 21-17-4. Not bad for a team that began the season 1-7-0 and changed coaches only a few games in.
Even when they started to win some games, the Flyers were relying heavily on goalie Steve Mason, who was able to roll over his late-season resurgence after his trade to the Flyers into this season. When the offense finally started to perform, Mason's numbers dipped some but not enough to keep the wins from coming.
We would say it has all sort of come together in the past few weeks -- the Flyers are 8-2-1 in their past 11 games -- but that hasn't completely been the case. In six of those 11 contests the Flyers gave up at least three goals. Averaging 2.57 goals wouldn't seem to be an indication of a team winning games but of an offense that has been on fire.
Those early worries that Claude Giroux had played himself off the Canadian Olympic team? They have been put to rest. Giroux has 12 goals and 26 assists in 42 games, nearly a point-per-game pace. Wayne Simmonds and Jakub Voracek have been scoring. The offense that was missing is starting to come around, along with some depth. Five players have double digits in goals and two more have nine, including Vincent Lecavalier, who has been limited to just 29 games because of injuries.
Put it all together and in the first half of the season, a fairly good sample size, the Flyers come out to being an average team. They are 16th in goals against and 18th in goals for on per-game averages. But given where they began, when the puck simply wouldn't cross the opposing goal line, they'll take that position. It represents baby steps up the ladder.
And there is opportunity for the steps to keep on coming. Nine of the Flyers' next 10 games are against teams in the East and only two come against teams currently in playoff position. It's a perfect schedule for the Flyers to really validate this latest run.
With the Flyers the top of the chase pack in the Metro (albeit by a slim margin), eyes are going to be on GM Paul Holmgren as the trade deadline nears. Homer is never one to shy away from a move, big or small. His team's resurgence, along with the relative (though improving) mediocrity of the Metropolitan Division, has afforded him the opportunity to be aggressive if he so chooses. That's interesting for everybody.