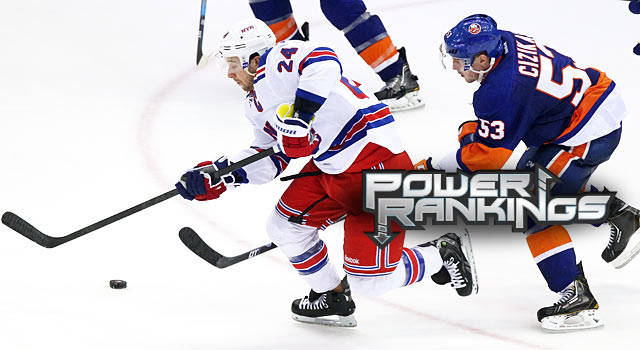 The Metropolitan Division's name might not look any better now than it did when the season began but its teams sure do.
Early in the season the Metropolitan Division was the laughingstock of the NHL. The Western divisions were clearly superior and even the Atlantic Division was making the Metro look like the Southleast reincarnate. The big-market boys of the Metro couldn't hang, with the lone exception of the Penguins. Well, things have changed and the Metro's standing is one of them.
In no way is the Metro much closer to being in the same breath as the divisions in the West but its counterpart in the East, the Atlantic? Well yes, yes it is. The Atlantic is no longer beating up on the Metro and hogging the playoff wild cards. In fact, the Metro has surpassed the Atlantic in terms of total points earned by its teams, 404 for the Metro to 394 for the Atlantic.
In recent weeks the Rangers, Flyers, Hurricanes, Blue Jackets and Islanders have all rattled off winning streaks. The difference right now between second-place Washington and the eighth-place Islanders is eight points. The Central's gap from second to last (with only seven teams, mind you) is 24 points, the next closest gap in the league. That lack of a clear cellar dweller has helped to lift up the Metro's place and at least put a hold to the litany of jokes.
Not long ago it appeared as though the Metro was going to have to settle for only three playoff teams as the wild-card spots were clearly held by teams in the Atlantic. But the recent runs by Metro teams combined with the struggles of teams like the Maple Leafs in the Atlantic has put both wild cards in play for teams in both divisions and right now what separates one team from another in the Metro (again, Penguins excluded) is negligible.
We'd call it a comeback, but the Metro hasn't been here for years. Instead it's a strong rebound from a terrible start for the division as a whole and it is not only good for the division but the East itself as the wild card races in the conference are going to be a whole heap of fun.