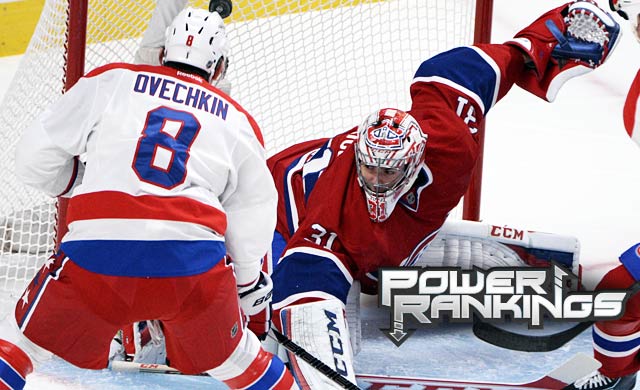 It wasn't long ago the Montreal Canadiens were right on the heels of both the Boston Bruins and Tampa Bay Lightning in the Atlantic Division, pretty safely parked in a top-three spot that guarantees a playoff berth this season. That feels like a long time ago.
Right now things are in the always dreaded state of "getting ugly." After a 5-0 blanking from the winless-in-previous-seven Washington Capitals on home ice, the Canadiens held the equally dreaded players only meeting, a sign things are going wrong in a hurry and the team is getting desperate to turn things around.
Considering the Habs have lost four straight games in humbling fashion and have just two regulation wins since Dec. 17 (a span of 16 games), you can understand why. They do still hold a playoff spot at the moment, but the Habs have been passed by the Maple Leafs for that coveted third Atlantic spot and are now only three points up on the plethora of teams that make up the pack in the Eastern Conference wild-card race. There is nothing remotely safe about their playoff positioning now.
With their offense continuing to sag (24th in the league at 2.40 goals per game, same as New Jersey) this was bound to happen. Carey Price couldn't stay hot forever. He has been tagged for at least four goals in his past five starts. For January, Price has a save percentage of .877, a far cry from the .939 he had in October or .934 in November. His regression set in but the offense has not been able to pick him up.
The team is trending the wrong direction because of a recent reversal of fortune in the goaltending, but the team in front has been going the wrong way as well. That has been a bigger culprit in the scheme of things than a bad stretch by the goalie. The Habs' play has been declining in measures such as Fenwick percentage, which is a good representation of the percentage of scoring chances in a team's favor. Courtesy of the site ExtraSkater.com, here's how the Habs have fared in that department this season.
That's not exactly the direction you want to be trending, now is it? The Canadiens weren't scoring a ton at any point this season but at least they were helping Price a bit by being an above-average possession team. That has changed too. They are being outshot by an average of 1.6 per game, with their 28.4 shots per good for 24th in the league. Usually if you aren't shooting much you aren't scoring much, as the Habs are finding out.
There is still plenty of time and a trade deadline to try and get things turned around but it's pretty easy to see why the natives are getting awfully restless in Montreal. A lot of teams in the East, particularly the Metro, have rebounded from poor starts and are making moves toward the playoffs but for every team getting into playoff position, one has to fall out. The Habs are getting dangerously close to that line.