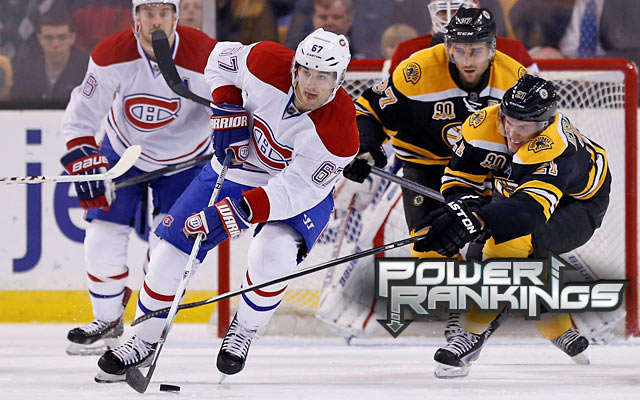 Here come the Boston Bruins again.
Over the past few seasons, the Bruins have been known to hit stretches of being lights out during the regular season, runs that remind everybody that when on their game, the Bruins are one of the league's very best teams. We could be looking at one of those runs again.
The Bruins have won 5 of 6 games after losing at Chicago in a shootout in what was a terrific game Jan. 19. It was right around that time that the B's took it up a notch and here we are, sunny times.
Before dropping one to the Canadiens -- hey, it's a rival and even when teams are hot, stinkers sneak in from time to time -- the Bruins weren't just winning, they were crushing teams. They went through a stretch of the Flyers, Islanders and Panthers (not murderer's row, certainly) and won the three games by a combined 18-6.
No doubt they have found a soft spot on the schedule and have taken advantage of it, but the recent run can't be written off that easily. Besides, should a team be punished for beating clearly inferior teams in resounding fashion? Of course not, they did what good teams are supposed to do.
The B's already possess the NHL's second-best defense to LA, but they can do what LA can't: score. The Bruins are fifth in the league with 3.02 goals per game and boast an impressive seven players who already have surpassed the 30-point plateau with a few more close. In their past six games, they've gone 5-1 and have outshot the opposition by a combined 38 shots on net (6.3 shots per game). In other words, they are pretty much controlling games, and that's even when playing with huge leads. Impressive work.
Boston has been able to make up a couple of points on the conference-leading Penguins to at least prevent a runaway with the East's top seed (the difference between them is five points). Maybe more important: The Bruins have been able to put at least a little space between themselves and the Lightning in the Atlantic, the division lead up to four points. With how tight it has been in the Atlantic, that hasn't been easy.
With all of the changes made over the summer because of cap considerations, no one could be sure what we'd see of the Bruins. They'd still be good, but the question was if they would still be as good as a team that won the Cup three years ago and played for it again last season. The answer is really starting to look like yes.